If you're looking for a crispy pan-fried sesame tofu recipe that brings together sweet, savory and tangy flavors in a delicious combination that is going to leave your mouth watering, then look no further.
This recipe is completely vegan and gluten-free, and the best thing is that it doesn't take any longer than 25 minutes to cook either.
This tofu is so delicious, we can guarantee that you're going to be craving more!
We're a big fan of tofu for a number of reasons, not only is it super simple to cook, which makes it great for dinners during the week but it's also packed with protein too, which is why it's such an excellent alternative to meat. 
While many people will believe that tofu is simply bland, the reality is that you need to know how to cook it properly, only then will you be able to make the most of this amazing ingredient as it takes on the flavors from whatever you add to it. 
So, if you're looking for a delicious dinner that is vegan, ready in under 30 minutes, and loaded with protein, then you're going to absolutely adore this crispy pan-fried sesame tofu (see also: 11 Amazing Low Calorie Tofu Recipes To Make This Weekend)recipe! 
Reasons To Love This Recipe
Flavor: This dish is bursting with flavor, and with each cube of crispy tofu soaked in that delicious sesame sauce, you can be sure that you'll soon be making this dish again. 
Cooking Time: It's rare to find a dish that takes under 30 minutes to cook, and this dish only takes 25 minutes, which means it's an excellent option for people who find themselves busy in the evenings and who are often stuck for what to cook! 
Protein: Each serving of this delicious dish is packed with 12 grams of protein, which will make sure you're feeling full!
Versatility: This dish is delicious on its own, but who says you have to leave it as it is? Why not try adding some additional vegetables into the mix, or some extra seasoning to really spice up the flavor of this amazing recipe! (see also "Easy Whole30 Eggplant Recipes")
How To Make Your Tofu Crispy
One of the reasons that so many people dislike tofu is because they've had a bad experience with it in the past, and the likelihood is that they tried to cook it themselves, and it turned out to be soggy and gross, as no one likes soggy tofu! 
Adding sauce to tofu can also be a recipe for disaster, and if you haven't cooked your tofu properly, it will take on the sauce and become soggy too, which means you need to be careful when using tofu in a stir fry (see also "Totally Tasty Tofu Stir Fry For Weeknight Meals"). 
However, there are a couple of ways that you can make sure that your tofu is going to be super crispy on the outside, all whilst maintaining that deliciously soft inside, so keep reading to discover how to make crispy tofu perfectly every time! 
Choosing The Right Tofu: If you've never used tofu before, then you're going to be in for a shock when you find that your local grocery store stocks multiple different types of tofu, how do you know which one you're meant to use? For our recipe, you're going to want to pick extra-firm tofu. Silken and tofu have a higher water content, which means they won't become as crispy as we want them to be once fried. 
Press The Liquid: Even if you've picked extra-firm tofu, there's still going to be a certain amount of liquid in the packaging, and therefore the tofu. So in order to get rid of this excess liquid, you're going to need to press the tofu. You can do this using some sheets of kitchen towel and pressing gently on the tofu. 
Cornstarch: The secret ingredient for any crispy tofu recipe is cornstarch, so before you go frying your tofu, you should always ensure that each of the pieces is tossed properly in the cornstarch, as this will help your tofu to become extra crispy when fried. 
Oil: Although we're going to be pan frying our tofu, you still need to use plenty of oil so that the bottom of the pan is covered. Tofu has no fat in it, which means it needs the oil in order to help it become crispy. 
Overcrowding: One of the biggest mistakes you can make when frying tofu is overcrowding the pan. Tofu needs plenty of room in order to be fried properly, and you'll need to regularly turn it over in order to make sure that each side is as crispy as you want it to be. This means frying your tofu in manageable batches that will allow you to monitor and flip each tofu piece as needed.
Serving: Unlike some other dishes, this crispy pan-fried tofu isn't a dish we'd recommended making ahead of time, so it's much better to serve immediately after it has been cooked, which will ensure that the crispness of the tofu is not lost in the sauce. 
Does Tofu Need To Be Pressed Before Frying?
Yes, all tofu, even extra-firm tofu, needs to be pressed properly before you begin frying it, which means that you need to drain it of as much of the excess liquid as possible.
Whether you wrap your tofu in kitchen paper and squeeze until you think it has been properly drained, or employ a tofu press in order to drain the liquid, removing the liquid is the only way you'll be able to turn your tofu extra crispy. 
Is Soft Tofu Suitable?
What happens if you get to the store and the only tofu they have available is soft tofu? Is it going to work in this recipe? Is it going to become crispy enough?
Technically, you can use soft tofu in this recipe with no problem, however, the major problem is that the tofu will not become crispy at all, so if you're craving that extra crispy texture on the outside of your tofu, then you need to stay away from soft tofu when shopping for this recipe. 
If you'd much prefer soft tofu in your stir fry instead then you can definitely opt for it, although we'd still recommend medium tofu if that's the case, as soft tofu is prone to becoming soggy and falling apart when it is introduced into a sauce, which might remain the look of your stir fry. 
So, if crispy pan-fried sesame tofu is what you want, then make sure that you're using firm or extra firm tofu in order to achieve that crispy outer layer, otherwise your tofu will be soggy and definitely not as you intended! 
Ingredients Needed For Crispy Pan-Fried Tofu
So, now that you know a little more about why this recipe is so great, as well as what tofu you should be using, and how to make sure that is becomes crispy, let's take a closer look at the ingredients and the quantity of each ingredient we'll need in order to make this amazing and simple dish! 
For The Stir Fry
This section covers the ingredients we're going to use for the stir fry, it's fairly simple, and none of the ingredients are particularly difficult to find in your local grocery store, so putting together this recipe should be super easy! 
You'll need: 
1 whole pack of Tofu (Firm or extra-firm, but extra-firm is preferable)
2 tablespoons of Cornstarch
2 tablespoons of Oil (We use vegetable oil)
3 Scallions, chopped(Also known as green onions)
1 tablespoon of Toasted Sesame Seeds
For The Sesame Sauce
In this section we'll look at the ingredients you'll need to make the delicious sauce that we're going to coat our tofu in.
The balance of this sauce is extremely important, so you shouldn't deviate from the ingredients we've listed below when it comes to making it. 
You'll need: 
1 clove of fresh Garlic, minced
2 teaspoons of minced fresh Ginger
2 tablespoons of Reduced Salt Soy Sauce (or Tamari)
1 tablespoon of Sesame Oil
1 tablespoon of Maple Syrup
1 tablespoon of Rice Vinegar
½ tablespoon of Cornstarch
1 tablespoon of Cold Water
Optional Extras
If you want to add a few extra ingredients into your crispy pan-fried sesame tofu recipe then you are more than welcome to, but if you want to add more ingredients in, but are unsure on what you should add, then here are our recommendations for what you can add to your stir fry! 
Chinese Broccoli
Broccoli
Bok Choy
Red Peppers
Snow Peas
Mushrooms
Baby Corn
How To Make Crispy Pan-Fried Tofu (With Step-by-Step Instructions)
Now that you have all of the ingredients you need ready, it's time for us to get started on making the delicious crispy pan-fried sesame tofu. 
Don't worry if you're not a professional chef, this recipe is fairly simple, and we've even included step by step instructions which means that almost anyone should be able to make this dish without much hassle or effort! 
So, let's begin! 
Step 1
The first step to making this dish is to remove your tofu from its packaging and to drain it of as much of its excess liquid as possible, without this step, your tofu will become soggy when cooking. 
Once your tofu is drained, you'll want to dice it up so that each piece is an even cube, before tossing them into a bowl with a healthy amount of cornstarch, using your hands to mix them around to ensure that each piece is evenly coated. 
Step 2
Next, you'll want to take your stick proof pan and add some vegetable oil to it, ensuring that the entirety of the bottom of the pan is covered in oil. Then, on a medium-high heat, you'll want to add your scallions, sauteing them for 2 to 3 minutes. 
Once your scallions are done, add your tofu cubes in small batches, and fry them on each side until they have a crispy golden brown outer layer. 
Rushing this step is the key to ruining your tofu, so don't try to overfill your pan with tofu in an attempt to fry it all at once, as none of the pieces will achieve the crispy texture you're looking for as a result! 
Step 3
You'll now want to begin preparing your sesame sauce, which is easily done, simply mixing all of the ingredients together in a suitable sized bowl.
However, you should make sure that the cornstarch and cold water are what you start by mixing, and then going on to add the other ingredients, otherwise your sesame sauce will become lumpy. 
Step 4
With your sauce prepared and your tofu crispy, you'll want to add your sauce to the pan filled with crispy tofu, tossing it thoroughly to ensure that each of the pieces of tofu is evenly coated in the delicious sauce. 
You can then add the remaining scallions and toasted sesame seeds, and then your tofu is ready to be served immediately! 
So there you have it, the amazing crispy pan-fried sesame tofu! You can serve this dish alongside a wide variety of other things, such as delicious noodles, rice, or you could even use it as a sandwich filling if you wanted to, there's such a wide range of ways to enjoy this recipe! 
Storing And Reheating Your Leftover Crispy Pan-Fried Tofu
As delicious as this dish is, it's always common for there to be some leftovers, as tofu is an extremely filling food, especially when eaten alongside rice or noodles. So how do you store your leftover crispy pan-fried sesame tofu?
Thankfully, storing the tofu is easy, all you need to do is place it in a clean airtight container, and then place it in the fridge, where it will last for 3 days before you need to put it in the bin, so make sure that you eat it as soon as possible. 
Reheating the tofu is fairly simple too, and you can do so either by using the same pan you cooked it in, or by using the microwave.
It is worth noting though that the tofu will lose some of its crispiness due to the sauce coating, which is why you should try to eat as much of it as possible when it's freshly cooked! 
Tips For Successful Crispy Pan-Fried Sesame Tofu
As you can see, this recipe is fairly simple, so even a novice home chef should have no issues preparing and cooking this dish, and the result is often so good, you'd believe you had ordered your favorite takeout dish if no one had told you. 
There are a few tips and tricks to making this dish however, which will make cooking much easier the next time you do it, so what are you waiting for? Keep reading on to learn our tips for successful crispy pan-fried sesame tofu! 
Preparing Rice: If you're planning to serve your tofu alongside a healthy helping of rice, then you should always ensure that your rice is cooked and prepared ready to serve so that you're not waiting for it once your tofu has finished cooking. 
Remember, the longer the tofu rests in the sauce, the less crispy it will become, which is why so much emphasis is placed on eating it fresh out of the pan
You can use any sort of rice you like with this recipe, however you can never go wrong with some delicious jasmine rice. 
Extra Firm Tofu: We've said it before and we'll say it again, the only way that your crispy pan-fried sesame tofu is going to be a success is if you make sure that the tofu you are using is extra firm, otherwise your tofu will end up soggy and will break when combined with the sauce. 
Although this can be tasty, it's not what the recipe is all about! So always make sure to stick with extra firm tofu, or failing that, firm tofu. 
Non Stick Pan: If you don't have a non-stick pan, then chances are you're going to encounter some trouble when it comes to cooking your tofu. 
This is because tofu has an annoying habit of sticking to the bottom of most pans, especially ones that aren't non-stick, so you should always try to use a non-stick pan when cooking tofu, otherwise your crispy outer layer might be left in the pan when you go to serve it! 
Patience: There's no denying that tofu is quite a fickle food item to cook, and it requires a lot of patience to cook it properly, and not to rush it too much. Although we said this dish can be ready in 25 minutes, you should never hurry your tofu's cooking process. 
So, cook your tofu cubes in small and manageable amounts, ensuring that each side becomes a golden brown color before you flip it onto the next side, otherwise your tofu won't become crispy at all! 
Adding Ingredients: We're in no doubt that this dish is already incredibly delicious, but the whole fun of cooking is to experiment and customize each dish, try making it really your own! Which is why we'll always encourage you to add your own ingredients to the dish to help make it even more interesting. 
What you add to this dish is entirely up to you, some people might decide to add a load of different vegetables to it, such as Bok Choy, mushrooms, or even baby corn.
Whilst some people might just add a few ingredients that will help to spice up the flavor, such as chilies, chilli paste, or maybe even by adding some sriracha to the sesame sauce. 
Ultimately, you can make this recipe serve as the base for your own crazy recipe, so don't be afraid to change it up once you become comfortable with cooking this dish! 
Conclusion
As you can see, this dish is not difficult to make at all, so whether you're a student who wants to enjoy some delicious Asian-inspired cuisine from home, or you're looking for a dish that is going to be able to made quickly at the end of a busy working day, this dish certainly won't disappoint. 
Getting your tofu perfectly crispy can be difficult, especially if you've never cooked it before, so don't be too disheartened if you don't get it right the first time you cook this dish! 
Overall then, this crispy pan-fried sesame tofu dish is sure to be a delight no matter how many times you cook it, and since you add so many different additions to it, you can keep it tasting fresh each time, thanks for reading, and enjoy!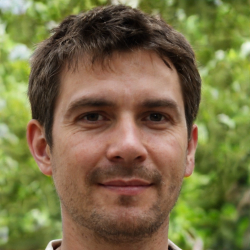 Latest posts by Justin Roberts
(see all)