Do you need a new tofu tikka masala recipe? Maybe you are looking for a family-friendly tofu recipe and are struggling?
Or are you curious about tofu tikka masala and want to know more? No matter the reason that brought you here, we have the answers for you! 
Finding a tofu-based recipe all the family will enjoy can be tricky, especially if you have meat eaters to contend with, or not everyone likes tofu.
You might see that a tofu tikka masala is a popular option, so you head online to see what recipes you can find.
But you are met with conflicting and contradicting recipes and information that leaves you unsure where to turn or who to trust.
Frustrated and disappointed, you wonder if you will ever find the perfect tofu tikka masala recipe (see also: Easy Tofu Sofritas Recipe)for your family. 
Well, no more! Today, we are here with the answers you need! Keep reading to find 10 tofu tikka masala recipes for the whole family.
We also have plenty of tips and tricks that you can use to make the best curry ever. Let's dive into the list and help you find your new tikka masala recipe today. 
First, we have this delicious tofu tikka masala from Rainbow Plant Life. with a total time of one hour twenty, it's a time-consuming curry, but one that is worth it!
You get wonderful spices and a creamy yogurt that works beautifully with the tomato and onion-based sauce.
If you loved tikka masala before going vegan, or are looking for more plant-based options, you can't go wrong with this curry! 
Make sure the vegan yogurt you purchase is thick, otherwise the consistency of your curry will be off. It doesn't impact the taste, but if you want a thick sauce, you will need a thick yogurt!
You will also want to pay attention to the quantities of spices. Make sure you measure them out correctly to avoid adding too much or too little flavor! 
Next, we have this delicious vegan tandoori tofu tikka masala. This recipe uses deep-fried tofu pillows which adds a wonderful texture to the curry.
It also changes the texture of tofu and removes the chewy texture tofu sometimes has. 
Make sure you grind the spices too, as this helps to release the flavor. We found a coffee grinder works just as well as a pestle and mortar.
Plus, it's a lot quicker too! The tandoori tofu is full of flavor and works beautifully in the masala sauce. It adds an extra layer of flavor that you won't want to be without! 
If you want an easy tofu tikka masala, then look no further!
This Fearne Cotton tofu tikka masala takes just three steps to make and is super tasty! There is plenty of flavor from the spices without it being too spicy. 
It's a quick recipe too and doesn't take long to whip up. The curry serves four too, although you could easily adjust the quantities to make more or less curry.
Whether you want a meal for your immediate family, or to feed everyone, this is a wonderful tikka masala recipe! 
Just make sure you press the tofu and drain it to remove as much moisture as possible! 
This wonderful tofu tikka masala can be made in the pressure cooker or stove top, making it the ideal recipe for anyone that wants to throw the ingredients in and walk away!
You will be surprised how creamy the curry tastes too, given that there is no cream in the curry!
Some coconut milk and cashews add plenty of creaminess and richness to the dish! 
The recipe comes with two sets of instructions, one for cooking in the pressure cooker and one for the stovetop.
It provides you with plenty of options and means you don't need to worry about adjusting the recipe to suit you. 
If you love vegetables in your curry, then this tikka masala tofu and vegetables is the one for you!
It's packed full of veggies to provide you with nutrients and the tofu gives the dish an added boost of protein. 
The curry is also light on cream, helping to reduce the fat content. Don't worry, you still get a rich curry and plenty of flavor, but you won't have the fat from the cream.
There is also still cream and yogurt in the curry, so make sure you use a plant-based one for a vegan dish! 
The tofu in this curry is roasted too, adding plenty of flavor. If you have struggled to cook tofu before, try roasting it!
It helps to remove the excess moisture from the tofu and adds lots of flavor too. You can expect crispy pieces of tofu that will work wonderfully with the vegetables and spices. 
This recipe from Holy Cow Vegan is perfect for curry lovers! It features baked cubed tofu and a rich tomato onion curry sauce.
This comfort meal is easy to make and is sure to leave you and your family feeling satisfied! 
Vegan yogurt and cashews give the curry its creamy texture without adding too much richness. You can still enjoy the spices without feeling like you are eating solid cream (like you do with bad masalas)! 
A;l the spices are easy to locate and pretty affordable too, making it a wonderful and cheap meal to fill your family.
You can even store it for a few days or freeze it, making it a wonderful meal to batch cook!
We love any recipe labeled quick and easy, and this tofu tikka masala is no exception! Taking just twenty minutes to make, this curry is vegan, gluten free, and healthy!
The tofu is fried, giving you crispy chunks that work perfectly in the rich and creamy masala sauce! 
With just seven steps to follow, the tikka masala is super easy to make! It requires little effort from your part and can be padded out with vegetables if you want!
Tikka masala is a wonderful curry to use to hide vegetables from fussy eaters too, why not see how many of their five a day you can slip in?
This vegan version of tikka masala is packed full of spices and flavor, with a rich sauce you will love!
Make sure you press the tofu before you start cooking. The last thing you want is to have wet or soggy tofu ruining your curry! 
We recommend that you follow the recipe tips and freeze your tofu beforehand. You can then thaw it and press the tofu again.
This helps to remove more of the moisture and can make the dish more flavorful! You want the tofu to absorb the spices and marinade to avoid biting into a bland chunk! 
The recipe is broken down into small steps that are easy to follow. Even if you are new to cooking, you will be able to make a delicious curry with this recipe! 
If you have allergies or are looking for an onion and garlic free dish, then this is the recipe for you!
The tofu tikka masala features tofu marinated with lots of spices and creamy vegan yogurt before being baked and cooked in a rich tomato gravy. 
Not only is the curry suitable for those with allergies, but it is easy to make!
You won't even miss the onions or garlic thanks to all the flavors in the curry. You can still enjoy a rich and buttery tikka masala without meat, onion, and garlic! 
Finally, we have this delicious tofu tikka masala served with kachumber salad.
This is a wonderful alternative to a heavy curry and is the perfect lunchtime meal! The recipe can be adjusted to cook for 1, 2, or 4 people, allowing you to feed your family with ease. 
The tofu gives it plenty of protein to keep you full, while the salad provides a freshness to the dish and added nutrients.
If you don't like vegetables in your curry, then serving them on the side as a salad is a wonderful way to enjoy a balanced meal! 
Final Thoughts
And there you have it, 10 tofu tikka masala recipes your family will love!
Whether you are looking for a quick curry that can be made in twenty minutes, a rich sauce you can leave marinating for hours, a veggie-packed curry, or a fresh alternative, we are sure you will have found the curry for you! 
Don't forget to use the tips and tricks provided here today and in the recipes to make the cooking process easier and to allow you to enjoy a tasty curry that your family will love! 
Good luck!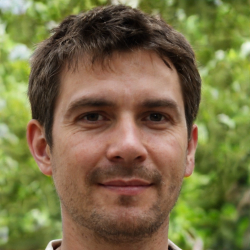 Latest posts by Justin Roberts
(see all)