Something like tuna tartare would rack up a hefty bill in a fancy restaurant, even if you opted out of dessert; however, though it may be considered a rather up-scale meal, it's actually remarkably easy to whip up yourself.
In fact, you don't have to cook a single ingredient to create a true seafood masterpiece!
If you fancy treating yourself to a bougie night in or you have some guests coming over for dinner that you're dying to impress, this is the ultimate meal, and I'm going to guide you through the creation process.
Is Tuna Tartare The Right Dish For You?
Being that tuna tartare isn't exactly your everyday snack, it stands to reason that you may not even know exactly what it is, so let's sort that out right here, right now, before we get any deeper into the guide.
The good news is that this meal is relatively nebulous and open-ended, so you can let your culinary creative side run free and develop your own take on a seafood classic.
I'm going to be giving you the gist with my approach here today, but once you've mastered the basics, feel free to follow your taste buds and take this dish wherever you please.
The only defining qualities of tuna tartare are that the tuna must be raw, and the tune must be diced. Everything else comes down to the chef's discretion.
Whatever you think will complement it can be added, but do keep presentation in mind. It's easy to go overboard and end up with a delicious yet ugly-looking plate of food.
This dish is a chance to show off your culinary chops, and I doubt you'll want to throw that away, so think smart when creating your own variations.
Wait A Minute, I Thought Tartare Was Made With Beef?
Alright, you got me; traditionally, tartare is a beef dish, but cooking is science, and science is all about experimentation, so let's all collectively move forward and try something exciting and new!
Besides, sushi is becoming more and more popular, and this is an intriguing and original way to get in on the buzz surrounding this Japanese culinary export.
What's more, fish is far healthier than red meat, so it's a great choice if you or your guests are trying to keep it lean.
Is Raw Tuna Safe?
When you heard this was a raw tuna dish, there were no doubt some alarm bells ringing in your head, and you're correct to be wary, because raw fish can make you very, very ill.
The key to a healthy tuna tartare is selecting "sushi-grade" tuna exclusively — Nothing else will suffice!
What Is Sushi-Grade Tuna?
Sushi-grade fish has been prepared in a very specific way to keep it as fresh and clean as possible. For instance, it will have been caught quickly, bled immediately, gutted shortly thereafter, and set on ice ASAP.
\This stringent process inhibits bacterial growth, ensuring the raw fish is safe to eat. There's also a trick you can use to make it even safer, but we'll talk more about this a bit later on.
Tuna Tartare Ingredient List
Here's what you'll need to rustle up my simple yet devilishly tasty version of tuna tartare for two people.
For The Tartare
Sushi-grade tuna (as discussed) — 300 grams should do.
4 x yellow onions
2 x tablespoons of sesame seeds
1 x avocado
Half a cup of cucumber — This will be diced.
1 x tablespoon of lime juice
Some fresh cilantro
Salt & pepper
For The Sauce
2 x large garlic cloves
2 x scallions
1 x tablespoon of grated fresh ginger
1 x teaspoon of lime juice
1 x tablespoon of sesame oil
2 x tablespoons of soy sauce
1 x tablespoon of rice vinegar
1 x tablespoon of honey
Preparation Instructions
As long as you have a nice, sharp kitchen knife at the ready, preparing tuna tartare is a total breeze. I like to kick things off with the sauce.
Step 1 – Preparing The Sauce
Mince your two garlic cloves.
Grate your knob of fresh ginger until you have a full tablespoon's worth.
Chop your scallions up into small rings. Keep some aside for garnishing your meal later on.
Mix your soy sauce, sesame oil, rice vinegar, lime juice, and honey in a bowl.
Add in your solid components, mix some more, and voilà, job done!
Once complete, you can set your sauce aside in your fridge for the time being,
Step 2 – Toasting The Sesame Seeds
Okay, so when I mentioned that you don't have to cook anything for this meal, I wasn't being completely truthful. For optimal results, you need to toast your sesame seeds, which is a super simple process.
Warm a pan on a medium heat for roughly 1 minute.
Add your sesame seeds to the pan and cook them for about 5–7 minutes, stirring them with a wooden spoon every minute or so.
Once they turn a lovely golden brown color, transfer them to a board or plate and allow them to cool.
Step 3 – Preparing The Tuna
Finely chop your yellow onions while keeping your sushi-grade tuna nice and cold.
Dice your tuna.
Add the tuna, onions, and toasted sesame seeds to the bowl of sauce, mix everything together, then refrigerate.
The citric acid in the sauce triggers the denaturing of proteins in the raw fish, reassembling them in almost exactly the same way heat would, making the fish even safer to consume.
This is the extra cleansing process I mentioned earlier, but it serves another bonus purpose. Denaturing the proteins with acid will also make the fish more tender, so it's a win-win!
Step 4 – Preparing The Bottom Layer
Finely chop your avocado.
Dice your cucumber.
Throw both your avocado and cucumber into a bowl then add the lime juice, salt, and pepper.
Tear your fresh cilantro by hand and add it to the mix (tearing by hand releases the most flavor). As you did with the scallion, keep some cilantro aside so you can use it to garnish your meals before serving.
Step 5 – Assembling Your Tartare
Place a mold or ramekin on your plate.
If Using A Mold
Fill out the bottom half of the mold or ramekin with the ingredients prepared in the previous step.
Fill up the top half of the mold with the sauce and tuna mix.
Carefully lift the mold from the plate, leaving a perfectly formed tuna tartare in its wake.
If Using A Ramekin
Fill the bottom half of the ramekin with the tuna and sauce mix.
Layer the ingredients from the previous step on top.
Pick up the ramekin in one hand, turn the plate upside down with your other hand, put the plate on top of the ramekin, then in one swift movement, turn the plate the right way around.
Place the plate down on a counter then gently lift the ramekin to reveal your work of culinary art.
Side note — You can serve the tartare in the ramekin if you like, but you'll have to place the cucumber and avocado mix in first and the tuna and sauce mix in second.
Step 6 – Garnish
Grab those bits of scallion and cilantro you saved during the preparation process and pile a little green hill dead center on each serving of tuna tartare.
This isn't an essential step, but if you really want your dish to look great, it's a no-brainer, and it literally takes seconds.
As the tartare itself is a fairly contained food, you'll have plenty of plate real estate left over to get weird and wonderful with decoration.
I'm partial to an elegant drizzle of balsamic glaze or a simple circle of small sriracha blobs, but you're free to let your creative side go wild here.
Step 7 – Serving Up
The time has finally come to deliver your tuna tartare to your guests and blow their minds.
By the time their meals hit the table, the delicious sauce that you soaked the tuna in will have filtered down through the base of the tartare, ensuring that the whole meal is packed full of flavor.
A Note On Sides
Much like the garnish, you're free to add any sides you think will complement the tuna tartare.
Rice crackers are a particular favorite of mine, although if you want something a little more filling, turmeric rice is a fantastic option, as are fried wonton strips.
If, on the other hand, you're after more of a fruity accompaniment, I'd highly recommend giving some fresh pineapple salsa a shot.
None of those suggestions resonate with you? No problem, here are some others that might:
Roasted sweet potato wedges
Horseradish sauce
Seared asparagus
Potato chips (for a super easy option)
Crispy shallots
A small salad
Soba noodles
Sugar snap peas
Quinoa
Stir-fried bok choy
Tuna Tartare With Sesame Ginger Sauce: Nutrition
With zero red meat, minimal salt and sugars, and plenty of healthy ingredients, despite appearing and tasting rather decadent, this tuna tartare recipe is actually very healthy!
It contains 30 g of protein, making it a pretty good post-workout snack, and with only 18 g of fat (mostly healthy fats), it won't derail a lean diet.
You're looking at 430 calories when you treat yourself to this tuna tartare recipe, which can be burnt off with just shy of 30 minutes' exercise, which you'll most likely get as you go about your day.
To put this into perspective, adult females need between 1600 and 2400 calories a day, while adult males require between 2000 and 3000 a day.
So, at the very most, this meal is only going to account for a quarter of your allowance, and at the very least, roughly one-seventh of your daily allowance.
Tuna Tartare With Sesame Ginger Sauce: Dietary Information
Needless to say, this meal isn't vegan, but you could absolutely veganize it by switching out the real tuna for a vegan tuna substitute, and the honey for something like a sprinkle of brown sugar or a drizzle of agave nectar.
Gluten-free diners are in the clear with this meal, as none of the ingredients contain even a smidgen of gluten — Hooray!
As for allergens, the only ones to watch out for are sesame and possibly soy. Other than these, it's a very safe meal indeed!
What Drink Should You Pair With Tuna Tartare
We all know that, most of the time, you should opt for white wine over red or rosé when eating fish, but with some strong flavors to consider, picking out the right white wine can be tricky, especially if you're not much of an oenophile.
The way I see it, you should lean into either the ginger overtones or the core tuna flavor when selecting your wine.
For the former, a quality Pinot Noir will go down a storm, especially with such a high-protein dish. For the latter, I'd suggest something more along the lines of a Chablis or Grüner Veltiner.
If you're not a lover of white grapes, you might get away with a very light Spanish rosé or dry red from southern France, but perhaps it'd be best to have a white wine chilled at the ready for any guests you're inviting over for dinner.
Alternatively, if you really want to mix things up a bit, why not do away with wine altogether and provide everyone at the table with some chilled sake? After all, this dish does owe a lot to Japanese cuisine.
For younger diners or those who don't drink alcohol, keep it simple. A glass of cold lemonade will be just the ticket, and if they're not much of a soft drink enthusiast, a mug of green tea will pair wonderfully with tuna tartare.
Final Thoughts
You really don't need to put on your finery, head out to a fancy French restaurant, and empty your bank account to enjoy top-class French cuisine.
While it's certainly nice to be wined and dined, creating a masterpiece such as this tuna tartare in your own home can be just as satisfying… even more so if you ask me!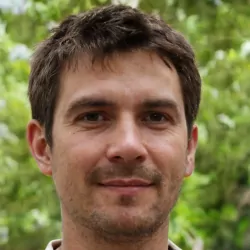 Latest posts by Justin Roberts
(see all)