Rice pudding is a simple yet delicious dessert that can make any bad day feel much better. This recipe is smooth, creamy, and best of all – it's vegan friendly! 
All of the ingredients are easily found in any grocery store, and you can quickly whip it up for breakfast, dessert, or even just a snack.
What Is Rice Pudding? 
Rice pudding is a sweet dish made from rice mixed with water or milk. It is then flavored with other ingredients such as cinnamon or vanilla.
It can be served at any time of day but is often made for dessert or breakfast. 
Sugar is also often added when serving it for dessert to make it sweeter. Thanks to the rice having such a mellow flavor, you can use any toppings to make it taste however you prefer.
The possibilities are endless, and that's one of the reasons why this is such a fun dish to make. 
Two Words – Coconut Milk!
We cannot believe that we went so long without realizing the incredibly easy way of making rice pudding vegan and dairy free – using coconut milk instead of normal milk. 
Even better, coconut milk makes the rice pudding even creamier and gives it a more dynamic taste rather than just being made from whole milk. Who doesn't love a coconut flavor in their rice pudding? 
And if you've never tried it, then you're missing out! 
Rice pudding is a creamy dish that can be compared to a bowl of porridge or oats.
It has a neutral flavor that you can flavor however you wish to, meaning that you'll never get bored of it thanks to the flavor variations you can come up with. 
This recipe features orange and cinnamon as the main flavorings, leaving you with a snack that is sure to warm you from the inside out.
But you can choose any flavorings to add – or just leave it plain to enjoy the coco nutty flavor! 
Why We Love This Recipe, And Why You Will Too
The recipe is dairy-free and vegan since it is made from coconut milk instead of cow's milk. Most rice pudding recipes are made with the latter or other dairy products that are not vegan.
Coconut milk is a great substitution since it is still super creamy, just without the cow byproduct. 
The recipe is incredibly simple to customize and swap out the flavors for different ingredients. It's impossible to get bored! 
You can also make it with either dry rice or cooked rice, making this a great way to use leftover rice in your fridge.
The recipe is easy to follow since there aren't a lot of rules on how the ingredients need to be prepared before using them. 
The Best Rice To Use For Rice Pudding
Don't worry about not being able to find the right kind of rice for rice pudding – you can use almost any type of white rice. 
White rice should always be used to make rice pudding instead of brown or wild rice, as white rice gives a much more mellow flavor.
The alternatives might overpower your flavoring and leave you with a funny-tasting rice pudding. 
But as long as the rice you're using is white, you can feel free to use whatever you have in the pantry! We have tried jasmine rice, basmati rice, sushi rice, and much more.
Our favorite has to be the arborio rice since it's super creamy. 
Ingredients Needed For Vegan Rice Pudding
Coconut Milk
We used light coconut milk to reduce the calories in our rice pudding without sacrificing the creaminess. However, you could use full-fat coconut milk. 
Cinnamon
If you have them to hand, cinnamon sticks work excellently for this recipe. However, you could also use cinnamon powder just as effectively. 
Vanilla Extract
You cannot beat using real vanilla extract! Make sure that you're using this instead of vanilla essence – or nothing at all. 
Sugar
You can use just about any form of sugar for this recipe, although we use cane sugar for convenience. We're talking white sugar, brown sugar, agave nectar, maple syrup, coconut sugar, and more! 
Rice
Again, you can use whatever rice you have to hand at this moment. We like to use arborio rice since it makes everything super creamy, but any rice will work provided that it is white. 
Orange Zest
You don't need to add this, but we find that the orange zest makes a delicious tangy flavor within the mellow rice pudding. 
Making The Vegan Coconut Rice Pudding
Now we'll walk you through the step-by-step process of how to make this delicious sweet treat.
You can make as many substitutions as you need with the ingredients, and the recipe will more or less always stay the same. 
Step One
Add the coconut milk, sugar, vanilla extract, and cinnamon to a pot and heat on medium to high.
Continue mixing until the liquid comes to a light boil. Remove the cinnamon stick once it has been boiling for two minutes. 
Step Two
Add the rice (¾ cup) to the boiling coconut milk and mix well. 
Step Three
Reduce the heat to low to medium. Allow the rice to cook, stirring frequently. If you have ever made risotto, this would be the same practice. 
The rice pudding will begin to thicken as the rice cooks. 
Step Four
Add your orange zest and continue to cook until the rice is completely soft. It's important to keep testing your rice pudding to ensure that you don't take it off the heat while it is still slightly crunchy. 
Once the rice is completely cooked, leave it to cool slightly before serving. Enjoy! 
Making Rice Pudding In An Instant Pot
If you'd prefer to use an instant pot to cook your rice pudding instead, the method is just as simple. The only change to the ingredients is regarding the coconut milk.
You will need to use 3 cups of coconut milk this time, or make a mixture of coconut milk and water. 
This is due to the fact that the instant pot will suck out much more of the liquid during the cooking process. So, to keep it nice and creamy, you'll need to add more liquid. 
Here are the steps to follow when making vegan coconut rice pudding in an instant pot. 
Add all of your ingredients to the instant pot and mix them together. Close the lid and vent to make sure the heat will be properly sealed in.
Set your instant pot to porridge mode and leave it to cook for 15 minutes. Then leave it closed as you change the setting to 'keep warm' for another 8 minutes. 
Open the vent to release the pressure built up inside. 
Now remove the lid fully to unveil your coconut rice pudding! Serve now or save for later, it's good whenever! 
Can You Make Rice Pudding With Cooked Rice?
Yes, you can make rice pudding with cooked rice – which can be super helpful when you have lots of it left over in the fridge.
Making rice pudding with cooked rice can be super helpful when you are short on time! 
Here is how to make rice pudding with cooked rice in a few simple steps: 
Mix your coconut milk, vanilla extract, cinnamon, and sugar together and heat on medium to high heat in a small pan. Mix while cooking for five minutes, then remove the cinnamon stick. 
Add the rice to your pot and allow it to simmer for 10 minutes on low to medium heat. Keep an eye out for when the rice gets nice and creamy – this is how you'll know it's done. 
Stir the orange zest into your cooked rice pudding and serve! 
Vegan-Friendly Rice Pudding Topping Inspiration
If you're not sure what you can top your rice pudding with, we have plenty of ideas to keep you going. One of the best things about rice pudding is the amount that you can customize it with! 
Here are some of our favorite topping ideas to use with your vegan rice pudding. 
Shredded coconut
Chia seeds
Maple syrup
Hemp seeds
Fresh berries
Nuts
Lemon
Jam
Nut butter
Granola
Caramel sauce 
Chocolate spread
Dark chocolate chips
Orange slices
Cacao nibs
Mango 
Banana
Can You Reheat Vegan Rice Pudding? 
Depending on how much rice pudding you made, you might have lots left over. If this is the case, don't worry – and don't throw it away! 
You can store your leftover rice pudding in the fridge for up to five days in the refrigerator and reheat it either in the microwave or on the hob. 
Simply add some more liquid if the rice pudding has become too thick, and watch it while it re-heats to prevent burning. 
Some even say that leftover rice pudding is better than freshly made! 
Making The Best Rice Pudding Possible – Tips And Tricks
We love rice pudding – we make it at least once a week! Through all of our trial and error, we have come to think of ourselves as experts in the world of this vegan dessert.
So, when it comes to tips and tricks on how to make the best rice pudding ever, we have a few suggestions. 
Keep Stirring! 
One of the main problems that we hear about when others cook rice pudding is that it always gets stuck to the bottom of the pan.
This can be incredibly frustrating – we know! But there is a simple solution to this, and that is to keep stirring.
Some people think that continuously stirring while cooking hinders the cooking process and makes it all take longer to cook.
You're right, the cooking time will be lengthened because of this. However! Your cleaning task will be less troublesome if you stick to this advice. 
You don't have to stir continuously, just frequently enough that the rice doesn't have the chance to settle on the bottom of the pan long enough to get burned onto it. 
Use Arborio Rice
We won't stop talking about how we love to use arborio rice for our rice puddings! It is the same rice that is used for making risotto, which should clue you in to how creamy it is.
This type of rice is by far our favorite, and we think that you should try it too! 
Of course, this recipe makes delicious rice pudding no matter what kind of rice you make it with.
However, if you want to make the best possible rice pudding, then we highly recommend using arborio rice instead. 
Don't Rush
There is always too much rushing done in cooking – and we're all guilty of it!
You want to get the meal cooked as quickly as possible, so you whack the burner up to high heat to get everything soft and edible in the shortest amount of time possible. 
However, any avid chef will tell you that this often ruins food and reduces the quality of the meal.
While you might think your food tastes fine while you cook it like this, imagine how great it would taste if you savored the cooking process and gave everything enough time to cook slowly! 
The best way to cook rice pudding, after the rice has been added, is to use low to medium heat. This ensures that the mixture becomes creamy and the rice cooks evenly throughout the pan. 
If you cook your rice pudding on high, there is a higher chance that your rice won't cook properly and that you'll be left with crunchy grains of rice among the softer pieces. 
Vegan Coconut Rice Pudding Recipe
This rice pudding is so creamy and delicious that you'll have a difficult time convincing anyone that it is vegan or dairy-free! 
Prep time: 5 minutes
Cook time: 20 minutes
Total time: 25 minutes
Serves 4
Ingredients
2 cups coconut milk (light or full-fat)
¾ cup arborio rice (or any other rice)
2 tbsp cane sugar (or any other sugar, we also like maple syrup)
2 tsp orange zest
½ tsp vanilla extract
½ tsp cinnamon or 1 cinnamon stick
½ cup water (if needed)
Method
Add coconut milk, vanilla extract, sugar, and cinnamon to a pan and heat on medium to high heat. Bring to a light boil and leave for two minutes before removing the cinnamon stick (if using). 
Reduce the heat to low to medium and add your rice, mixing well.
Continue to cook, stirring frequently, until the mixture begins to thicken and the rice cooks. It should thicken to the consistency of porridge. 
Once the rice pudding is thickened, taste some of the rice to see if it is soft. If the rice is still hard but the pudding is thick, add some water to thin it and continue cooking on low heat. 
Now that the rice is cooked and soft, add the orange zest and stir in before serving. Enjoy! 
Recipe Notes
If your rice is still uncooked but the pudding has thickened, add ¼ cup of water at a time, stir to thin out the consistency and continue cooking on low heat until the rice is soft. Keep adding water as needed during this process. 
Store your leftover rice pudding in an airtight container for up to five days. Heat in the microwave or on the hob with a little water added to loosen it up. 
Nutrition Per Serving
Calories: 330
Fat: 10 grams
Saturated fat: 3 grams
Sugar: 6 grams
Carbohydrates: 53 grams
Protein: 5 grams
Fiber: 2 grams
Summary
And there we have it! A simple yet delicious coconut rice pudding recipe that is both vegan and dairy free – what more could we ask for?
This recipe is super creamy and sweet and has a mellow taste that you can pair with any toppings to customize. You'll never get bored of making this recipe, and that's why we love it so much! 
Our top tips for making vegan rice pudding are to use arborio rice (we can't stop talking about it), stir frequently, and use low heat to cook it. 
Rice pudding can be served for breakfast, snacks, or dessert. What toppings are you going to try with it first? 
Frequently Asked Questions
Is Rice Pudding And Tapioca The Same Thing? 
Nope! Rice pudding and tapioca are not the same things, although they are both sweet desserts (see also "The Easiest And Healthiest Protein Pudding"). Rice pudding is made with rice, while tapioca pudding is made from cassava root.
Cassava root is a woody shrub found in South America, cooked to be softened with a similar texture to the rice. 
However, rice pudding will still be softer and creamier than tapioca. You can add any flavors to both of these dishes thanks to their mellow tastes. 
Can You Make Rice Pudding And Serve It Later? 
Yes, you can make a batch of rice pudding earlier in the day and reheat it whenever you're ready to serve. Just add a little water to your rice pudding if it has thickened too much to reheat evenly. 
You can keep rice pudding in the fridge for up to five days after you've made it. 
Is Rice Pudding Healthy? 
The healthiness of rice pudding all depends on how much sugar you put in it. Some rice pudding recipes are loaded with sugar, making them less healthy. 
Since this recipe uses coconut milk instead of whole milk, it also includes fewer calories. 
This rice pudding recipe has 330 calories per serving, with 5 grams of protein, 10 grams of fat, 6 grams of sugar, and 3 grams of fiber. 
Again, how healthy your rice pudding is will also depend on what kinds of toppings you add to it.
Rice pudding with berries and fresh fruit will be healthier than rice pudding with chocolate chips and caramel sauce! 
Does Rice Pudding Contain Eggs? 
Nope, rice pudding does not contain eggs. The only ingredient in normal rice pudding recipes that makes it not vegan-friendly is milk.
A simple swap from using coconut milk instead will make rice pudding vegan. 
Is Coconut Milk Good For You?
There are plenty of benefits to drinking coconut milk. Not only does it taste delicious, but it also has anti-inflammatory properties, allowing it to reduce joint pain and swelling. 
Coconut milk is also a natural sweetener, meaning that you don't have to use so much sugar in your recipes with it. This reduces your intake of sugar, which is pro-inflammatory.
Of course, there are plenty of other negative effects that sugar has on the body, so cutting some of it out and replacing it with coconut milk is an excellent benefit. 
Coconut milk also contains lots of antioxidants, helps strengthen the immune system, aids healthy hair and skin regrowth, and more.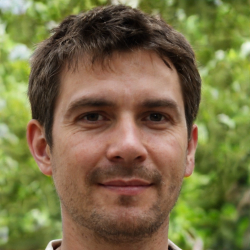 Latest posts by Justin Roberts
(see all)