Whole30 diets aren't diets in of themselves, but are more of a reset button when it comes to your eating habits.
Keeping out foods with high sugar, grain, milk, alcohol, and other similar items can be an effective way of starting fresh with food.
However, there is also the question of what foods are still good to be eaten as part of this kind of dieting strategy.
Fortunately, many types of meat are still on the table for you to eat, so to speak.
And with their juicy texture, when cooked right, as well as blending different flavors, and (depending on where you are at least), their low price, chicken might be one of the best meats for a whole30 diet out there.
Now all you need are some recipes to work that chicken into. And wouldn't you know it? We have just those kinds of recipes here for you to peruse!
From Korean BBQs to creamy sauces, these chicken thigh recipes will be just the recipes that you need to last that 30 days that this eating plan asks of you!
Heck, we'd recommend giving these recipes a try even if you aren't planning on trying a whole30 diet (see also "Tasty Whole30 Meal Recipes")!
To start this list with a recipe that has something for everyone, we have an amazing take on a classic recipe that complements some good chicken thigh meat!
You'll find in this recipe not just some succulent cooked chicken thigh for you to chow down on, but also tons of fresh vegetables like onions and tomatoes to help give this meal a little larger and broader flavor profile, especially considering that this is a drier roasted take on ratatouille.
The extra slices of lime and lemon that are thrown into this dish do help there too!
One of the things that you will likely notice is just how much overlap there is in dieting plans when it comes to healthy recipes like this one.
Not only is this a meal that is compatible with a whole30 plan, but it is also a very good meal to include in a paleo diet as well, alongside it having no gluten in the meal either.
Add to that the low-carb count, and you have a meal that is pretty much perfect for any dieting plan (except for maybe keto).
Honey and balsamic vinegar are two ingredients that we would argue manage to improve any recipe that they are in. As a case study, we'd like to present his recipe as proof!
While the chicken being a sponge for extra sauces is the most obvious beneficiary of these two ingredients, you'll also find that the veggies that this recipe is made with also benefit from them.
We're particularly big fans of how they make brussels sprouts a lot more enjoyable, with the sweetness and tangy flavors of these sauces helping to balance out the more naturally bitter taste that makes these little mini cabbage lookalikes such a tough sell to many people across the world (especially kids who already struggle to eat their greens at the best of times)!
This is a great recipe to try out if you're trying to use some leftover ingredients from the roast dinner that you made yesterday, so it helps cut down on food waste too.
Lemon and garlic are a flavor combination that goes well with pretty much any chicken recipe, regardless of other ingredients or cuisine, it seems. The same is true for this dish!
While this zesty and slightly heated chicken dish is great with many different vegetable sides, we recommend following the recipe and trying out the baby potatoes and green beans before trying out other flavor combinations.
Another thing we love is that this is a recipe that is prepared in a single dish, meaning that you're cutting down on complexity as well as cleaning up utensils.
Not only that but this recipe can be prepared in pretty much any single vessel. Want to make a single-pot recipe out of this? Sure.
Want to roast your ingredients in an oven? That's also fine. Want to make this an extra juicy dish in a slow cooker? Go for it!
Mushrooms and chicken are other staple dishes of many recipes. So many that many people might be a little bored with them by this point.
Luckily, this recipe adds a few extras to make these two ingredients an amazing treat once again, by adding a few tasty in there for a truly remarkable dish!
A rich, creamy sauce goes a long way toward making this dish something special already.
But combine that with some premium bacon as well and suddenly this bacon and mushroom sauce has plenty of flare to give a good chicken thigh, especially when a little extra garlic is thrown into the pan for good measure.
With all this amazing flavor, this recipe is still compatible with a whole30 diet plan. How amazing is that?
We've covered a lot of classic dishes so far in this list, but there are so many other flavor combinations to try out, especially when we start looking away from traditional US and European cuisine, and a little more eastward (or westward, if you want the shorter way round)!
Korean cuisine has so much to offer for healthy dieting, especially with dishes like this tasty BBQ recipe to try out (see also "Whole30 Hamburger Recipes")!
While some wannabe cooks might raise an eyebrow at the lack of any explicit BBQ sauce in the ingredients list, just trust the process on this one.
This recipe, with its red pepper flakes, fish sauce, white vinegar and so much else, will get you that BBQ heat that you're looking for with this recipe.
And, of course, this dish is okay to eat with a whole30 meal plan, but why wait around until you're on that diet to try it out? This meal is amazing!
Plus, it's also paleo-friendly, so you can even rely on this recipe if you decide to pick up this more rustic diet and some recipes for that along the way too!
Sweet and sour chicken is a popular dish among many East Asian cuisines, thanks to a potent flavor combination.
But for many people, the relatively high gluten content means that it has to stay away front their diets. Plus, not everyone is a fan of the pineapple flavor that many traditional sweet and sour recipes use to get their flavor.
However, if one or both of these things applies to you, then you'll want to try out this version of the classic sweet/savory dish!
Not only is it a meal that can be eaten as part of your whole30, but it's also gluten-free, so there's no excuse not to try out this dish for yourself.
Plus, the orange juice that is used in place of the pineapple makes for a very different-tasting kind of sweet and sour recipe, but one that is every bit as enjoyable.
So, if a pineapple isn't your favorite fruit of choice for this dish, you know where you should look for something different!
If you're looking for a lemon garlic chicken recipe that isn't going to take an hour and a half to make, then you'll want to check out this recipe specifically.
With a cooking time of just 20 minutes (that's prep and actual cooking included), this is a recipe that will take next to no time to make.
This makes it the perfect dish to make when in a rush or looking for a meal to satisfy those later-night cravings for something savory.
Plus, the recipe itself is very simple to follow, with the process being broken down into 4 easy steps. Stick with it, and this will eventually be a recipe that will become second nature for you to make.
And everyone needs at least a few of those recipes in the back of their heads.
Plus, with no added sugar to the broth of this recipe, it's remarkably healthy too, whilst also avoiding heavier cooking foods like butter that can add the calories up, using ghee instead.
Who doesn't love an air fryer? They make pretty much any recipe that you'd like to make a cinch and often helps cut down on waiting times and calories to boot.
In short, they are the perfect tool for many whole30 recipes!
Many people might feel a little iffy on meatloaves. After all, while they may be some people's favorite, they've also had perhaps too many boring versions at a friend or family member's house.
This is why, for this final entry, we've got a meatloaf recipe that's a little different!
The trick with keeping a chicken-based meatloaf tasty is making sure that the meatloaf stays juicy to eat, rather than completely drying out.
The BBQ flavoring helps avoid that issue, while also making for an amazing extra flavor to add to the mix.
Final Thoughts
So, which of these delicious chicken thigh dishes will you make first?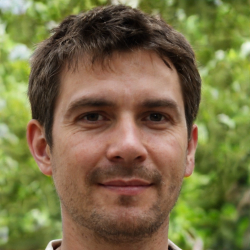 Latest posts by Justin Roberts
(see all)