If you're on the Whole30 diet, you'll know that it's all about focusing on whole foods and potentially cutting sugar, grains, dairy, legumes, and alcohol out of your eating.
With all those major things removed from your diet, you might have thought that it would be difficult to find filling, traditional meals to eat.
Well, that isn't the case! You can still enjoy loads of tasty dishes, and pork chop meals are just one of the many varieties.
There's a whole range of mouth watering pork chop recipes that you can make that fit into the Whole30 diet, whether you like your chops covered in balsamic mustard or you want them with a smoky chipotle flavor – and so much more!
In our appetizing guide below, we've got 10 tasty Whole30 pork chop recipes for you to try today (see also "9 Tasty Whole30 Fast And Easy Recipes"). You're sure to find dishes that you love, and they'll all help you keep following the Whole30 diet requirements too!
10 Tasty Whole30 Pork Chop Recipes To Try Today
We're starting our list with this fantastic recipe for pork chops cooked to perfection and covered in a Whole30 smoky chipotle sauce, which really gives that delicious meat even more flavor.
On top of that being appropriate for Whole30, this dish also works for people on the Paleo diet!
For the pork chops in this recipe, you'll need to use boneless center cut ones. You'll be cooking them in a large cast iron skillet, so make sure that you've got one to hand!
As for all the delicious smoky chipotle sauce, and all the other wonderful flavors you'll be garnishing the meat with, the ingredients list is long!
The sauce itself is made from coconut milk, chipotle seasoning, liquid smoke, and cilantro. It's easy to whip up, and it's a sauce you'll want to be adding to future dishes too!
Other ingredients you'll need include chili powder, cumin, and paprika, all to give the pork an even smokier, slightly spicy edge. Additionally, you'll also want some lime to garnish the meat with, which will add a little hint of sharpness. 
Next on our list is the recipe for these wonderful pan seared pork chops, which have a delicious lemon garlic citrus cream sauce to cover them.
Naturally, this is a Whole30 friendly recipe, as well as being suitable for those on a Paleo diet. Even better, it's a quick dish to make, taking fewer than 30 minutes!
It's the cream sauce that really makes this pork chop dish something special, and there's a whole load of different and delicious flavors within it.
It's got hints of avocado oil, garlic, and onions that have already been cooking with the pork chops, but then it's also got lemon juice, dijon mustard, coconut cream, and chicken bone broth too.
The coconut cream makes the sauce silky smooth and creamy, while the lemon and mustard help to add some sharp tang to it.
You can also add lemon slices and thyme to the dish too, to give it an extra kick of citrus flavor or some good old fashioned herbiness.
Our next recipe is this French onion pork chops skillet, where you have the pork cooked in a special way with specific additions, and then season it with a whole variety of different seasonings to bring more flavor.
This recipe is Whole30 and Paleo friendly, and it's gluten free and low in carbs.
For cooking the pork chops, you'll need chicken or vegetable broth to add in, as well as some minced garlic and a bit of coconut cream. Additionally, you'll need an onion, olive oil (you can swap it out for avocado oil), and vinegar.
Seasoning your meat is always incredibly important, because it helps to truly unlock its flavor – as well as give it a whole lot more.
For seasoning these skillet pork chops, you'll need oregano, thyme, garlic powder, black and red pepper, and a few other flavorful treats.
There's nothing like filling a large sheet pan with a delicious meal, stuffing it with meat, vegetables, herbs, and more. Better yet, it makes cooking totally easy! Simply prepare the sheet pan and put it in the oven for the right amount of time.
This recipe for Whole30 pork chops is a great example!
In addition to your pork chops, you'll need a range of tasty ingredients to make this meal totally filling and delicious. For example, you'll need to cut up a Fuji apple and then add the wedges to the sheet pan.
Pork goes brilliantly with apple, there's something about its deep meaty flavor mixing with the refreshing juiciness of the fruit. 
If you love to have some spice in your meal, then this recipe for Whole30 Cajun smothered pork chops is a must try (see also "Tasty Whole30 Pork Recipes")! Though not all Cajun food is spicy, they will always include spice, and that's certainly true with this recipe.
With your boneless pork chops, you'll get spicy flavorings from the inclusion of half a red pepper, half a green pepper, and Cajun seasoning.
You'll find a recipe here for a gluten free Cajun seasoning, and it's something that you can then carry over into future meals!
Pork is great, but do you know what would make the meal better? Adding some more meat! That's where this Whole30 recipe comes in, which combines the delicious flavor of pork with the unique taste of crispy bacon. 
Those are definitely the two key parts of this recipe, but you've got some other flavors thrown in there too. You'll need a clove of garlic and some sliced onion to add to the meat, as well as thyme, salt, and pepper. 
This recipe uses ghee, which is a type of clarified butter. 
Next on our list of fantastic Whole30 pork chop dishes is the recipe for this brilliant blend of pork chops and balsamic mustard. 
The mustard balsamic sauce really adds to this dish, which has the sweet tanginess of vinegar and the earthy, warm kick of brown deli mustard.
You can also add a tablespoon of date paste in order to make the recipe sweeter, if the sauce isn't quite sweet enough for your taste buds. 
Onion and garlic are also included in the recipe, lending their unique flavors to the mix and complementing the pork chops – like they always do! You'll have noticed them in a lot of these recipes, and that's for good reason.
To finish, you can also add some parsley to the meal in order to garnish it. 
All of the recipes in our list have involved regular cuts of pork chop, but this one stands out from the rest in that it uses pork schnitzel.
For those who don't know, a schnitzel is the name for a thin slice of meat, which means that you'll be using a particularly thin slice of pork for this recipe. 
Making this Whole30 meal is certainly an experience if you've never made schnitzel before! You'll need to put your pork chops in a plastic bag and then pound them with a meat mallet in order to make them thinner.
It's all worth it for the change in feel and taste that a thinner slice can bring.
Our next recipe is these creamy Whole30 pork chop recipes, which gives you a quick and healthy dish of succulent pork, tasty herbs, caramelized onions, and a totally creamy sauce to top it all off. 
This wonderful Whole30 dish gets a lot of its flavor from the seasoning, and there's plenty of that.
You've got coconut aminos (a coconut flavored sauce), some cayenne (to give it a bit of spice), thyme (for some herby earthiness), garlic (because it's delicious!), and more.
As for the sauce, it's thrown together in a blender, with you adding both and raw rinsed cashew nuts. As you can imagine, it's a thick and creamy sauce that works wonders for the dish, and it even lends a hint of nuttiness to the pork. Perfect!
We're finishing our list with a simple classic, just Whole30 pork chops with flavorful seasonings and a bit of egg wash. This is a brilliant way to do a healthy pork chop meal in very little time (see also "Ways To Check If Your Pork Chops Are Bad"), 
The spices and almond flour are added to a large baggie, then the pork chop is painted with an egg wash. The chop goes into the baggie, you shake it all up, and then remove the chop and cook it! Simple. 
Final Thoughts
There are loads of delicious pork chop dishes you can make that follow the Whole30 diet rules – use our helpful guide to find the very best recipes!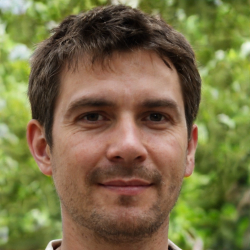 Latest posts by Justin Roberts
(see all)