Don't underestimate how difficult a whole30 diet can be.
While giving up some of your favorite food and guilty pleasures might seem like an easy thing to drop at that moment, even just a few days in can have people second-guessing themselves.
Cutting out many of the foods that are off the table in a whole30 diet, from alcohol to sugar, to dairy and grain, needs more than just a plucky spirit and a focused attitude to try out effectively.
It also requires hearty recipes that taste great in their own right to help take the edge off that temptation.
Fortunately, with recipes like these under our belt, we've found that finishing 30 days of diet is a lot easier.
Shrimp recipes are always fun to try out, thanks to the flavor and texture of this unique little seafood, as well as the sheer versatility they have in many recipes.
Don't believe us? Then you're just going to have to try these out for yourself and come to your conclusions!
Starting this list off with a simple, yet very pleasing recipe, we have a beautifully creamy Tuscan dish for you to try!
Italian Tuscan-inspired recipes are almost always crowd pleasers, thanks to their combination of great flavors and creamy sauces that go with just about anything, from chicken to shrimp, as we have here.
The trick with this recipe here, aside from using the freshest ingredients you can get, is to make sure that you've got enough tapioca starch ready to help get the consistency that you like most.
While a traditional Tuscan recipe also calls for some kind of cream to be used, we're trying to stick to a diet here, so that's just not going to cut it!
Fortunately, coconut milk has our back when it comes to getting that same texture for this dish.
Shrimps and skewers go together like Peanut Butter and Jelly. All they need is a good sauce to be drenched in and the right cooking method.
Well, luckily for you, we have both here!
Cilantro and lime is a classic flavor combo for many lighter meats and kinds of seafood, with the herbal parsley-like seed pairing amazingly with the bold, zesty flavors of lime.
Just slather this delicious mix onto your shrimp, and you'll get a fresh flavor unlike any other!
But how should these shrimp be cooked? Why, in an air fryer, of course!
This increasingly popular tool is the perfect way to not only get the perfect crispy texture on your shrimp but to keep those heavy carbs and calories out of the frying process too!
Who doesn't love a good bang-bang shrimp recipe? It's the perfect combination of crispy seafood and creamy sauce! It's a shame that there's no whole30-friendly way to make them…
Sike, just kidding, of course, there is! And it's every bit as delicious as the original, too!
With a sauce that is equal parts creamy and spicy, this recipe fits in perfectly with the dietary requirements of a whole30 diet, as well as even being paleo-friendly too.
Plus, this recipe can be made in as little as 20 minutes, so it's not even like it needs a ton of prep work going into it either!
Louisiana's cuisine is unlike pretty much any other in the US, including how they handle a good shrimp recipe, too.
Despite what cooking accidents and disaster intuition might tell you, this shrimp is blackened thanks to the healthy heaping of seasonings that this recipe uses, rather than any mishaps in the kitchen!
Jokes aside, the spices in this savory shrimp dish are to die for, and help this recipe stand out from others, all while still being in line with your whole30 dietary requirements.
And, of course, this is another shrimp recipe that you can try out in that shiny new air fryer that you recently bought!
One of the things that can often put people off cooking in general, much less cooking with shrimp, is the fact that cooking can often get very messy very quickly, especially once you start preparing all the necessary ingredients in different pots and pans.
Fortunately, this is a problem that this recipe manages to sidestep, by being made in just one pan, and still is an absolute feast for the senses!
With a creamy sauce that is packed full of spices, you'll find a fascinating blend of classic Italian flavors that are combined with Thai spices and tastes that will be an instantly memorable dish.
If you're dead set on making this a grain-free dish, cauliflower rice is the perfect side to serve this tasty recipe with!
Chicken might not be everyone's favorite dish, but it is also an incredibly versatile type of meat that is excellent and blends other ingredients' flavors with its juicy, succulent meat.
Those qualities are on full display with this next recipe, which tastes amazing alongside the whole 30-friendly shrimp and broccoli that is used in this dish!
Make sure that you've given these foods enough time to let their flavors blend in the perfect taste sensation!
Vietnamese cuisine is fast becoming one of the most popular in the world, and that's partly due to the distinct flavor combinations you can get, with classic meats and kinds of seafood being blended with distinct herbal flavors to create something that many people outside of East Asia are only just starting to appreciate!
Zucchini is a fan favorite ingredient for many people who are on strict diets, partly because of its nutritious and low-carb contents, as well as its relatively neutral flavor, when prepared right, making it very easy to pair with other ingredients.
In this recipe, it is paired with shrimp and plenty of fresh vegetables and lemon to create a mouth-watering salad that even the most anti-veggie meat lovers will be able to appreciate!
Kung Pao is a style of stir-fry that many people will be familiar with, but may have some hesitation when it comes to learning how to cook it for themselves.
Fortunately, with a guide and the right recipe, making this staple of many Chinese takeouts is incredibly simple, and is also a very healthy comfort dish that you'll be able to make for yourself!
The Sichuan peppercorn and garlic blend well together with dried chiles, especially once you let them blend well together.
Serve either with a hearty salad or with cauliflower rice for the perfect side dish to complement it!
Also known as gambas al ajillo in its mother tongue, this particular garlic, and the chili-rich recipe is a staple of Spanish cuisine, especially for places with easy access to good seafood.
The key to getting the best results with this recipe is to make sure that your garlic chili is as finely crushed as possible so that you can get the best distribution of heat and flavor across all the prawns you'll be cooking these ingredients with.
While it might be considered cheating for your diet, we would wholeheartedly recommend making this dish with some excellent patatas bravas, if you're looking for the perfect cheeky side dish to serve these immaculate shrimp with!
Caesar salads are an excellent choice for anyone that is trying to stay on a diet, as they are often full of vitamins that have little to no carbs, while also still having enough flavor to keep your taste buds engaged.
So, there might not be a better recipe to try and combine one of the most popular health-conscious seafood with!
While this caesar salad may not be packed to the brim with Parmesan cheese as a traditional one might be, this one makes up for it with juicy shrimp and cherry tomatoes benign thrown into the mix, for a very different, but still delicious taste experience.
You just know that we had to squeeze in another air fryer recipe in this list. They just make cooking so much easier and exciting!
Air fryers also mean that frozen shrimp can even be used for your recipes, so you don't have to worry about having the quickest and freshest shrimp to make something that tastes amazing!
And you'll be able to use those last few shrimp that have been building frost at the back of the freezer!
Final Thoughts
So, as you can see, there are plenty of ways that you can enjoy this ever-popular seafood, even when you are trying to keep grains, sugars, and other carb-heavy foods and ingredients out of your diet.
Now, with all these recipes at your fingertips to explore, you only have two problems left to solve:
Which one should you try out first?
Should you share these amazing dishes with your friends and family, or keep them to yourself for those secret amazing comfort dishes?
We can't answer those questions for you, so grab those shrimp, and find those answers for yourself!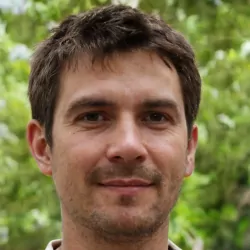 Latest posts by Justin Roberts
(see all)