Let's face it, we've all heard of Starburst before. Whether it be at the movie theater, a kid's birthday party, down at the local store, or during Halloween, we've all come across this delicious confectionary at some point.
Considered to be one of Mars Inc.'s most popular brands, Starburst is up there with the best soft taffy candy brands in America. In fact, it is considered the most popular candy in a number of states.
These soft, fruity chews are famous for their simple, yet juicy original flavors that are universally loved.
Red, green, purple, and orange, Starburst often leads to great debate amongst friends as to which flavor is the best.
However, they also leave those who follow a gluten-free diet with questions. That question is, are Starburst gluten-free?
Today, we're going to answer that question for you. We'll tell you everything you need to know. Let's get started!
What Are Starburst?
Before we do anything else, let's take a closer look at what Starburst is.
Originally known by the name Opal Fruits, Starburst is the name given to a famous box-shaped type of soft taffy candy manufactured by The Wrigley Company (to find out about other candy and gluten, read our guide to Lifesavers here). 
There are many different varieties of Starburst, with the original variety being the most popular.
The original variety of Starburst was brought out in 1960 in the United Kingdom. Four classic flavors make up this type of Starburst.
Those flavors are lemon and lime, blackcurrant, strawberry, and orange. These flavors are recognized by their classic colors and unique packaging.
Today, Starburst varieties and flavors vary all over the world. Even the ingredients used to make the Starburst can vary.
This is partly to blame for the confusion in relation to whether the candy is gluten-free or not.
What Ingredients Are Used To Make Starburst?
It is important to understand the ingredients used to make Starburst if we're going to find out if they are gluten-free.
Though the ingredients may vary depending on the variety and flavor of Starburst being made, the original soft fruit chews typically contain the following ingredients.
Sugar,
Corn syrup
Fruit juice
Citric acid
Hydrogenated soybean oil
Gelatin
Dextrin
Natural and artificial flavors
Coloring
Ascorbic acid
Food starch-modified
Are Starburst Gluten-Free?
So are Starburst gluten-free? Well, the answer to this is actually a bit more complicated than you might think. Having said that, we can give you a simple answer first.
If you are buying a packet of Starburst in the United States, yes, they will be gluten-free.
The Starbursts in the U.S. are completely free from gluten. At no point in the manufacturing process does the candy come into contact with gluten. 
As a result, they are considered to be safe for people following a gluten-free diet. 
Unfortunately, this isn't always the case. In some countries, Starburst contains a thickener or glucose syrup made from wheat flour.
It doesn't matter what variety of Starburst you buy, they would be unsafe for a gluten-free diet.
Some of the countries that sell Starburst with gluten include New Zealand and Australia.
It is important to know which countries sell Starburst with gluten in it because you don't want to fall ill on vacation. To avoid any problems, read the label closely before eating a single chew.
Does Starburst Have Gluten-Free Certified Labeling?
It is worth noting that Starburst candies don't have labeling that confirms that the sweets are gluten-free. Not being certified gluten-free might seem a little strange, but you don't need to worry.
Although the Starbursts sold in America don't have gluten-free certified labeling, they are 100% gluten-free. They are perfectly safe for a gluten-free diet. 
If you don't feel comfortable about this, you can always check the ingredient list to be sure.
If the packaging doesn't state anything about glucose syrup or thickener, you can rest assured that they don't contain gluten.
Are They Safe To Eat If You Have Celiac Disease?
Despite everything we've already mentioned, those of you suffering from celiac disease might still be very reluctant to eat Starbursts. This is completely understandable as you never want to risk falling ill.
However, Starburst fruit chews from America are completely safe to eat. You can eat them if you have celiac disease or another gluten-related allergy.
Having said that, we do recommend checking the ingredient list first. In the United States, every bag or packet of Starbursts comes with an ingredient list.
Before you eat any candy, it is well worth taking a look at the ingredients.
That way, you can be sure that the candy you're eating doesn't contain any gluten.
How Many Different Products Does Starburst Produce?
The news that Starbursts in the U.S. are gluten-free will please a lot of you. Let's keep the positivity going by showing you the range of Starburst products you have to choose from.
Of course, Starburst is best known for its classic fruit chew candies. However, there are actually a huge variety of different sweet, fruity products you have to choose from.
In fact, you have 14 different types of Starburst candies to choose from.
To give you a taste of what's on offer, we've listed the entire Starburst product range below. We've split it into two different types of candy to make things easier.
Starburst Chews
Starburst Original Fruit Chews
Starburst FaveReds Fruit Chews
Starburst All Pink Chews
Starburst Duos Chews
Starburst Airs
Starburst Sour Tropical Airs Gummies
Starburst Original Airs Gummies
Starburst Gummies
Starburst Original Gummies
Starburst Sours Gummies
Starburst Swirlers
Starburst Swirlers Chewy Sticks
Starburst Minis
Starburst FaveReds Mini Fruit Chews
Starburst Original Mini Fruit Chews
Starburst Jelly Beans
Starburst Original Jelly Beans
Starburst Frozen Candy
Starburst Strawberry Sorbet
Starburst Chewing Gum
Are Starbursts Seasonal Candies Gluten-Free?
As long as you're buying the candy in the United States, you also don't need to worry about enjoying the Starburst seasonal candies.
Starburst regularly surprises us with seasonal candy, such as the Starburst Easter Jelly Beans.
Products like this in the United States are always produced without gluten, making them gluten-free. Again, you can check the label first if you don't feel completely comfortable.
Nutritional Information
Considering they are a sweet treat and sugary candy, Starbursts aren't actually that unhealthy. Compared to other brands of candy, they actually make a great treat you can enjoy whilst dieting.
They are relatively low in calories and contain natural ingredients.
Of course, your diet might encourage you to stay away from any form of candy, but if you're going to eat one, you can't go too wrong with a Starburst.
We've outlined the key things you need to know about Starburst and its nutritional value below.
In 8 pieces of Starburst Original Fruit Chews, there are 160 calories. Those calories are broken down into:
83% carbohydrates
17% fat
0% protein
Are Starbursts Free From Dairy?
Not only are Starbursts gluten-free, but they are also dairy-free. They don't contain any eggs, milk, or butter. 
This is great because it makes Starbursts dairy-free and gluten-free, which is obviously very important for individuals that have specific dietary requirements.
Can Vegans Eat Starbursts?
Despite Starbursts not containing any dairy products, they are unfortunately not suitable for vegans. Whilst they don't contain any dairy products, gelatin is used in Wrigley's recipe.
Those of you keen to learn the source of the gelatin might be disappointed to learn that it is sourced from animal products.
Therefore, if you're a vegan, you'll most likely want to avoid this popular candy.
Other Types Of Gluten-Free Candy?
If you're surprised by our verdict that Starbursts are gluten-free, you'll be even more surprised to hear that there are many many more candy brands out there that produce candy that is gluten-free.
You'll probably be even more surprised that some of the most popular brands of candy in the world are gluten-free. 
To show you the other types of candy you can eat, we've listed the most popular gluten-free brands of candy, excluding Starbursts, below.
Chewits
Released in 1965, Chewits is a popular brand of cuboid candy that comes in a large variety of different flavors. They aren't too dissimilar to Starbursts.
Popular Chewit flavors include strawberry, fruit salad, and blackcurrant. Sweet, fruity, and juicy, all Chewit varieties are gluten-free.
Haribo Gold Bears
Some of Haribo's most popular classic candies are gluten-free. This includes the ever-popular Haribo Gold Bears. These charming little bears are completely free from gluten.
However, quite bizarrely, the classic Haribo Gummy Bears aren't gluten-free. Classic Haribo Gummy Bears contain glucose which is derived from wheat. 
Lucky for some, the majority of the rest of the Haribo range is also gluten-free. This includes Tangfastics and Starmix.
Love Hearts
Made by Swizzels, Love Hearts is another popular brand of candy that is gluten-free. These sweet and almost sour circular-shaped, hard sweets are also vegetarian, vegan, and nut-free. 
This makes it much easier to spread the love!
Flying Saucers
Flying Saucers are a British classic sweet that quickly grew in popularity in America. Found in almost every candy shop, these fizzy treats transport us back to our childhood. 
Made from edible rice paper and loaded with sweet and sour sherbet, you'll be pleased to hear that this classic candy is 100% gluten-free.
We don't know about you but our taste buds are already tingling at the thought of tucking into some Flying Saucers.
Millions
Finally, Millions are also gluten-free. Tiny balls of sweet goodness, these chewy sweets are another mouthwatering candy you can enjoy if you're sticking to a gluten-free diet.
Millions are easily one of the best candies you can buy if you love sweet, juicy, and chewy candies. Some of the most popular flavors you can choose from include apple, strawberry, blackcurrant, and cola. 
To Conclude
In this article, we've taken a deeper look at Starburst, with the aim of telling you whether they are gluten-free or not.
As you will now know, we have told you that yes, American Starbursts are gluten-free. 
We also explained how Starbursts in different countries are occasionally made using gluten-based ingredients. As a result, it is important to carefully read the label of your candy before tucking it in.
Other things we looked at in this article related to what Starbursts are made out of, what they are, who else can eat them, and other types of gluten-free candy.
Now you've made your way through our article, you should have a much better understanding of gluten-free candy.
You'll also now be able to enjoy Starbursts without any worry. With that in mind, why don't you head to the store and buy yourself a sweet treat?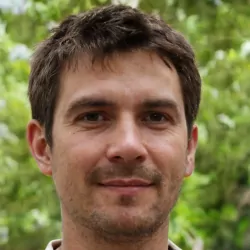 Latest posts by Justin Roberts
(see all)