Stir-frying food is a great way to create some delicious meals. Not to mention, stir-fries are super quick and convenient to make.
Chicken and mushroom stir fry is a delectable dish that is not only straightforward to make but is sure to be a hit with the whole family.
It has a woody and meaty taste that you're bound to make. Not to mention, it can be made in just a few minutes, making it ideal for midweek dinners.
This recipe will help you to make a paleo-friendly and tantalizing chicken mushroom stir fry. 
How To Make Paleo Chicken Mushroom Stir Fry
Serves: 4
Total time: 40 minutes
This recipe makes a tender chicken and mushroom stir fry that is packed with delicious vegetables. If you fancy a milder dish, you may not want to make the stir-fry sauce. Luckily, you can make the stir fry with or without this accompanying sauce. 
Ingredients
To make this recipe, you will need the following ingredients:
Stir Fry Ingredients 
½ lbs of chicken breast, diced into chunks
6 oz of mushrooms, cut into slices
3 cups of zucchini, sliced
A diced shallot
4 minced garlic cloves, minced
1 tbsp of minced ginger, minced
½ a tsp of black pepper
Olive oil
Sesame seeds (optional)
Sauce Ingredients
½ a cup of coconut aminos
1 ¼ tbsp of sesame oil
⅓ a cup of chicken or vegetable broth
1 tbsp of balsamic vinegar 
Equipment 
All you will need is:
A sharp knife and chopping board for cutting the ingredients
A large wok or frying pan
A wooden spoon
A measuring jug
A plate or bowl and cutlery
Instructions
Season the chicken by boating it in black pepper.
Heat the olive oil in a wok or frying pan over medium heat. Once the oil is warm, add the chicken and begin frying it. Stir the chicken regularly to ensure that it cooks evenly. 
Once the chicken starts to develop a golden brown color, remove it from the pan and set it aside. 
Add more oil to the pan and wait until it has been heated up. Add the garlic and ginger to the wok. Then, add the mushroom, zucchini, and shallots so that they are seasoned with the delicious herbs. Stir these ingredients regularly to guarantee even cooking.
Once the vegetables have finished cooking, add the chicken back to the frying pan and continue cooking it on low heat for approximately 1 minute. Stir frequently to combine all of the ingredients.
In the meantime, combine the ingredients for the sauce (coconut aminos, broth, balsamic vinegar, and sesame oil) in a measuring jug using a wooden spoon.
Add the sauce to the chicken and vegetable mixture and heat it in a low setting. Continue to stir regularly to prevent the ingredients from burning. Cook for approximately 4 more minutes.
If the stir fry is too moist, continue to heat the mixture to boil off some of the liquid. Once you have achieved the desired consistency, remove the stir fry from the heat. 
Take the stir fry off the what. Serve the dish on a plate or bowl. If desired, sprinkle the food with a handful of sesame seeds to enhance the flavor and color of the dish. Enjoy eating your irresistible chicken and mushroom stir fry.
Recipe Variations
If you want to experiment with the recipe and taste something a little different, try these recipe variations:
Top the stir-fry with a boiled or fried egg.
Add arrowroot powder to the sauce if you prefer a thicker consistency.
Try adding different vegetables, such as shredded cabbage, for more flavor.
If you are not following a paleo diet, you can add egg noodles.
For a paleo-friendly alternative to egg noodles, you can incorporate zucchini noodles. 
Experiment with different sauce recipes, as this dish will pair nicely with a vast range of sauce flavors.
Other Paleo Chicken Stir Fry Recipes
If you enjoyed this recipe, you can also try some of these similar recipes:
If you fancy a takeout but want a tasty homemade meal, you are bound to love this chicken stir fry recipe. This chicken stir fry is loaded with delicious vegetables, such as bell peppers, broccoli, and cabbage. 
The flavors of these vegetables are brought together by an indulgent garlic sauce. Moreover, the stir fry is incredibly aesthetically pleasing thanks to the range of vibrant vegetables that have been used. 
This stir fry will work wonderfully with cauliflower rice. Alternatively, it tastes outstanding on its own. 
This stir fry is healthy and delicious. Despite this, it is super straightforward to make. The tantalizing chicken and broccoli stir fry can be made in just 30 minutes and will require only 10 ingredients. 
The stir fry is bursting with fantastic flavors, thanks to mouth-watering ingredients like garlic, ginger, sesame oil, and red pepper flakes.
An additional benefit of this recipe is that it recommends a large number of substitutes. As a result, you can easily customize the recipe to fit your preferences.
If you love spicy flavors, you will appreciate this spicy Indian chicken stir fry. It's made with spicy ingredients like cumin, chili powder, and red chili paste. This recipe is a magnificent match if you love Indian-inspired cuisine. 
This recipe can be made in just one pan, meaning that you won't have to do much washing afterward. Just bear in mind that the recipe will take a long time to make, as the meat requires marinating. 
The stir fry also looks aesthetically pleasing. It is super vibrant thanks to ingredients like red onion, bell peppers, and carrots. 
Final Thoughts
If you are craving a simple paleo dinner-time recipe, this chicken and mushroom stir fry is an outstanding option. Bursting with vegetables, this delicious meal is also quite nutritious.
Additionally, the inclusion of chicken means that it contains a decent amount of protein. If you adore complex flavors, this chicken stir fry could become your favorite recipe!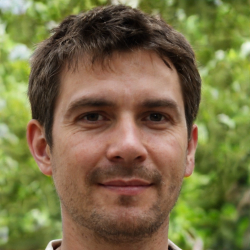 Latest posts by Justin Roberts
(see all)