There are so many benefits to the paleo diet, but one downside is having to say goodbye to easy Chinese takeaways.
When you've had a long day and you want something that's filling, bursting with flavor, and fresh on your plate in just a matter of moments, there's nothing quite like a good Chinese.
But here's where paleo might surprise you — Chinese-style fried rice is not only easily achievable on the paleo diet, but it's also completely delicious. Plus, you can make the whole thing in just a few minutes, and the recipe is perfect for clearing out your fridge.
What Is Cauliflower Rice?
If you're looking for a low-effort and low-calorie paleo side dish they don't come any better than cauliflower rice.
Absorbing sauces and flavor, cauliflower rice is the quiet sideshow to your paleo main dish. But don't let its simplicity fool you! Cauliflower rice is a versatile base for spectacular foods.
Cauliflower rice has become increasingly popular over the last few years, so you should be able to find bags of ready-made cauliflower rice in most grocery stores. Check out the refrigerator section and the freezer section. 
Alternatively, you can make your own cauliflower rice! This is a little more effort than a ready-made pack, but it's easy enough for even a busy chef. You can make cauliflower rice with:
A grater. Simply grate a head of cauliflower into the large holes.
A food processor. Working with a handful of florets at a time, chop the cauliflower into rice-sized pieces. Be careful not to over-process, or you could end up with cauliflower puree.
A knife. Separate your florets and use a sharp knife to mince them into small pieces.
Once you have your cauliflower "grains", you can get cooking! Don't simmer cauliflower rice in water, as it will turn to mush. Instead, lightly saute cauliflower rice in a large saucepan, then pop the lid on, and steam it for around 5 to 8 minutes.
What Is Chinese Style Cauliflower Rice?
Chinese fried rice is a humble dish with a surprisingly rich history. It's thought to have originated during the Sui Dynasty (589 – 618 CE), before becoming immensely popular during the Ming dynasty (1368 – 1644 CE) as a way for both peasants and noblemen to use up leftovers!
Chinese-style fried rice consists of ready-cooked rice fried with vegetables and meat, seasoned, and served as either a side dish or a main meal. 
Tips And Tricks For Making Chinese-Style Cauliflower Rice
This recipe is incredibly adaptable. You can basically put in anything you might have lying around the fridge. Try substituting bacon for ground pork or sliced chicken. Add mushrooms for some umami, a handful of spinach, chopped celery — you get the picture.
You can even play around with flavorings. The combination of coconut aminos and sesame oil is a paleo-friendly variation on soy sauce and sesame, and a simple base for some experimentation. 
Chinese-style cauliflower rice can generally be kept for around 2 to 5 days in the refrigerator. Store any leftovers in an airtight container. It can be enjoyed hot or cold.
Ingredients For Chinese-Style Cauliflower Rice
Chinese-style cauliflower rice is a dish designed for leftovers, so use this ingredients list as a guideline, rather than set instructions.
Avocado oil. A neutral oil for stir-frying your ingredients.Garlic, ginger, and scallions. These are the flavorsome base of your Chinese-style cauliflower rice. 
Carrots, peas, kale. These veggies help bulk out the dish while adding flavor and texture. We love this combo, but you can use whatever odds and ends are in the refrigerator or freezer.
Bacon. Thick slices of paleo-approved bacon add a heaping of flavor with minimal effort.
Eggs. Scrambled and stirred through at the end, eggs help to lightly bind the fried rice while thickening the sauce.
Coconut aminos. A gluten-free alternative to soy sauce, coconut aminos adds salty and umami flavoring to the dish.
Sesame oil. Used for flavoring rather than cooking, sesame oil adds a nutty depth and a faint touch of sweetness to balance out the umami.
Crushed red pepper flakes. An optional ingredient that infuses the dish with spice. 
Cashews. You can toast plain cashews, chop roasted cashews, or keep them simple. These amplify the nutty flavors of the dish while adding crunch.
How To Make Paleo Chinese-Style Cauliflower Rice
Feeling hungry? You can throw together paleo Chinese-style cauliflower rice in just under 15 minutes.
1. If you're using ready-made cauliflower rice, you can skip straight to step 2. Otherwise, prepare your cauliflower rice using a grater, food processor, or knife.
2. Chop 4 slices of bacon into bite-sized pieces. Cook in a non-stick skillet over a medium heat, until browned and crispy. Remove with a slotted spoon, and pat dry on a kitchen towel.
3. Mince 3 cloves of garlic, peel and grate 1-inch of fresh ginger, and thinly slice 4 scallions. Add to the pan and saute in the bacon fat until fragrant, roughly 3 minutes. If there isn't much bacon fat in the pan, add a splash of avocado oil.
4. Dice 1 large carrot and chop a handful of kale. Add to the pan along with ½ cup of peas and any other leftover veg. Saute for around 5 minutes, until the carrot is starting to soften.
5. Add the cauliflower rice and stir. Turn the heat to low and cover the pan. Steam the cauliflower rice for roughly 5 minutes, or until you're happy with the texture.
6. Remove the lid and push everything in the pan to one side. In a separate bowl, whisk 3 eggs. Add a splash of avocado oil to the empty half of the pan, pour the eggs in, and cook until scrambled. Stir the eggs through the rest of the dish.
7. Season with 6 tablespoons of coconut aminos, 2 tablespoons of sesame oil, and a pinch of crushed red pepper flakes. Stir through the cooked bacon and a handful of chopped cashews, taste, adjust the seasoning, and serve.
Final Thoughts
Quick, easy, and adaptable, Chinese-style fried cauliflower rice is the perfect paleo weeknight meal.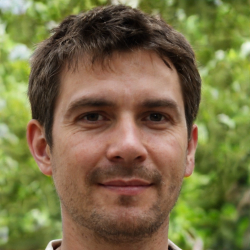 Latest posts by Justin Roberts
(see all)