You can make these muesli bars right in your very own kitchen with a few healthy ingredients. These bars are tasty, filling, and good for you, so they're great to enjoy at breakfast or while on the move!
This recipe is perfect for the self-confessed snackers out there. These bars are very simple and easy to put together, so you don't have to be a professional baker to make them!
They're also full of seeds, nuts, and whole grains that will keep you full throughout the day.
These bars are a great snack, but they also make a good breakfast option when you don't have a lot of time on your hands. 
You'll learn how to make these muesli bars in this post, including a little more about muesli and its health benefits. 
Muesli: The Basics
Muesli is a dry cereal that's rich in protein and fiber. It consists of an oat base and other breakfast foods, like dried fruit, nuts, and grains.
People usually eat muesli raw with a little milk, or use it to top fruity breakfasts, like yogurt parfaits.
Muesli has developed over time to consist of lots of different ingredients which can be soaked overnight.
You can mix a variety of fresh fruits, nuts, and seeds with your choice of milk, yogurt, or even fruit juice, then leave it in the fridge to enjoy the next morning.
These concoctions can be packed with nutrients that support your general health and well-being.
People often confuse granola and muesli for each other, but muesli is different as it contains less sugar and more natural ingredients. It's a lot healthier for you compared to granola. 
If you're wondering whether you should make muesli a part of your everyday meal plan, its health benefits might convince you to give it a go! 
Muesli is Healthier Compared To Other Breakfast Cereals
You may be tempted to tuck into a bowl of sugary cereal or stop at your nearest coffee shop for a sweet pastry at breakfast. However, these are full of sugar and other ingredients that aren't that good for you. 
Muesli usually has fewer calories and less sugar compared to breakfast pastries and processed cereals. If you make your own muesli, you can also ensure that you don't add any extra sugar or refined foods into your cereal bowl.
Full of Fiber
It's difficult to measure the fiber content of muesli, as the ingredient combinations can vary widely between each muesli manufacturer.
Nevertheless, the food is usually full of whole grains and high in fiber, both factors that are great for digestion. 
Filling and Satiating
Whole grains and fiber aren't just good for your digestive tract, they can keep you fuller for longer. Raw oats are also packed with resistant starch.
This increases the time muesli takes to digest, improving satiety. You'll be less likely to reach for a donut right after a bowl of muesli! 
Furthermore, while the stomach starts to break down the resistant starches, your system will release digestive acids which increase your metabolism and reduce your appetite. You'll burn more energy and calories as a result. 
Source of Omega-3s
Other than oats, muesli often contains nuts, like cashews, almonds, and walnuts. Nuts like these usually contain lots of omega-3 fatty acids.
These can improve the quality of your skin, support heart health, defend your eyes, and strengthen your hair. 
Heart Health
One of the substances within muesli is called oat bran, which consists of a fiber known as beta-glucan. 
Research suggests that beta-glucan can improve cholesterol, lowering these levels by as much as 10%. This proposes that you can improve your heart health by making muesli a part of your diet. 
Very Satisfying
You now know that the oats in muesli contain beta-glucan. Other than being full of fiber and improving your cholesterol, beta-glucan can improve the look and texture of certain foods.
This includes muesli, noodles, pasta, and cakes.
Research has also shown that as well as affecting the nutritional value of food, beta-glucan can affect the gustatory and sensory qualities of some ingredients.
This means that it may help eliminate any food cravings before they arise, including before you wake up in the morning, 
Can Be Customized
You can customize muesli to your liking, adding whatever ingredients you want to your bowl. 
Examples include protein sources to support muscle growth before a workout, or nuts to improve your omega-3 fatty acid intake.
Adding fruit can also give you a decent amount of nutrients, like fiber, potassium, and vitamins B-12, C, and E. 
Plant-based milk used as a dairy alternative can also improve your protein and nutrient intake. Options like almond milk, soy milk, and even plant-based yogurt contain vitamin D and B12.
Essentially, anything you need to get your morning off to a good start can be added to your muesli bowl. 
Can Help You Make Better Food Choices
Choosing muesli over other, less healthy breakfast options, can help you avoid eating foods that are unhealthy for you.
You won't expose your system to sugary snacks or fatty foods which can wreak havoc on your waistline and well-being. 
Does Muesli Have Any Drawbacks?
We've seen how muesli has a lot of health benefits, but it can also have a few drawbacks. 
Muesli manufacturers often use dried fruit in their products, which can increase the sugar content. Muesli boxes from the store can be very high in sugar, as there can be around 26 grams of sugar per cup. 
It's advised that women don't consume over 24 grams of extra sugar each day, while men shouldn't go over 36 grams.
You might choose muesli as a healthy breakfast option, but may inadvertently consume over the daily recommended amount. 
Eating a lot of sugar has connections with obesity, poor heart health, and diabetes. 
A study in 2014 found that there was a link between larger sugar consumption and mortality from cardiovascular disease.
People who consumed 17% to 21% of their daily calories from sugar had a 38% more chance of dying from heart disease. 
Large amounts of sugar can also affect your liver. The liver metabolizes sugar and alcohol in the same way, storing the carbs as fat later on. This may lead to fatty liver disease.
Muesli can be a healthy breakfast option, but always look at the label to make sure it doesn't contain too much sugar or sodium.
You can also choose to make your own muesli at home, choosing to add healthy ingredients instead of any excess sugar. 
Why You Need To Make These Muesli Bars
Now you know a little more about muesli and its benefits, here are the reasons why you should give this muesli bar recipe a go.
Quick and easy to prepare. You can have these tasty bars ready in just half an hour. They're also so simple to make, so you won't need to purchase expensive, sugar-filled bars from the store.
Can be customized to your liking. You can use this recipe to start with, then add any extra ingredients that you'd like! Whether you add some yogurt to make it more filling or add some fruit to improve its taste, the choice is up to you. 
Full of good stuff. These bars are packed with protein, whole grains, and healthy fats that support your overall well-being. You won't be feeling conscious after trying this recipe. 
Ingredients You Will Need
Here are the ingredients you will need to make these muesli bars.
Rolled oats: These will be the primary base of your muesli. Make sure you use traditional rolled oats instead of instant, as this will give the bars a thick, chewy, and hearty consistency. 
Nuts: Walnuts and almonds are particularly filling, but you can use whatever type of nuts you'd like.
Shredded Coconut: Sweetened coconut can make this recipe too cloying, so it's best to use unsweetened coconut instead.
Honey: This will sweeten the recipe and bind the ingredients to each other, like glue. 
Chocolate chips: If you love chocolate, add a few of these in, but this is completely optional!
Avocado oil: This prevents the bars from drying out and helps the ingredients bind together easily.
Vanilla extract: Gives the recipe a slightly sweet flavor. 
Cinnamon: Add a touch of this for extra flavor.
Pinch of salt: Salt helps food taste a little sweeter! 
How To Make Homemade Muesli Bars
Here are the steps you need to follow to make these delicious muesli bars.
Step 1: Making the Muesli
You'll start by making the muesli. Pour the oats, nuts, seeds, coconut, salt, and cinnamon into a large bowl, then combine them.
A tip to bear in mind is to make your muesli with unroasted, unsalted seeds and nuts. The seeds and nuts will roast from the heat of the oven, so there's no need to use roasted ones. 
Step 2: Add The Liquid
Add the avocado oil, vanilla extract, and honey to a bowl, then pour the mixture into the larger muesli bowl. Mix all of the ingredients until they are all coated well. 
Step 3: Baking
Use parchment paper to line an 8×8-inch pan, then spoon the muesli mixture into it. Start firmly pressing the muesli down into the pan so it's well compressed. 
Put the pan in the oven and bake for 20-25 minutes at 350°F, or until the muesli turns golden.
Step 4: Cooling and Slicing
Leave the bars on your counter to cool down. Once they have fully cooled down, take them out from the pan and slice them into bars. Make sure that these are all roughly the same size.
Recipe Customizations To Try
An advantage of this recipe is that you can customize these muesli bars to your liking. There are endless fruit, sweeteners, and seed combinations for you to try! 
If you're struggling to think of any recipe variations, here are some ingredients that you can try using when you next make these bars.
Dried fruit: chopped mango, chopped pineapple, chopped apricots, chopped dates, cherries, cranberries, blueberries, chopped figs, currants
Nuts: almonds, brazil nuts, cashews, hazelnuts, macadamia nuts, pistachios, pine nuts.
Sticky sweeteners: agave nectar, honey, maple syrup, rice syrup
Oils: melted coconut oil, ghee, melted butter, avocado oil
Storing Muesli Bars
You can store these muesli bars in an airtight container for a maximum of two weeks. You can refrigerate these if you want, but as long as you keep them in the container, they will be just fine left on the countertop. 
Tips on Making The Best Muesli Bars
Here are some tips that can help you get the most out of your muesli bars.
Always use unroasted, unsalted seeds and nuts. These will roast while they are baking in the oven, so you won't need to use roasted ones. Always use unsalted nuts too, or your bars may taste too salty.
Always use the recommended amount of oil or honey. If you don't use enough honey or oil, the ingredients will have a harder time sticking together. 
Compress the muesli mixture as firmly down into the pan as possible. The bars will break apart if you don't do this, so keep pressing the mixture down firmly until it's well packed down.
Make sure the bars have cooled down fully before slicing or taking them out of the pan. Cooling helps the bars firm up, but the bars will fall apart if you take them out while they are warm. 
Muesli Bar Recipe
Preparation Time: 10 minutes
Cooking time: 20 minutes
Total time: 30 minutes
This recipe makes ten large bars or twenty small bars. 
You Will Need
Rolled oats: 2 ¼ cups (try to use gluten-free if possible)
Unsweetened shredded coconut: ¼ cup
Chia seeds: 2 tablespoons
Chopped walnuts: ⅓ cup
Sliced almonds: ⅓ cup 
Pumpkin seeds: ⅓ cup
Mini chocolate chips: ¼ cup
Honey: ½ cup
Avocado oil: ⅓ cup
Cinnamon: ½ teaspoon
Salt: ¼ teaspoon
Vanilla extract: 1 teaspoon
Steps
Preheat your oven to 350°F, then use parchment paper to line an 8×8 inch baking pan.
Add the oats, coconut, chia seeds, pumpkin seeds, almonds, salt, and cinnamon to a large bowl, then mix.
Mix the wet ingredients in a different bowl, which are the vanilla extract, avocado oil, and honey.
Pour the wet ingredients into the dry ones, then combine.
Spoon the muesli mix into the pan and press down firmly, packing the mixture down well. You can use another sheet of parchment paper to do this to stop your hands from getting sticky. 
Put the pan in the oven and bake for 20-25 minutes, or wait until the muesli turns golden.
Take the pan out and leave it to cool. 
Make sure the muesli has fully cooled down, then start slicing the mixture into bars. 
Final Thoughts
We hope you enjoy making these delicious muesli bars! Have fun experimenting with different ingredients and see which flavor combinations you can come up with!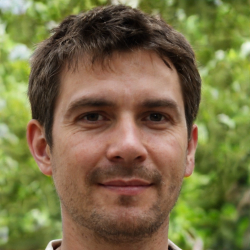 Latest posts by Justin Roberts
(see all)