These easy Chipotle-inspired sofritas are a knockoff version of the sofritas that used to be served in the very popular fast food restaurant Chipotle.
This recipe for sofritas, which is essentially just scrambled tofu, makes for a speedy and nutritious dinner that may be served in fewer than thirty minutes.
You can eat the sofritas on their own, in a burrito bowl, in tacos, or any other way you like!
When you can easily make sofritas at home, there's no reason to spend time and money getting them from Chipotle or any other restaurant.
At home, you won't have any trouble preparing chipotle sofritas because the recipe is that easy! 
After making and tasting this recipe for the first time, you'll probably find that it becomes your next go-to easy weeknight dinner meal! 
Sofritas are often people's first introduction to eating veggie and vegan food.
For people new to this kind of diet, this is an excellent recipe to try out because not only is it very tasty, but can also be used in many different types of veggie and vegan meals, making it a very versatile dish. 
When making sofritas, one of the best ways to serve them is in a burrito bowl along with some brown rice, beans, corn, and salad.
Afterward, drizzle the whole thing with some flavorful chipotle mayonnaise to make a taste sensation in a bowl. 
These sofritas can be served in a cauliflower burrito bowl as an alternative to traditional rice if you are searching for a meal option lower in carbohydrates.
Here is everything that you need to know about tofu sofritas, including what it is, what it tastes like, and how to make it! 
Sofritas – What Are They? 
While sofritas is a very popular ingredient in the veggie and vegan world, people who don't follow these diets may have never heard of this before. Essentially, sofritas are just crumbled tofu with some added spices for flavor. 
While it seems very simple, this means that sofritas can be used as the base ingredient for many different vegetarian dishes. 
To prepare sofritas, crumbled tofu is cooked in a tomato-based pepper sauce with various spices, garlic, and onions. The texture of the finished product is comparable to scrambled tofu. 
Because of their mouthwatering flavor, Chipotle's sofritas have quickly become one of the restaurant's most popular dishes for both vegetarians and non-vegetarians alike. 
What Do Sofritas Feel And Taste Like?
The texture of sofritas is smooth and kind of paste-like, and its flavor reveals undertones of cumin, chipotle, garlic, and tomato.
It can be made spicier or less spicy according to your taste preferences by adding different spices or changing up the levels of spice called for in the recipe. 
The flavor of chipotle, tomato, and cumin give sofrtias its distinctively savory profile. It's not very spicy, but it has a robust flavor that is reminiscent of the flavors found in chile. 
Sofritas Recipe 
After trying this recipe once you will quickly fall in love with it, especially if you love the Chipotle version but either want to save some money by making it yourself, or want to try a healthier version of this popular dish.  
This dish has a flavor profile that is comparable to the sofritas served at Chipotle restaurants, but it is made more healthily and contains significantly less sodium.
These sofritas are a nutritious option for vegans and people avoiding gluten as they include a good amount of protein without using any meat or animal products. 
This meal can be prepared in less than half an hour, making it an excellent option for hectic weeknights when you and your family have a lot of activities going on. 
Ingredients 
Here is everything that you will need to make the copycat Chipotle sofritas:
1 Pack of Extra-firm Tofu 
3 Chopped Garlic Cloves
1/2 Chopped Onion
1 Teaspoon Chili Powder
2 Teaspoons of Smoked or Regular Paprika
1/2 Teaspoon Cumin
2 Chipotle Peppers in Adobo
1/2 Teaspoon Salt
2 Teaspoon Brown Sugar
1/2 Cup Crushed Tomatoes
1 Tablespoon Olive Oil
Method
After removing any excess liquid from the tofu by pressing it between paper towels and draining it, chop the tofu into large cubes and place it in a food processor. To make the tofu crumbly, give it a few quick pulses in the food processor.
Prepare the sauce by heating the olive oil in a large skillet over medium-high heat. After adding the onion and garlic, let them cook for two to three minutes before adding the tofu and spices and allowing them to cook for another two to three minutes.
After combining the chipotle peppers, crushed tomatoes, and brown sugar, transfer the sauce to the pan and stir to combine.
Remove from heat after mixing for about two to three minutes, or until everything is combined, then set aside.
To make the chipotle mayo, just combine equal parts chipotle sauce and the mayonnaise of your choice in a mixing bowl.
Serve! 
Top Tips 
Here are some things that you should do when making this recipe to make sure that the sofritas turn out just right.
For this recipe, you should use extra-firm tofu. Tofus with a higher moisture content will not brown as beautifully when cooked in a skillet.
To crumble the tofu, you can either use a food processor or just do it by hand. Be careful not to overwork the tofu if you're using a food processor though as this can ruin the texture of the sofritas 
If you do not like a spicy flavor in your food, begin by adding only one chipotle pepper.
Keep any leftovers sealed in an airtight container in the refrigerator for up to three days.
How To Serve Sofritas
Sofrtias are delicious when consumed on their own (or when eaten directly from the pan), but in addition to that, here are some additional wonderful ways to enjoy Sofritas:
In a burrito bowl, topped with rice and any other ingredients you choose.
Served in a tortilla for wrapping.
Served with side dishes like rice, corn, shredded lettuce, black beans, avocado, and much more! 
Storing And Reheating Sofritas 
Leftover Chipotle sofritas can be kept in an airtight container in the refrigerator for up to five days, or they can be frozen and kept in an airtight container for up to two months. 
If you have frozen your sofritas, then you must let it thaw out and come up to room temperature before you reheat it further. To defrost the dish, simply leave the container of it on the countertop or sink. 
Reheating the sofrtias is best done in a pan over a cooktop with a heat setting between medium and high.
This will help in providing the sofrtias with crispiness on the bottom of the dish. Reheating sofrtias in the microwave is another reheating option, but be careful that you do not burn the top of the dish.
Frequently Asked Questions
Is There A Difference Between Sofritas And Tofu?
Tofu is used in the preparation of sofrtias, however, the two are not the same thing. Tofu is a versatile source of protein that is derived from soy and may be prepared in a variety of ways. 
The dish known as sofritas is a traditional Latin American dish consisting of tofu that has been cooked in various seasonings.
Tofu that has been crushed or shredded is used in the preparation of sofritas, which are then stewed in spices and sauce.
Even though the dish is prepared with tofu, it is not prepared in the way you are probably accustomed to seeing tofu prepared, bursting with flavor!
Has Chipotle Stopped Selling Sofritas? 
If you are a fan of Chipotle and have spent a lot of time in these restaurants, then you might have noticed that the establishment doesn't always have sofritas on the menu.
This can be pretty annoying, especially when you have a craving for this dish (and this is another reason why you should give this recipe a go!). 
The reason why Sofritas might not be on the menu at your local Chipotle is not that they have stopped selling them, but because they are not always able to secure a supply of organic tofu for the preparation of the sofritas.
The good news is that making sofrtias at home is not only very simple but also results in an even tastier dish.
Other Vegan Chipotle Style Recipies To Try
Now that you have made sofritas, you can use this ingredient in many other tasty vegan recipes! Here is another recipe to try out. 
Vegan Burrito Bowl
These Chipotle Vegan Burrito Bowls are assembled with flavorful cilantro-lime rice, black beans, and peppers that have been sautéed.
The whole thing is then finished with some creamy chipotle sauce. These burrito bowls are much better than the ones bought at Chipotle, and can be made in the comfort of your own home! 
Ingredients 
For The Burrito Bowl
1 Cup White Rice: When making a burrito bowl, the best rice to use is long-grain white rice, such as basmati rice. As an alternative to white rice with short grains, you may use brown rice, wild rice, or even quinoa as the base of the bowl.
1 Tablespoon of Lime Juice: Used to impart flavor to the rice.
1 Tablespoon Chopped Cilantro: This is finely chopped and added to the rice to make cilantro lime rice. It is also used as a garnish on top of the burrito bowls. If you don't like cilantro, you can skip this part of the recipe.
1 Red Bell Pepper: You might also use bell peppers that are orange, green, yellow, or a combination of those three colors. If you enjoy things on the spicy side, try throwing in a jalapeño pepper as well.
1 Onion: You can use any variety of onions you like. There is also the option of using shallots.
2 Garlic Cloves: fresh garlic is always preferable to garlic powder.
1/2 Teaspoon Chili Powder: You can use Chimayo chili powder because it has a flavor that's hard to beat. However, normal chili powder can also be used.
1/2 Teaspoon Cumin: Just a pinch of cumin can bring out some additional flavor.
1/4 Teaspoon Salt: To season the peppers, use salt.
1 Cup of Canned or Dried Black Beans: You are free to substitute any other variety of beans that strikes you want.
1 Avacado: You have the option of leaving the avocado in its cube form or mashing it up to make guacamole.
1 Cup of Canned or Fresh Corn
For The Crema
1/2 Cup Cashews – Must be soaked in hot water for at least an hour 
1/2 Teaspoon Garlic Powder
1/2 Teaspoon Salt
1/3 Cup of Water
2 Chipotle Peppers – Soaked in adobo
1/2 Teaspoon Chili Powder
1 Tablespoon Lime Juice 
Method 
For the cilantro lime rice, prepare the rice following the instructions on the package. After the food has been cooked, stir in the lime juice and cilantro.
To saute the peppers, first, bring the avocado oil to a boil in a large skillet over medium-high heat. After cooking for one to two minutes, until the onion becomes translucent, add it to the pan along with the peppers, Chimayo chili powder, cumin, and salt, and mix everything. Turn the heat down to medium and allow the meat to cook for another three to four minutes until it is soft.
Now it's time to make the Chipotle crema. Once the cashews have been drained, place them in a food processor or a small blender along with the remaining ingredients for the crema. Blend until silky smooth, stopping occasionally to scrape down the edges of the blender.
Put together the bowls by alternating layers of rice, peppers, black beans, corn, and avocado in each bowl. Add some of the chipotle crema on top.
Summary
We hope that you give this recipe a go the next time you have a craving for a healthy tofu sofritas dish!
This is an excellent recipe to make on busy weeknights when you and your family have a lot going on but you still want to provide them with a healthy and delicious dinner.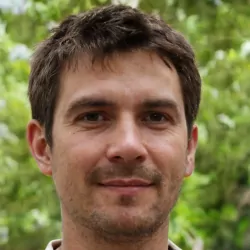 Latest posts by Justin Roberts
(see all)