Soup is the perfect option for cold days. It manages to warm you up from the inside, making you feel all cozy inside your home. 
This Golden Chickpea Soup recipe is great if you need a healthy (see also: Easy Recipe For Tuscan White Bean Soup (Healthy!))dinner option that's filling and tasty. This tasty dish is completely vegan-friendly, gluten-free, and can be made in just half an hour!
The soup uses chickpeas as the main ingredient. You may have tried chickpeas in hummus or salads before, but what about soup?
Chickpeas have a firm and creamy texture that works very well in soups. They make soups hearty and flavorful, as well as keeping you full, thanks to all of the protein and fiber. 
Chickpeas have so many health benefits, which we'll get into below, as well as the ingredients and steps you'll need to make golden chickpea soup right at home. 
Are Chickpeas Good For You?
If you're wondering whether chickpeas are good for you, the answer is yes! 
Also known as garbanzo beans, chickpeas are packed with protein, minerals, fiber, and vitamins. They are a great source of protein for vegans and vegetarians, making them a great substitute for meat-based recipes. 
Chickpeas have several nutrients that may prevent or benefit many health conditions, including the following:
Effect on Diabetes
It's recommended that adults consume between 25 and 28 grams of fiber each day. There are 12.8 grams of fiber in a single cup of chickpeas, which may help people improve their daily fiber intake. 
Fiber may be good for those living with diabetes. A review in 2018 looked at high-fiber diets and found that they may help reduce the risk of type 2 diabetes by lowering blood sugar levels. 
Another review in 2021 found that consuming pulses regularly may improve LDL cholesterol, known as 'the bad' cholesterol.
They may also help maintain healthy body weight and improve glycemic management. These are all factors that are related to diabetes. 
Reduce Anemia Risk
If the body doesn't have iron, it won't be able to deliver oxygen to the cells.
This can cause anemia, an iron deficiency that can make you feel tired and weaker. Anemia can be serious and lead to fatal consequences. 
There is 4.7 mg of iron in a single cup of chickpeas, which is between ½ and ⅕ of an individual's daily intake. Chickpeas also contain a little vitamin C, a substance that aids the body in absorbing iron.
Adding chickpeas to your diet may help lower the risk of experiencing an iron deficiency. 
Bone Quality
Chickpeas contain important nutrients like calcium and iron, which are both related to bone strength and structure. 
Certain legumes, like chickpeas, are recommended for anyone that wants to avoid osteoporosis. 
Blood Pressure
It's advised that increasing your potassium intake and reducing your salt and sugar intake can help you prevent hypertension, known as high blood pressure.
Potassium can remove sodium from your system, lowering blood pressure as a result.
Current advice suggests that healthy adults should consume a minimum of 4,700mg of potassium a day. A single cup of chickpeas contains 477 mg of potassium. 
However, if you consume canned chickpeas, be wary of the sodium content in each tin. It's best to cook with dry chickpeas, or tins with less sodium to avoid consuming too much salt. 
A review in 2020 found that lowering sodium intake can improve blood pressure in those that did or didn't have high blood pressure.
Aim to consume under 2,300 mg of sodium per day, or under 1,500 mg per day if you are over 51 years of age. 
The Heart
Chickpeas are full of nutrients that are good for the heart, including fiber, iron, magnesium, selenium, and B vitamins. 
Fiber can help lower cholesterol levels in the bloodstream, which also helps lower your risk of heart disease. As mentioned above, chickpeas contain 12.8 grams of fiber per cup. 
A 2016 review also found that a diet rich in pulses, like chickpeas, may help improve LDL cholesterol levels, which may improve heart health. 
Cancer
Toxins called free radicals can start to build up within the body. As they begin to accumulate, they can impair cells and cause many health issues, like cancer.
Chickpeas contain antioxidants, like beta-carotene and selenium. Antioxidants can help the body eliminate free radicals.
It's advised that adults eat 55 mcg of selenium each day. Chickpeas can help you increase your selenium intake, as there are 6.1 micrograms of selenium in a single cup of chickpeas. 
Selenium intake may improve antioxidant activity in the body, which may help prevent certain types of cancer. However, more studies are needed to confirm this. 
The fiber in chickpeas may also be beneficial, as a study in 2015 found that eating a high-fiber diet may lower the risk of developing colorectal cancer. 
Cholesterol
This review from 2016 looked at research related to chickpea consumption in animals and humans.
A 2016 study proposed that people on diet plans containing chickpeas had lower LDL cholesterol compared to those on diet plans containing wheat. 
There was also research that implied consuming chickpeas lowered both LDL and TC (total cholesterol).
The writers of the review propose that the fiber and protein content of chickpeas may improve cholesterol, as well as their tannins and enzyme inhibitors. 
Mental Health
There is around 70 mg of choline in a cup of chickpeas, a substance that benefits the nervous system and brain function. Choline also affects mood, metabolism, memory, learning, and muscle control abilities.
It's advised that adults consume between 400 and 550 mg of choline each day, though this differs based on sex or whether a person is breastfeeding or pregnant.
Additional studies propose that selenium deficiencies may contribute to cognitive impairment in older individuals. This may suggest that selenium may benefit cognitive functions, like thinking and memory. 
Digestive Tract
Fiber is important for the digestive system, as it encourages bowel regularity. Legumes like chickpeas are full of fiber. 
The 2016 review looking into the benefits of chickpeas found that adding chickpeas to a diet improved digestion processes within the body, thanks to the increase in fiber. 
Healthy Weight
Fiber acts as a bulking agent within the digestive system. This, along with protein, help improve satiety after eating, so you feel full instead of hungry.
Satiety can help lower appetite and reduce an individual's energy intake. This may help overweight or obese people lose weight over time. 
Pulses like chickpeas have both soluble and insoluble fiber.
A review in 2017 found that these types of fiber can postpone stomach emptying and slow down how quickly digested food moves through the intestines, helping you feel fuller for longer. 
How To Prepare Chickpeas
You can buy chickpeas in cans or their dried form. If you purchase dried chickpeas, you'll need to prepare them for use. Follow these steps to do so:
Step 1: Examining And Washing
You may find debris like little rocks or dust in the package, so look through the bag and remove any debris that you see.
Step 2: Soaking
Soak the chickpeas in a bowl of water and leave overnight, or wait until they split effortlessly between your fingers. 
This step is important as it breaks down substances that can lead to gastrointestinal issues, eliminates harmful ingredients in raw legumes, and helps reduce overall cooking time. 
Step 3: Cooking
Rinse the chickpeas in clean water, drain them, then put them in a pan filled with lots of water. Simmer them on your stove until they are soft and tender. Add water to the pan whenever necessary.
If you don't want to use a stove, you can also use a pressure cooker for an hour, or cook them over a slow cooker for eight hours on low heat, or four hours on high heat. 
Risks Of Eating Chickpeas
Chickpeas may have their health benefits, but there are still a few things to be aware of. 
Never eat chickpeas or other pulses in their raw form, as they can contain substances and toxins which are harder to break down in the digestive system.
Cooked chickpeas can still contain complex sugars which are harder to digest. This may cause discomfort and intestinal gas, particularly if you're not used to consuming legumes in your daily diet.
If this is the case, it's best to gradually introduce legumes in your diet, so the body can start to get used to the chickpeas. 
Here are some more risks related to chickpea consumption that you should be aware of.
Potassium And Chickpeas
Beta-blockers may be prescribed to those that have anxiety issues or are at risk of heart disease. These medications can lead to potassium levels increasing within the bloodstream.
Potassium may help improve blood pressure, but an excess of potassium may impair the kidneys. Anyone that is on beta blockers should only eat chickpeas, and other high-potassium foods, in moderation. 
IBS & Fiber
Certain fiber varieties may make IBS (irritable bowel syndrome) worse. 
If you live with this condition, always consult your doctor or medical provider about the types of fiber that are suitable for your circumstances. 
Allergic Reactions
Legume allergies, like lentils, lupines, and peas, may find that they are also allergic to chickpeas. If you do have a legume allergy, do not eat chickpeas, as this may lead to a serious allergic reaction.
Reasons Why You Should Try This Soup
Other than the health benefits of chickpeas, there are many reasons why you should give this soup a try! 
Done in just half an hour. Whether you want a quick dinner after work or something to keep you going at lunch, you can have this tasty dish ready in only 30 minutes. 
Very easy to make. This recipe is incredibly foolproof. All you have to do is add all of the ingredients to a pot and let them simmer. That's it!
Customizable. You can personalize this recipe to your liking. Whether you want to add some vegetables, meat, or pair it with some rice, you can do whatever you'd like with this recipe.
Can be frozen for later. This is a great recipe for meal planning, as you can freeze your leftovers and enjoy them at a later date. 
Golden Chickpea Soup Ingredients
Here are the ingredients you will need to make golden chickpea soup. 
Chickpeas: Of course, you will need chickpeas! We'll be using canned chickpeas to make the recipe easier, but you can use dried ones provided you pre-cook them beforehand.
Vegetable broth: It's best to use low-sodium broth to prevent the soup from being too salty.
Avocado oil: Oil is needed to saute the vegetables. You can use olive oil if you prefer, but it may start to burn easily upon heat.
Carrot: Two medium or a single large carrot.
Celery: A single celery stalk.
Dried herb seasoning: A mix of oregano, bay leaves, and thyme works well in this recipe.
Garlic: Four garlic cloves, but make sure that these are fresh, as powdered won't taste great in the soup. 
Kale: Use fresh kale to add some healthy nutrients.
Lemon juice: Fresh lemon juice helps to add a zesty flavor to the soup.
Onion: A large or medium-sized onion is fine.
Salt and pepper: Add to taste. 
How To Make Golden Chickpea Soup
Now that you have your ingredients and know a little more about chickpeas, you can start making your soup! 
Step 1
Add the avocado oil to a big pot on medium-high heat, then sauté the garlic, celery, onions, and carrots for three minutes. Add the dried herbs and mix to cover all of the vegetables.
Step 2
Now add the chickpeas to the pot and mix. Add the lemon juice and broth next, then cover the pot and leave to simmer for 15 minutes. 
Step 3
Now you'll need to thicken the soup. Pour around a third of the soup into a blender, then blend until the mix is creamy and smooth. 
Add the mixture back to the original pot and meld it together. Put the chopped kale in last and mix again. 
Step 4
Taste the soup and add salt and pepper to your taste. Add some fresh parsley on top and serve while hot. 
Golden Chickpea Soup Variations
Feel free to customize this recipe however you like! There are endless ingredients you can add to the soup. Here are some tasty examples for you to try:
Spices (cayenne pepper, chilies, paprika) 
Sweet potato chunks
Broccoli
Cauliflower
Noodles
Wild rice
Orzo pasta
Spinach
White beans
Tinned tomatoes
Storing Golden Chickpea Soup
You can store the chickpea soup in the fridge for a maximum of five days. Reheat over the stove or in the microwave in a microwave-safe bowl. 
If you're freezing the soup, make sure it cools down to room temperature beforehand, then store it in an airtight container.
The soup can be frozen for up to three months. Make sure you let the soup defrost fully before eating. 
Tips On Making Chickpea Soup
Here are some tips to help you make tasty chickpea soup.
Sauté the vegetables before you add the broth, as this will improve the flavors within the soup.
Blend a portion of the soup to make it thicker, or blend all of the contents if you prefer a creamier texture. 
Double the portions and freeze for later, so you can have tasty soup ready to enjoy whenever you're hungry. 
Always use low-sodium broth, as you can control how salty the soup is later. It's easier to add salt than take it away! 
The Bottom Line
Now you know how to make golden chickpea soup! Chickpeas have so many health benefits, but they do carry some risks with them. 
If you have IBS, check with your doctor before eating chickpeas, as they may lead to gastrointestinal issues later. Never eat chickpeas if you have a legume allergy, as you may experience a serious allergic reaction. 
Chickpeas are full of fiber and protein, so this soup is sure to keep you full throughout the day. Feel free to share amongst your family and friends at dinner – it's sure to be a hit!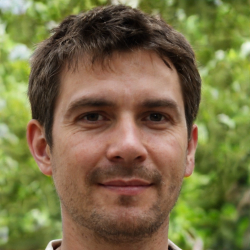 Latest posts by Justin Roberts
(see all)