Salad is a great addition to any buffet table or party platter – and acts as the perfect addition to any hot, summer day when you want something light and fresh to take the edge off.
However, your plain salad can soon get boring, which is why we have been looking for unique choices to jazz up your basic salad. 
This is where the Thai mango salad comes in.
Laden with delicious fruity mango, fresh vegetables, and just enough spice to make things exciting, this really is the perfect accompaniment to any lunch, get-together, or buffet. 
But how do you actually make it? 
What Is Thai Mango Salad? 
When people think of Thai food, they might first think of various curried dishes, or indeed some of their exquisite desserts – which are known for being bright, vibrant, tasty, and eye-catching in their presentation. 
However, this salad proves that Thai food is not just what we know from restaurants, and that there are all kinds of interesting and delicious meals that we can enjoy all year round. 
This dish is perfect for the summertime, offering a light meal ideal for sunkissed afternoons by the beach with friends. 
Taking the sweetness of the mangoes, and combining it with the sharpness of the peppers, the bite of the onions, and the spice of the red pepper, this really is a winning combination. 
Getting Started
Before we start creating the salad, we first need to pull together all of our ingredients, and make sure we have everything we need in terms of equipment and utensils. 
The Ingredients
Despite sounding more complex than your average salad, the ingredients are still relatively simple, and include: 
Mangoes – 2
Red pepper – ½
Green pepper – ½
Bean sprouts – ½ cup
Red chili – 1
Herbs (cilantro and basil) – handful (or to taste)
Garlic – 1 teaspoon
Sesame oil – 2 tablespoons
Soy sauce – 2 teaspoons
Fish sauce – 1 teaspoon
Honey – 1 tablespoon
Lime juice – 1 tablespoon
Green onion – ¼ cup
Peanuts – add to taste
Shallots – add to taste
Oil (for frying) – add to taste
The Equipment
The equipment for this is relatively simple, although you will need the following: 
Glass mixing bowl
Sharp vegetable knife
Preparatory Steps
We're almost there, but before we get started, there are some preparatory steps we need to do to make sure the ingredients are prepped. 
Julienne Ingredients
The mangoes and the peppers first need to be julienned. This is a process of slicing them, so that they are almost as thin as matchsticks – or some equivalent object. 
This means that they will be perfect for mixing with the salad, and makes them attractive and great to look at in the final product.
Slice The Chili
The red chili needs to be thinly sliced to release the spice, and make it ready for the salad. 
Dice The Onions
You also need to take the green onions and dice them into small pieces ready to be added to the main salad bowl. 
Chop Garlic
You also need to crush the garlic and chop it into small pieces. This will make it fine enough so that it is not overpowering within the salad itself. 
Chop The Herbs
The herbs also need to be finely chopped to make them suitable for adding to the salad. You also need a small portion to be finely chopped for garnish once the salad is prepared. 
Crush Peanuts
The salad also includes peanuts, which need to be crushed to small dust to then be added to the salad itself upon mixing. 
How To Make Thai Mango Salad
Now onto the recipe itself. The steps are relatively simple, but we have broken it down into small, bite size steps to make the process even easier. 
So, without further ado, let's get started!
Step One
First, if you haven't already sliced the mangoes and the peppers, then you should do this now – using your sharp vegetable knife to create thin sticks out of each ingredient. 
Next, take your mixing bowl, and add the bean sprouts, red chili, and green onions. Then take the mango and the peppers and add them to the mix.  
Step Two
Once the herbs are chopped finely, add them into the bowl with the other ingredients, mixing them well so that everything has an even covering. 
Step Three
Now to make the dressing. 
Take the garlic, sesame oil, fish oil, soy sauce, honey, and lime juice, and put them into a small bowl where they can be mixed thoroughly.
Then add this dressing into the bowl with the vegetables, and toss thoroughly once more to make sure everything is covered equally. 
Step Four
Next take the oil, and heat it in a saucepan. Once the oil begins to boil, add the shallots to the hot oil, and begin to cook them until they are golden brown. 
Once golden brown, remove the shallots from the hot oil, and sit them on a paper towel so that the excess oil can soak onto it. 
Step Five
Finally, place the salad on a plate ready for serving, before garnishing with the herbs and the fried shallots, green onion, and the crushed peanuts that you prepared earlier in the process. 
Once it is served, the only thing left to do is dig in. Enjoy!
Frequently Asked Questions
Now let's take a look at some frequently asked questions to see if we can't put any concerns to bed. 
What Is The Flavor Like? 
Fans of Thai food will know that the flavor palette usually includes an intriguing combination of spicy, sweet, and savory – and this is exactly what this recipe delivers. 
Each flavor complements the others, and it all comes together to make the perfect dish to be served for friends and family. 
How Spicy Is The Salad? 
While the recipe does include red chili, the overall spiciness is quite moderate – especially when compared to other dishes from Thailand. 
The red chili simply gives the dish that perfect little kick to bring out the sweetness of the mangoes, and the savory taste of the shallots and the peanuts. 
The onions also do their job, adding that little bite to make things more exciting. 
What Are Shallots? 
For those who aren't sure what shallots are, then this is the question for you! 
Shallots are a small variety of onion – somewhat different in shape and taste to classic green or red onions, and offering more of a botanical flavor that makes them perfect for frying. 
How Filling Is The Salad? 
Ultimately, this salad is best served as part of a larger group platter – like at a family gathering, or as part of a buffet table at a party. 
Due to the lack of meat, carbs, or protein in the recipe (see also "15 Best High Protein Low Calorie Recipes To Try Today"), you might find yourself going hungry if you don't combine it with something else.
However, if you are just looking for a tasty, mouth watering light bite, then this is the perfect one for you!
Final Thoughts
And there we have it, everything you need to know to make a delicious Thai mango salad to share with your friends and family!
While it's true that this might not be the first salad choice that springs to mind, you will be blown away by the fruit and the spices, and the sheer deliciousness of this dish.
And what's more, when you see just how simple it is to make, you will be making it time and time again for get-togethers, buffets, and family gatherings. 
So if you are looking for a great summer salad to share with family and friends, then why not give this recipe a try? Something tells me you won't be disappointed!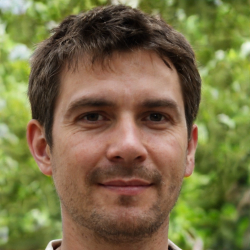 Latest posts by Justin Roberts
(see all)