The main element that many people love and is the reason people choose to have a Neapolitan is the fact that you get to enjoy three flavors at once.
A Neapolitan ice cream is a mixture of strawberry, vanilla and chocolate flavors. While the ice cream variation is enjoyed all over the world, you can also enjoy it as a smoothie. 
This layered smoothie has the same flavor, appearance and feels of a classic Neapolitan ice cream. However, what makes this recipe even better is that it is paleo friendly and full of lots of nutrients. 
In this article, we have explained how you can make the paleo Neapolitan ice cream smoothie yourself. 
What Does A Neapolitan Ice Cream Smoothie Contain? 
A Neapolitan ice cream smoothie consists of three layers. All of these layers are made with frozen bananas or fruits to help provide you with the right consistency. 
The bottom layer is chocolate, which is then topped with a vanilla layer and finally a strawberry layer. You could then top the smoothie with paleo friendly toppings for an extra special treat if you wish to.
Almond milk is also used, so this smoothie is drinkable and not too thick. However, if you don't like almond milk, you could use any milk that you prefer.
Overall, this smoothie is really healthy and flavorful. It can be drunk any time of the day, but it makes a great breakfast smoothie to get your day started off right. 
Ingredients Required 
You will require the following ingredients to complete this recipe. We have broken the ingredients down into each layer to make it easier for you to understand.
Chocolate Layer Ingredients 
⅓ cup of almond milk.
½ of a frozen banana (sliced).
1 ½ tablespoons of cacao powder.
1 teaspoon of honey.
½ teaspoon of almond butter.
Vanilla Layer Ingredients 
⅓ cup of almond milk.
½ of a frozen banana (sliced).
1 teaspoon of vanilla extract.
½ tablespoon of almond butter. 
Strawberry Layer Ingredients
⅓ cup of almond milk.
⅓ cup of frozen strawberries.
1 teaspoon of honey. 
Paleo Neapolitan Ice Cream Smoothie Steps
After you have collected all your ingredients, you can begin creating your own Neapolitan ice cream smoothie. It is really simple to create, as it is broken down into three layers. 
Step 1: Create Your Chocolate Layer
You'll be using almond butter, cacao powder, half of a sliced and frozen banana, honey, and almond milk for the smoothie's bottom, or chocolate layer.
All of these ingredients should be added to a blender and combined until they are smooth and thick.
Step 2: Freeze And Rinse The Blender
Once you have reached the consistency you are happy with, pour your chocolate mixture into your glass and place it into the freezer. Allow the mixture to freeze for around 10 minutes. 
While the chocolate layer is setting, you should spend this time rinsing your blender, so everything is clean. 
Step 3: Create Your Vanilla Layer
The middle of any Neapolitan ice cream is vanilla. Almond milk, almond butter, pure vanilla essence, and the other half of a frozen and sliced banana will all be used in this step.
All of these ingredients should be added to a clean blender. Then, it should be blended until fully combined. 
Step 4: Freeze Again
After pouring your vanilla layer on top of the chocolate layer, you need to place our glass back in the freezer for another 10 to 15 minutes. This allows the vanilla layer time to firm up. 
Once again, rinse your blender again so that it is clean for you to make your final layer in. 
Step 5: Create Your Strawberry Layer
We now reach the top layer, which is composed entirely of frozen strawberries. To complete your Neapolitan smoothie, combine frozen strawberries with almond milk and honey in a blender. 
The strawberries add a refreshing element which works well against the creamy and richer layers below. Finally, pour this layer on top of the vanilla layer. 
Step 6: Time To Serve
Now that your strawberry layer has been placed on top, your smoothie is ready to be enjoyed. You could serve it as it is or add toppings of your choice as well. 
Possible Paleo Friendly Toppings To Consider
Feel free to customize your Neapolitan smoothie by adding toppings. If you want to add some toppings, then you should add 1 to 2 tablespoons to provide additional flavor and texture.
Paleo Nut Butter – A simple paleo nut butter could add an earthy and nutty element to your smoothie to enjoy. 
Fruit – You could easily add more fruit or berries for a really healthy topping. Not only do they provide color, but they are delicious. 
Why not add strawberries for a bigger strawberry flavor. Or why not add apples or raspberries to add an acidic flavor to counterbalance out the sweetness of the smoothie.  
Cacao Nibs – The unprocessed form of chocolate is cacao nibs. It is a common ingredient in smoothies, raw foods, and baked goods and is a natural superfood packed with phytochemicals and antioxidants. 
It is a great option when you want to add a different texture to enjoy while consuming this smoothie. 
Final Thoughts
A Neapolitan ice cream smoothie is really quick and easy to make. It takes much less time than it would to create the real ice cream.
Yet, the variation is also really healthy as it contains real fruit. Each layer has its own unique flavor to enjoy, and you can top the smoothie off with your favorite paleo toppings. 
We hope you have found this article interesting. Hopefully, you have been tempted to create this paleo friendly Neapolitan ice cream smoothie yourself.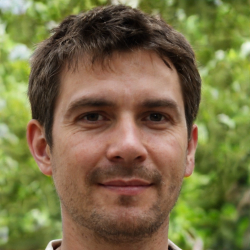 Latest posts by Justin Roberts
(see all)