A pile of fluffy pancakes sure sounds like a filling and tasty breakfast, but it can also be paleo-friendly.
There are various ingredients you can use instead of refined wheat flour and other processed components.
Perhaps a mashed banana to bind the paleo-friendly flour like coconut or almond flour with the egg.
You can still go crazy with your toppings with fresh fruit and some crispy bacon though go easy on the honey.
In this guide, we will detail how to create paleo pancakes with coconut, chocolate, and strawberries.
This will include recipes for low-carb coconut flour pancakes, dark chocolate paleo pancakes, and paleo banana pancakes with fresh strawberries. 
The basic elements in this pancake recipe remain though there are some telling substitutes for regular ingredients.
For instance, there are still eggs, baking powder, vanilla extract, and melted butter (though you can use coconut oil if you want to).
The refined wheat flour is replaced by coconut flour, there's also unsweetened almond milk and powdered sweetener.
Beat the three eggs until frothy then beat in the coconut flour, melted butter, almond milk, baking powder, vanilla extract, and powdered sweeter for a batter without many lumps.
Allow the batter to sit in a bowl or jug for a few minutes and the coconut flour should fully absorb the liquid ingredients.
Melt your butter or coconut oil in a skillet over a low heat then add your batter.
You can usually use two tablespoons for each small pancake and then smooth it out with the back of a spoon.
With a large enough pan, you should be able to fit two, or even three, pancakes to cook simultaneously. 
Fry the pancakes until bubbles appear on the top, at which point it is time to flip them over for a minute or so.
Be patient as ramping up the heat may cause your pancakes to burn which will leave a bitter, undesirable taste.
Remove the pancakes once cooked and repeat the process until you have used up all of your batter. Feel free to add some paleo-friendly toppings like strawberries, blueberries, raspberries or bacon. 
If you like chocolate cake then you are sure to enjoy these Dark Chocolate Paleo Pancakes.
Add a few fresh berries and a dollop of coconut whipped cream and these are sure to be a treat.
The pancakes should be sweet and fluffy so they will be decadent enough for special occasions.
Not only are they paleo-friendly but naturally sweet, free of grains, and free of gluten.
Whisk together a cup of blanched almond flour with two-thirds of a cup of tapioca flour, a third of a cup of unsweetened cocoa powder, a teaspoon of baking soda, and a pinch of salt.
In another bowl, whisk together the wet ingredients of four eggs, a quarter cup each of unsweetened applesauce and honey (thought you can use pure maple syrup).
Add a teaspoon of vanilla extract and an eighth of a teaspoon of liquid vanilla Stevia for some sweetness without having to add sugar.
Pour your wet ingredients into your dry ones and gently combine them so there are no sizable lumps.
Heat a skillet and then brush on some ghee and drop on your batter, a quarter of a cup at a time. Cook them until they are toasted on both sides and the centers are fully cooked through.
Transfer the finished pancakes to a plate and keep them all warm but try not to dry them out before serving with fresh berries and maybe some coconut whipped cream.  
That's right, bananas and strawberries are brought together in this delicious paleo-friendly recipe.
Mash up a ripe medium-sized banana and combine it with an egg, two and a half teaspoons of coconut flour, a pinch of cinnamon, and a pinch of baking powder.
Heat up your skillet over a medium heat and lightly grease it with some coconut oil.
Spoon an eighth of the batter onto the skillet for every pancake so you may want to cook a couple of pancakes at a time. 
Once the surface of the pancakes has some burst bubbles then carefully flip them over with a spatula to cook for one or two more minutes.
Flip the pancakes onto a platter and chop up some fresh strawberries to serve on the side.
Though the recipe already contains a mashed-up banana, you may want to add some slices of banana too though these also go well with maple syrup as you should expect.
Final Thoughts
Thanks to the availability of paleo-friendly flours, you can easily create a batch of delicious pancakes and remain on a paleo diet.
That could be removing the refined wheat flour and replacing it with almond flour, coconut flour, or cassava flour.
You can even use a mashed-up banana as a binding agent though you will still need baking powder and baking soda. Many of the toppings can remain including fresh berries though use honey in moderation. 
Frequently Asked Questions
What Are Popular Substitutes For Refined Wheat Flour In Paleo Pancake Recipes?
As you cannot eat refined wheat flour on a paleo diet, there are some simple substitutes you should be keen to use.
These include coconut flour, almond flour, and cassava flour. You may even want to experiment with these paleo-friendly flours and make your own mix that you know and enjoy. 
Can I Drizzle Some Honey Onto My Paleo-Friendly Pancakes?
While you may think that honey is paleo-friendly, you should use it sparingly, even on pancakes.
Honey is a naturally occurring substance which is full of health benefits yet it is not exactly paleo-friendly.
That's due to the amount of fructose in each serving which will be metabolized in our lives, similarly to how alcohol is processed.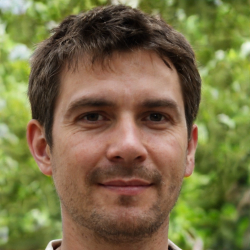 Latest posts by Justin Roberts
(see all)