Macaron were long regarded as a fancy delicacy or hard to find in most of the world. Especially, if you weren't a pastry specialist or knew of a bakery or restaurant where you could find them.
Macaroons are currently being created on a larger scale, becoming increasingly prevalent in neighborhood bakeries. They are even finding their way into the frozen food department of grocery stores.
There are many reasons to enjoy macarons. Whether you've been a fan for a while or are only now discovering them, you may be curious whether they contain gluten.
If you consume only gluten-free foods, you are aware of the significance of knowing the ingredients in each and every item you eat.
In this article, we will discuss if macarons are gluten-free. 
Macarons: What Are They?
Originally from France, macarons are credited to an Italian chef who worked for Queen Catherine Medici. The best macarons in the world are allegedly found at Ladurée, a renowned macaron bakery in France.
Macarons consist of two meringue cookies sandwiched together with a buttercream filling.
These delicate cookies have a pillow-like interior, and a hard exterior shell. Usually, a soft and creamy filling is used between the two cookies.
There are numerous flavors that can be incorporated into macarons. To create even more unique flavor combinations, both the cookie shells and fillings can have multiple flavors.
What Components Make Up A Macaron?
The cookies or meringue shells and the buttercream filling are the two components that make up macarons.
Almond flour, egg whites and sugar are used to make the meringue shells for macarons. After whipping the egg whites, gently mix in the sugar and almond flour.
A pastry bag is filled with the meringue filling, which is then piped onto a baking sheet to set before baking.
Then, for the buttercream filling, milk, butter, powdered sugar and any other flavorings you want can be added.
With that being said, you don't have to make a buttercream, you could use whipping cream, jam, or curd as your filling.
It is important that any filling you have, has the right consistency to sandwich the meringue shells together. 
What Are The Best Macaron Flavors?
You can combine a virtually limitless variety of flavors in macarons.
However, using dry ingredients to add flavor, including dried, ground lime, lemon, or orange zest, is the finest approach to flavor the meringue shells. Additionally, any other nut can be used in place of half of the ground almonds. 
Also, to create chocolate shells, simply swap 15 grams of the powdered sugar for cocoa powder. Additionally, instant coffee is a great method to flavor your shells.
Depending on how intense you would like the coffee flavor to be, simply add 1 to 2 tablespoons to the dry mixture.
Not to mention, to add yet more flavor, the shells may also be dusted with ingredients like finely chopped almonds or a dash of sea salt.
Just keep in mind to do this quickly after piping the shells onto the baking sheet to prevent them from developing a dry skin.
Popular flavors you may wish to create or try for yourself includes: 
Salted caramel macarons,
Vanilla macarons,
Pistachio macarons,
Tiramisu macarons,
Peanut butter and chocolate macarons. 
However, there is no limit on the endless flavors you can try to create with macarons. 
Why Are Macarons Difficult To Make?
If you fancy a challenge, then you may wish to consider making your own batch of macarons. However, it is worth noting that macarons can take a bit of practice to get them right. 
Macarons are frequently said to be "finicky" and demand a baker's whole focus. A successful macaron is unfortunately the result of many different elements, some of which are beyond the baker's control.
For instance, humidity can have an impact on how well a macaron turns out. Macaroons, however, are moisture-sensitive and need the ideal moisture balance.
If you do wish to create a batch of perfect macarons, then it is important to ensure you whip your egg whites properly.
Your eggs need to be at room temperature and there can't be any traces of yolk as this will affect the outcome.
Furthermore, you want to ensure that your almond flour and sugar is lump free. Otherwise, you may need to overwork the batter to get rid of these lumps. 
Overall, these little treats require a lot of practice. You should not be disheartened if your first batch does not turn out how you wished.
What Is The Difference Between Macarons And Macaroons?
Given how similar their names are, macarons and macaroons are frequently confused. There are other distinctions between the two cookies besides the added "o."
The original macaroon, a sweet Italian cookie made with egg whites, chopped almonds, and sugar, is the ancestor of both macarons and macaroons. Both variations are made without flour and are unleavened.
A mixture of egg whites, powdered almond flour, and confectioners' sugar is used to make  macarons.
These then puff up to create a smooth surface on the cookie with a hollow core and unique "foot."
After being combined into sandwich cookies with ganache, jam, or buttercream and chilled, these light almond meringues provide a chewy interior and shell-like exterior.
There are various flavors and hues of macarons out there for you to try.
In comparison, egg whites and granulated sugar are used to hold coconut shreds together to make macaroons. They are frequently covered in chocolate and have a rougher outside and chewy interior.
Although both cookies are excellent, they differ from one another in how they are created and the textures they have.
Do Macarons Contain Gluten?
Macarons are in fact free of gluten! Most macarons are suitable for a gluten-free diet because they include only naturally gluten-free ingredients.
The warning is that depending on the extra ingredients incorporated in the cookies or buttercream, some varieties of macarons might contain gluten.
There are a lot of different flavor combinations out there which you can use for macarons. 
Usually, your meringue shell is gluten-free. However, you should only use almond flour when making macarons. This is because the almond flour provides your macarons with a finer texture that is needed.
If you use another type of flour, then you won't achieve the desired outcome and nutty flavor. 
Additionally, some people like to roll their macarons in a crumb at the end for a nice finish. This could potentially add gluten to your macarons if the crumbs contain gluten.
For example, some macarons are rolled in crushed graham crackers or Oreo biscuit crumbs. These two biscuits would add a gluten element to your macarons. 
It is easy to keep macarons gluten-free, you just need to be aware of what additional flavors and ingredients you are adding. 
Which Store Bought Macarons Are Gluten Free?
These days, a lot of grocery stores sell macarons in the frozen area. This makes it simpler than ever before to enjoy these delectable tiny sweets at home, without having to learn how to make them.
Learn if your preferred brand of store-bought macarons is suitable for your gluten-free diet.
Do Trader Joe's Sell Gluten Free Macarons?
Trader Joe's is a popular store which offers a good selection of macarons in their frozen section. However, on their official website, it is clear that their macarons contain gluten.
When you look on their ingredients list, you will see that glucose syrup is listed, which suggests that there could be a small amount of gluten present. 
It is unknown how much of this glucose syrup is used in the recipe. Hence, it is unknown the effects of eating a macaron from Trader Joe's would have on someone who is highly allergic to gluten.
Does Costco Sell Gluten Free Macarons?
In the past, Costco has sold two different brands of macarons. These are Tipiak and Le Chic Pâtisserie.
When you look at the ingredients on both brands of macarons, there is no sign of any gluten being present. In fact, it is known that Le Chic Pâtisserie has a gluten-free label on their packaging. 
However, there is no sign of a gluten-free label on Tipiak macarons.
As a result, while no gluten may be present when creating the macaron, they may be created in an area where there is a chance of cross contamination.
Although, the lack of gluten-free label, could be an indication that the company hasn't tested yet if their macarons are gluten-free.
Overall, we can say for certain that Le Chic Pâtisserie macaron are gluten-free. While we believe Tipiak macarons are gluten-free.
Yet, there could be a chance that they have been prepared in areas that have had contact with gluten products. 
Do Whole Foods Sell Gluten Free Macarons? 
Both Rocq macarons and the Whole Foods Market version of macarons are available at Whole Foods.
Although there are no gluten containing ingredients in the Whole Foods Market macarons. The labels do include a warning that additional allergies might be present because of common production areas.
While Rocq macarons don't include any gluten-containing ingredients.
However, they are made in a facility that also handles eggs, fish, milk, cheese, peanuts, soy, shellfish, tree nuts, and wheat, according to a disclaimer on the Whole Foods website.
Cross contamination is therefore a possibility, so consider your sensitivity levels before making a purchase.
Does Publix Sell Gluten Free Macarons?
The following is stated on an allergen warning on the macarons, from the Publix website:
"Our department uses wheat, peanuts, tree nuts, milk, eggs, soybeans, and peanut butter in our products.
Please keep in mind that our items may have come into touch with certain ingredients, even if they are not stated on the labels.
You may wish to stay away from these if you have high gluten sensitivity due to cross contamination.
Do Macarons Contain Any Dairy?
Macarons do contain dairy. This is due to the milk and butter that is used in the buttercream, which is a common filling that is used.  Although the meringue shells are completely dairy free. 
Creating homemade macarons yourself, gives you the option of choosing a dairy-free filling rather than actual butter and milk. Hence, you could easily make macarons dairy free. 
Do Macarons Contain Nuts?
Sugar, egg white, and almond flour are combined to make macarons. Thus, macarons usually include nuts. Almonds are the source of almond flour or powder. Anyone who has a nut allergy should avoid them.
The majority of macaron recipes include almond flour. The good news is that there are alternatives to almond flour. This includes coconut flour, oat flour, sunflower flour, nut flours, and pumpkin seed flour.
The best alternative is seen as pumpkin flour, as it is perfect if anyone is allergic to nuts. Any macaron recipe can include pumpkin seeds in place of almond flour.
Simply pulse the pumpkin seed seeds in a food processor to get pumpkin seed flour. 
Can Vegans Eat Macarons?
Since dairy is present in the filling that is tucked between two meringue shells, macarons are not vegan.
The meringue cookies also have egg whites in them. With that being said, there are some vegan alternatives out there that you can use.
There are various vegan macarons recipes out there that you can try for yourself. These recipes ask you to use aquafaba which is the liquid found in a can of chickpeas.
This liquid is then whipped up and used like egg white to create the meringue shells. 
In addition to that, like we have mentioned above, you can alter the buttercream filling so that it suits your needs.
You also don't have to create buttercream, you could always create jam or a curd to sandwich your meringue shells together with. 
However, if you don't feel like creating vegan macarons yourself, the company known as Pastreez, will ship vegan macarons straight to your door. They make a great treat or as a gift. 
Where Can You Find Macarons?
Although it can be challenging to locate a bakery that creates macarons, they are best purchased fresh from a neighborhood bakery.
You can visit a neighborhood bakery that sells French macarons with confidence, knowing that the majority of flavors are gluten-free.
However, as we have spoken about above, macarons are now available in several major shops' freezer sections among other treats. They have been spotted in Costco and Kroger in most neighborhoods.
If there isn't a macaron bakery nearby where you live, there are websites that also offer a delivery service.
The next time you have a taste for macarons, consider one of the following online options. You can order from any of these online stores, who will all deliver macarons to your house.
Another great site to consider is Etsy. You will be able to find a broad range of businesses that will offer you gluten-free macarons in a wide range of flavors. 
Final Thoughts
Macarons are a great treat to enjoy, that are available in a wide range of flavors. Whether you make them yourself or purchase them from a store, macarons are usually gluten-free. 
Although, it is always worth checking out the ingredients on the macarons to ensure there are no traces of gluten if you are highly allergic to it.
In addition to that, you may find that some macarons don't say if they are gluten-free or not. This is usually because they may be prepared in areas that contain gluten.  
We hope this article has been helpful, and now you should have a better understanding of macarons and whether they are gluten-free.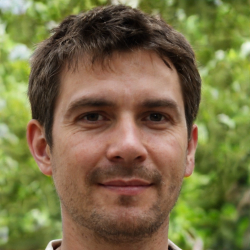 Latest posts by Justin Roberts
(see all)