Made with just 5 super simple ingredients, this healthy smoothie makes the perfect addition to your morning routine as a breakfast option, or later in the day as a snack.
If you've never tried a green smoothie before, then we're sure that this recipe is going to convince you to become a smoothie lover just like us! 
At first, we understand that the idea of placing vegetables into your smoothies might seem weird, especially if you're used to the delicious fruity flavors that come from making banana or strawberry smoothies.
However, we have no doubt that once you give this simple smoothie recipe a try,(see also: 15 Best High Fiber Smoothie Recipes To Try Today) you won't be able to go without it in the mornings. 
You might have tried a green smoothie recipe before and decided that it actually tasted too… green?
Don't worry though, because with our recipe, we've done the research to create the perfect blend of ingredients to provide the best flavor, all whilst remaining healthy!
The Benefits Of A Green Smoothie
For the non-smoothie drinkers out there, the thought of drinking a smoothie every morning seems ridiculous, and many people tend to think that there is no real benefit to having a smoothie for breakfast in the morning.
However, the reality is that drinking a green smoothie in the morning can be a great way to start your day, and not only is it delicious, but it's also got a load of benefits too, which include things like: 
Increased immunity
Better digestion
Increased intake of fruits and vegetables
Improving skin condition
High number of both vitamins and minerals
Morning detoxification
Ingredients And Substitutions For Your Delicious Green Smoothie
The ingredients that make up a healthy green smoothie are essential, as they're what provide the best flavor, whilst ensuring that your delicious morning smoothie is healthy too, so we've made a list of all of the ingredients that you'll need to make this healthy green breakfast smoothie, as well as some of the substitutions you can use if you're missing certain ingredients! 
Banana
A healthy smoothie staple ingredient, bananas are often the base of most healthy smoothie recipes, and our green breakfast smoothie is no exception.
For this smoothie, we like to use frozen bananas, as they tend to help create the creamy and thick texture that makes these smoothies so delicious.
If you don't have any bananas to hand, don't be afraid to replace them with coconut meat or even frozen avocados! 
Mango
Another favored ingredient for smoothie makers, not only does mango help to provide that fruity sweetness that helps to make even the healthiest smoothies taste nice, but by using frozen mango it can help to make the texture of your smoothies even creamier.
Of course, the vitamins in mango also help too! If you don't have any mango, or you dislike it, then you can always use pineapple instead, although frozen cauliflower is another possible substitute too. 
Spinach
You can't have a green smoothie with no greens in, and there's no doubt that spinach is one of the best greens to add to your smoothies.
The great thing about spinach is that because it doesn't have any particularly bold flavors, it means that you can add a load into your smoothies without it overpowering the taste.
Although if you'd prefer to add kale to your smoothie instead of spinach then go ahead! 
Chia Seeds
There's no doubt about how healthy chia seeds are, as they're full of omega-3s, as well as fiber, which is why they make the perfect addition to this healthy green breakfast smoothie.
They're also so great at helping you to feel more full too, which is good for people who are just beginning to transition from traditional breakfast foods to smoothies.
If you can't get your hands on any chia seeds though, flax seeds make the perfect substitute. 
Almond Milk
Almond milk is probably the best milk to opt for when it comes to making smoothies, and if possible, using homemade almond milk is definitely preferable.
However, if you dislike almond milk, or your local grocery store has run out, then you can easily substitute it in favor of any other plant-based milk option out there, our favorite replacement for almond milk is coconut milk! 
How To Make Your Healthy Green Breakfast Smoothie
If you've never made a smoothie before, then there's no need to worry, it's a super simple process that only really requires three easy steps.
All you need to have ready is an adequate blender for you to add your ingredients into! 
Step 1
To begin, you'll want to ensure that your blender is completely clean, before adding in all of your desired ingredients.
Make sure that your mango and bananas have been chopped into pieces before being added to the blender, otherwise they'll be difficult to blend, and might lead to your blender's blades breaking. 
Step 2
With all of your ingredients in the blender, close the lid firmly and begin to blend.
The key to blending well is "pulsing" your ingredients, which will ensure that all of your ingredients are properly blended and broken down, as you don't want any whole lumps of fruit in your fresh smoothie! 
Once your smoothie has achieved that creamy and smooth consistency that we're looking for, you can open the lid of your blender and use a spoon to check how your smoothie tastes, and if you need to make any adjustments, then now is the time. 
Step 3 
Once your smoothie tastes perfect and has the right consistency, you can pour it from the blender into your desired cup and enjoy it right away, and you can be sure that this invigorating smoothie is going to leave you feeling refreshed and ready for whatever the day has to throw at you! 
Possible Additions Or Swaps For Your Green Breakfast Smoothie
We like to think our healthy green breakfast smoothie is already perfect the way it is, but it also serves as a fantastic base for you to go and customize however you'd like, so if you want to make adjustments based on flavor, texture, or because of dietary restrictions, then go ahead! 
But, if you want some inspiration as to what you can add in to your healthy green breakfast smoothie, then take a look through our list of recommended additions, which we're sure you will like the look of. 
Extra Protein Option
If you're looking to add a little more protein into your diet, then you can easily do this with your breakfast smoothie, here are some suggestions as to what to add to your smoothie to increase your protein intake! 
Protein Powder: Anywhere between ½ to 1 full scoop of protein powder per smoothie, depending on preference.
Yogurt: If you're going to add some yogurt for protein, try adding between ¼ to ½ cup for each smoothie, as adding any more than this might make your smoothie too thick. 
Hemp Seeds: Hemp seeds are a great way to give your smoothie a protein boost, try adding 1 to 2 tbsp of seeds for each smoothie. 
Nut Butter: A great organic way of bringing some protein to your smoothie, adding 1 or 2 tbsp of nut butter to your smoothie should help your protein intake! 
Extra Fibre Option
The whole idea behind this smoothie recipe is that it is a healthy (see also "3 Healthy Black Bean Nachos Recipes You'll Love") option in the morning, and if you feel like you're lacking fiber in your diet then you can easily boost your fiber intake with a few simple additions to your traditional healthy green breakfast smoothie. 
So, for extra fiber, check out these amazing additions! 
Flax Seeds: Full of healthy fats, antioxidants, and of course fiber, flax seeds make for a great addition to your smoothie, try adding between ½ to 1 full tbsp of seeds per smoothie. 
Whole Grain Oats: You might already be eating oats for breakfast if you're trying to be healthy, and transitioning to a breakfast smoothie doesn't mean you have to miss out, plus adding whole grain oats is a great way to get some extra fiber. 2 to 4 tbsp per smoothie should be enough. 
Sunflower Seeds: Not only are sunflower seeds great for that extra fiber, but they also help to boost your immune system, which is a great way to make your breakfast smoothie a super smoothie! Add 1 to 2 tbsp of sunflower seeds for the best effect. 
Extra Flavor Option
We understand that the taste of a healthy green breakfast smoothie might not be for everyone at first, and compared to many traditional breakfast options, it definitely takes some time to become accustomed to. 
However, if you want some quick and easy ingredients to add that are going to help make your healthy green breakfast smoothie even more delicious (see also "The Ultimate Healthy And Delicious [And Cheap] Breakfast Guide"), then here are our suggestions on how to do so! 
Vanilla Extract: A delicious ingredient that most people will have laying around their pantry, you just need to be careful that you don't add too much. We recommend ½ tsp for each smoothie. 
Cinnamon: Another pantry staple, cinnamon is a great way to bring some warmth to your smoothies, especially during the colder months, and you don't need to use loads either. Try adding ¼ tsp of cinnamon to each of your smoothies. 
Herbs: Herbs are a great way to experiment with the taste of your smoothie, and things such as mint, parsley, and cilantro all make for interesting additions to your breakfast smoothie. 2 Tbsp of herbs will be enough for you to notice them in your smoothie. 
Medjool Dates: A fruit previously eaten by royalty, adding Medjool dates to your smoothies is definitely a way to make them more decadent thanks to their rich flavor and caramel-like taste, and you only need to add one per smoothie for it to have an effect. 
What Healthy Ingredients Can You Use In A Smoothie? 
Whilst smoothies are primarily made up of fruits and vegetables and then blended in using plant-based milk, fresh fruit juices, or even water.
This is where you can begin to experiment with the ingredients that you add to your delicious smoothies, which will not only help your smoothies to taste amazing but will also ensure that they are packed full of nutrients to benefit you and your body. 
If you're looking for some of the healthiest additions to make to your smoothies, then here they are! 
Chia Seeds
Flax Seeds
Hemp Seeds
Cacao
Cinnamon
Nut Butter
Maca Powder
Acai Powder
What Greens Can You Put In A Smoothie? 
Whilst most healthy green breakfast smoothie recipes like ours will recommend you use spinach as the green for your smoothie, this doesn't mean it's the only option, and the reality is that there is a whole host of different greens to choose from that will make excellent additions to your smoothies, and here are some of our favorites! 
Kale
Collard Greens
Parsley
Cilantro
Cucumber
Spinach
Making A Weight Loss Suitable Green Smoothie
With the ingredients added to our smoothie, there's no doubt that it's super healthy and nutritious, but if you're trying to lose weight, then some adjustments might be in order to ensure that your smoothie is going to help you rather than hinder you! 
Fruit: Fruit is delicious and healthy, but can be packed with sugar, so for those looking to lose weight, try adding no more than a cup of fruit in total to your smoothie, which should help to keep the sugar content down. 
Frozen Ingredients: Bulking up your smoothie with frozen ingredients such as frozen cauliflower or frozen zucchini is a great way to make sure your smoothie leaves you feeling full, which will prevent snacking. 
Avoid Juice: As delicious as it is, using fruit juice as a base for your smoothie is no good if you're trying to lose weight, as they're naturally high in sugar. Instead, your best option is to either use unsweetened and low-sugar nut milk or to simply use water instead! 
Making Your Healthy Green Breakfast Smoothie Taste Good
Many people are deterred from drinking a green breakfast smoothie because they're worried it's just going to taste like the greens but is this really the case?
The trick is to not overload your smoothie with greens like spinach or kale, otherwise, you won't be able to taste the other delicious ingredients, and you won't want to drink your smoothie! 
A small handful of spinach and kale is all you need to reap the benefits of these great veggies, and complimenting them using tropical fruits like mango and pineapple is a fantastic way to negate the flavor of the greens from coming through. 
Conclusion
We hope you've enjoyed our recipe for a healthy green breakfast smoothie.
This recipe is perfect for anyone who is looking to transition to breakfast smoothies in the morning and is unsure how to make one, or for those who are looking for some ingredient inspiration for their regular breakfast smoothies, either way, we're sure that it'll taste delicious!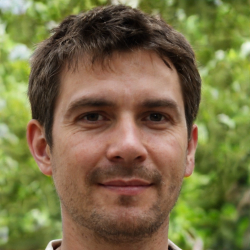 Latest posts by Justin Roberts
(see all)