Following the paleo diet can be tough but if you have the right recipes, you can make some truly delicious dishes! A lot of people assume that following a paleo diet is boring because it uses natural ingredients but that's not true.
It's all about knowing how to use the limited ingredients you can eat in the right methods to make some truly amazing dishes. 
This recipe here is a great one to try out if you want a tasty, sweet salad! It works great for a light lunchtime meal or as a sweet side dish for your dinner. 
Either way, follow the recipe below to make your very own cinnamon-roasted sweet potato blueberry salad! We have included a list of all the ingredients and equipment you will need.
So, make sure you have everything ready before you start making your own cinnamon-roasted sweet potato blueberry salad! Good luck and happy cooking! 
Why Should You Make Cinnamon Roasted Sweet Potato Blueberry Salad?
A paleo diet is one that only uses the type of foods humans would have eaten early on in our development. This means that any dairy, cereal, or processed foods are cut out, making it one of the most natural diets out there! 
However, it's still vital that you get all the nutrients you need and this recipe will help you get a ton of energy! Here are some of the key ingredients in this recipe and why they are so important for your diet: 
Sweet Potatoes – Sweet potatoes are used to build up the bulk of this recipe. They are filling but low in carbs and high in fiber, making them a good sweet alternative to regular potatoes. However, it's important not to eat too many as it can cause your blood sugar to spike. 
Blueberries – Berries are an important part of the paleo diet as they provide a ton of vital vitamins. Blueberries in particular are a 'superfood' because they contain so many nutrients including vitamin C, vitamin B6, fiber, potassium, and more! You can use fresh or frozen blueberries for this recipe but remember to defrost your frozen blueberries first! 
Cinnamon – Cinnamon has a very sweet yet warm flavor, making it a very popular spice to use for sweet dishes and desserts. It's also anti-inflammatory and proven by science to reduce blood sugar and cholesterol – so it's actually a very good spice to add to your diet!
Coconut Oil – This type of oil is great for Paleo dishes as it is natural, plant-based, and adds an extra taste of sweetness to your meal. 
So, if you have a sweet tooth, you are bound to love this recipe. Cinnamon-roasted sweet potato is a filling but delicious way to get your daily dose of fiber and fill up your stomach.
The blueberries provide plenty of vitamins while keeping the salad sweet and refreshing. Throw in some mixed leaves to give the salad more body and you have the perfect sweet Paleo-friendly lunchtime salad. 
It's a super quick and easy recipe to try, even if you are not a huge fan of cooking. So, check out the instructions below and give it a try! 
What Ingredients You Will Need
Makes 2 / Serves 2
2 Medium Sweet Potatoes (Peeled)
1 Cup of Blueberries 
1 Cup of Balsamic Vinegar
1 Tablespoon of Coconut Oil 
1 Teaspoon of Cinnamon
¼ Teaspoon of Salt 
10 Snow Peas (Cut Diagonally) 
Mixed Salad Leaves (Amount Varies, 2 Large Handfuls Recommended) 
Additional Blueberries For Garnish 
Additional Cinnamon 
What Equipment You Will Need
1 Vegetable Knife
1 Chopping Board 
1 Medium Bowl 
1 Wooden Spoon (for stirring) 
1 Non-Stick Baking Tray 
1 Small Saucepan 
How To Make Cinnamon Roasted Sweet Potato And Blueberry Salad
Once you have everything ready, it's time to get started on your cinnamon-roasted sweet potato and blueberry salad! 
Your first step is to preheat your oven to 200 degrees Celsius (or 392 degrees Fahrenheit).   
If you haven't already, wash and peel your sweet potatoes, then dice them into medium-sized chunks (about an inch wide).
Place your sweet potato chunks into the medium-sized bowl along with the cinnamon, salt, and coconut oil. Using your wooden spoon, mix them all together until the sweet potato chunks are completely coated with the cinnamon seasoning. 
Take your non-stick baking tray and lay out your sweet potato chunks. Place the tray in your preheated oven and let your sweet potato chunks roast for 25 to 30 minutes. 
While your sweet potato chunks are roasting in the oven, you can focus on the salad dressing. 
Fill your small saucepan halfway with water and add in the balsamic vinegar, blueberries, and a dash of additional cinnamon for more flavor.
Bring the saucepan to a boil over a high heat, then immediately reduce the heat to a simmer. Let the saucepan simmer for 20 to 25 minutes until you get a thick dressing sauce. Move your dressing sauce to your mixing bowl once it is ready. 
Remove your sweet potato chunks from the oven and allow them to cool for 5 minutes (while they are cooling, you can chop up your snow peas ready for serving).
When ready, add them to the dressing and mix them all together. Throw in the final mixed salad leaves, chopped snow peas, and any additional balsamic vinegar and blueberries for garnish. 
And that's it! Your cinnamon-roasted sweet potato blueberry salad is ready for serving! 
Final Thoughts
Finding a paleo-friendly salad recipe can be tricky, especially if you want one that is filling and perfect for lunch. Luckily, this recipe has your back – it's packed with important nutrients, it's quick and easy to make yourself, and it only requires a few key ingredients that are all paleo-friendly!
This makes it a popular recipe for those on a paleo diet, and the perfect choice for a sweet summer-inspired lunchtime salad! Check out the instructions above, gather your ingredients and cooking equipment, and give it a try! Good luck and enjoy!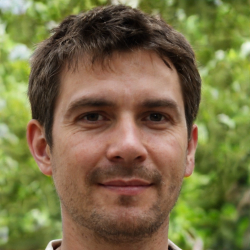 Latest posts by Justin Roberts
(see all)