If you love tender succulent chicken, who could blame you?
There are just so many different ways to serve chicken. And as white meat, it's one of the healthiest meats out there.
And speaking of health, you shouldn't underestimate the value of high fiber meals.
It doesn't just benefit bowel movements, it also lowers cholesterol levels, helps control blood sugar levels, helps keep you feeling fuller for longer, and can help you to achieve a healthy weight.
I've been diligently scouring the net to find the best high fiber chicken recipes out there, and now I'm taking this opportunity to share my favorite ones with you.
In order for a food product to be labeled "high fiber," it must contain 5 grams or more of dietary fiber per serving. So, I'm taking this as a benchmark for the recipes.
I've got quite a variety coming up, so you're sure to come across a few that sound like they'd be worth a try.
Are you ready? Because here we go!
For those of you who don't already know, a cassoulet is a French dish of white beans with meat. And since white beans are great sources of fiber, they are generally very high fiber dishes.
This particular dish is great for warming up on a cold autumn or winter day.
It features skinless chicken breasts, low fat turkey sausages, beans, tomatoes, minced garlic cloves, onions, herbs de provence, bay leaf, thyme, and an All-Bran topping.
This is a super simple dish that doesn't require a whole lot of ingredients. Each serving provides 7 grams of fiber.
You begin with a simple marinade for the chicken, which is made with honey, mustard, garlic and lemon zest and juice.
Place the chicken thighs on a tray with some skin-on new potatoes, caramelize the chicken in the oven, then add spinach and peas and put it back in the oven until ready.
This is just such a healthy dish! Not only is it high in fiber, but it's also high in protein, relatively low in calories, and allergen-free.
It's a simple dish, much like a typical chicken salad with cherry tomatoes, cucumber and red onion, but there's also hummus, which is known for being high in fiber, and the chicken breast is cooked in a paste made with oil, cumin, paprika, cayenne and a pinch of salt, before having minced garlic and lemon juice added.
Now, this dish provides a whopping 16 grams of dietary fiber per serving – and it tastes great, too!
Quesadillas are a Mexican dish, and as you may imagine, there is plenty of heat. This is thanks to ingredients such as Tabasco sauce, jalapeno peppers, and ground cumin.
It also features diced chicken breast, diced zucchini and bell pepper, tomato, red onion, garlic, and shredded cheddar cheese. All wrapped up in whole wheat tortilla wraps.  
This dish provides 7.8 grams of fiber per serving, and requires very few ingredients. Namely pasta shells, ground chicken, frozen peas, diced red onion, rocket, baby spinach, tomato pesto, flour and smoked paprika.
It's also fun to make, and you can make it even higher in fiber if you can get your hands on whole wheat pasta shells.
This is quite the  crowd pleaser, and once you're practiced in it, you'll want to make it again and again!
Here's another great dish, with those oh-so popular garlic and onion flavors. It's a nice, mild dish that's not overpowering.
It's made with chicken breast, rice, spinach, chickpeas, and carrot. It provides 6 grams of fiber per serving, but if you were to swap the white rice for brown rice, you can make the fiber content even higher. 
It's also very low in calories, at a mere 319 calories per serving, and also happens to be gluten-free and dairy-free as well.
Talk about comfort food – this soup recipe is amazing! And again, it requires very few ingredients.
You will need shredded chicken, canned chickpeas, healthy veggies such as onion, shredded bell peppers, shredded carrot, and shredded potatoes, noodles, and some dried mint for a mild but distinctive flavor.
It's incredibly low in calories, coming in at a mere 284 calories per serving, yet still features 6 grams of fiber.
Here's another super simple recipe that doesn't require many ingredients.
The recipe uses sliced chicken breast, marinated in lime juice, mild chili powder and garlic which get fried. Then this is placed in seeded wraps, with some healthy avocado, roasted red pepper, and sprigs of coriander.
It can be served either hot or cold, making it a perfect meal prep idea for lunch on the go. What's more, it can be ready to eat in less than 10 minutes – win!
I just love this twist on chicken Parmesan – it's absolutely delicious!
It doesn't need a great deal of ingredients, just shredded chicken, marinara sauce, onion, garlic, quinoa, bell peppers, fresh basil, shredded mozzarella, and grated Parmesan cheese.
Each serving provides 8.4 grams of fiber, and it's relatively low in calories at 559 calories per serving. And it's also high in protein, nut-free, and soy-free to boot!
Another great Mexican dish for you to salivate over!
It features strips of chicken breast, onion, corn kernels, black beans, ground cumin, minced garlic cloves, and flavorful salsa, all wrapped in corn tortillas, and smothered in melted shredded cheddar cheese.
It's very low in calories, coming in at  just 309 calories per serving, yet it still provides 7 grams of fiber per serving! The recipe is also a good source of vitamins A and C, and calcium.
I love the contrast of flavors in this dish!
There are brown mushrooms, scrumptious sesame seeds, flavorful Dijon mustard, fennel seeds, and refreshing sliced leek.
You've also got a nice mix of textures with the filo pastry and crunchy chopped carrot. And such a dish is not complete without some crushed garlic cloves and salad leaves.
I wish I had discovered this dish sooner – I'd have it every day if my partner enjoyed it as much as I do. It's not something I would have come up with myself, but it certainly works.
You begin with a marinade for the chicken made with cinnamon, sugar, sherry and oil.
And when the chicken is cooked you serve it on a bed of high fiber beans, enhanced with mustard, and topped with a beetroot relish. Yum!
Brussel sprouts may not be to everyone's taste, but those who do like them, love them. 
These flavorful beauties really come into their own in this recipe. It features whole wheat pasta, which is high in fiber, linguine or spaghetti is fine.
And some mushrooms, onions, garlic, Boursin cheese, and herbs thyme, rosemary, and chives.
Better yet, you can make the whole thing in one pot, which saves washing too many dishes. There's even a handy video showing you what to do. Perfect!
And here's some more comfort food to get your teeth stuck into!
It features two meats, namely chicken (of course) and garlic pork sausage, and healthy veggies celery and baby carrots.
It's all in a delicious garlic flavor broth, and is served on a bed of white kidney beans, with some herbed croutons, and a parsley garnish. The recipe yields 6 servings, so you'll be going up for second helpings!
And now to go out with a bang – this yummy dish is both hot and sweet. What's more, it provides a whopping 19 grams of fiber!
It's got plenty of chicken, some sweet potato, healthy cauliflower, and a homemade curry sauce made with the likes of coconut milk, passata, onion, garlic, ginger, curry powder, cayenne pepper, cumin and coriander.
I love the garnish, too – crushed pistachio nuts and golden raisins! I like to serve it with some quinoa.
Wrap Up
So, now you have some great ideas for high fiber chicken recipes. The trick to including high fiber ingredients is to add extras such as grains, brown rice, brown pasta and so on.
But the real key to maintaining a high fiber diet is to cook dishes that you really like, and alternate between recipes so you don't get bored. Bon appetit!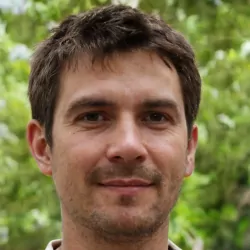 Latest posts by Justin Roberts
(see all)