Cheesecake is one of the most popular desserts across the country. It can be served with a variety of different toppings and in several different styles, making it just as versatile as it is delicious.
However, for those that have excluded dairy from their diet, cheesecakes are off the menu.
One of the main ingredients in cheesecake is cheese so it can't be eaten by anyone who is lactose intolerant or doesn't eat dairy for other reasons.
Cheesecake usually can't be eaten by those who have allergies to gluten, either. The base of cheesecakes is normally made with ingredients that include gluten, such as wheat.
That's why we've made this recipe for a gluten-free and dairy-free cheesecake. It's as delicious as any other cheesecake but doesn't contain any dairy or gluten.
How Can A Cheesecake Be Dairy-Free?
It does seem impossible for a cheesecake to be dairy-free considering the word "cheese" is in the name!
Virtually every recipe for cheesecake does include some sort of cheese as well, whether it be cream cheese or soft cheese.
However, there are now many different types of non-dairy cheeses available that are just as good as the real thing.
In the case of this recipe, we use both non-dairy cream cheese and non-dairy sour cream to make the cheesecake filling.
Along with the other ingredients, they combine to make a cheesecake that is just as smooth, creamy, and delicious as you'd expect it to be.
Non-dairy versions of dairy products such as cheese and milk have become very common and are stocked in most grocery stores.
Later in this article, we give a couple of brand recommendations but you should be able to find non-dairy cream cheese and sour cream without any real issues.
Gluten-Free And Dairy-Free Cheesecake Ingredients
Let's look at the ingredients for this cheesecake.
Gluten-Free Graham Crackers
These graham crackers are the key to making your cheesecake gluten-free.
Many cheesecakes use ingredients for their base that include gluten and when you buy your crackers, you must ensure that you buy the gluten-free versions. 
If you're not able to source gluten-free graham crackers, you can make your own at home. These are usually made with ingredients such as gluten-free flour, brown sugar, and maple syrup. 
Dairy-Free Butter
Dairy-free products of common dairy products have come a long way in recent years and they now have both a taste and consistency that is almost indistinguishable from their dairy versions.
They're also much easier to find in the grocery store than they used to be. For this recipe, you will need to melt the butter so that it can be used to bind the graham cracker crumbs together.
Cinnamon
Cinnamon is a delicious spice that has a sweet and woody flavor. It can add a warm kick of spice to a variety of different foods and drinks and is often associated with fall and winter.
In this recipe, it's used to lightly flavor the crust of the cheesecake. You don't need much cinnamon so don't be heavy-handed when you add it to the cheesecake.
Dairy-Free Cream Cheese
It isn't a cheesecake without cheese, but that doesn't mean you have to use dairy! There are many dairy-free cream cheese products available on the market and you will have to see which brand suits you best.
Our preferences are for either Kite Hill Cream Cheese or Tofutti Cream Cheese. When you purchase cream cheese for your cheesecake, make sure that you purchase plain cream cheese and not one of the flavored versions.
For example, there are versions of dairy-free cream cheese that are sold with chives and this will not taste good in a cheesecake!
In our opinion, many types of dairy-free cream cheese taste virtually identical to dairy cream cheeses and when they are baked into a cheesecake with the other ingredients, there is no difference at all. 
Dairy-Free Sour Cream
There are many different types of dairy-free sour cream. Some are made with coconut cream whereas others are made with cashew nuts.
As with the dairy-free cream cheese, some of our favorite dairy-free sour creams are those made by Kite Hill and Tofutti.
It doesn't matter if you use the same brand for both sour cream and cream cheese or mix and match with other brands.
Egg
Thankfully, eggs can still be eaten on non-dairy and gluten-free diets, however, so you can eat this cheesecake without any fears.
Unfortunately, this recipe isn't vegan because of the inclusion of eggs.
If you do want to make the recipe vegan, you can use silken tofu in its place but the cheesecake may not be as creamy and smooth if you do. 
Sugar
Due to the sour cream and cream cheese, the cheesecake filling will taste a little sour if no sugar is included.
You can reduce the amount of sugar if you're watching your sugar intake and find the amount too sweet. You can also substitute granulated sugar for sweeteners if you prefer.
Vanilla Extract
As there aren't too many flavors included in the filling of this cheesecake, a little vanilla extract will go a long way. This is especially true if you use a high-quality and concentrated extract.
With higher-quality vanilla extracts, you may want to reduce the amount of extract included if the flavor is too intense.
Vanilla Bean Paste
Vanilla bean paste is the best way to get the flavor of vanilla pods in your recipe without having to deal with scraping the pods yourself.
It's far more convenient than vanilla pods and is becoming increasingly popular as a replacement for the pods.
It has a thicker consistency than vanilla extract and usually includes the dark specks of vanilla seeds that you see when you use pods.
Gluten-Free And Dairy-Free Cheesecake Recipe
Let's now look at how to make our gluten-free and dairy-free cheesecake. We will list the equipment and ingredients, and will also include a step-by-step guide.
Prep Time: 15 minutes
Cooking Time: 45 minutes
Chilling Time: 5 hours
Total Time: 6 hours
Equipment
Blender
Mixer
Mixing Bowl
Nine-inch springform round pan
Non-stick baking spray
Measuring cup/glass
Ingredients
Gluten-Free Crust Ingredients
2 ¾ cups of gluten-free graham crackers
10 tablespoons of dairy-free butter, melted
½ teaspoon of cinnamon
Cheesecake Filling Ingredients
16 ounces of dairy-free cream cheese at room temperature
12 ounces of dairy-free sour cream
1 egg
2 egg yolks
1 ¼ cup of sugar
3 tablespoons of vanilla extract
1 ½ tablespoons of vanilla bean paste
Instructions
Step One
Put all of the graham crackers into your blender. Switch the blender on and pulse the crackers until they are reduced to fine crumbs and make a sandy texture.
Step Two
Pour the crumbs into your mixing bowl and add the melted butter and cinnamon. Mix the three ingredients until they are thoroughly combined and mixed together.
Step Three
Take your springform pan and coat it with non-stick baking spray. Pour the cracker crumb mixture into the pan and press them into the bottom of the pan. You should also press them around the sides. 
It's easier to press the crumbs and make them even if you use the bottom of a measuring cup or glass. This will help you compress them more easily than if you just use your hands.
Step Four
Place the pan in the fridge until the filling is ready.
Step One
Preheat your oven to 325 degrees Fahrenheit. Take your mixing bowl and add the sugar, egg, egg yolks, and vanilla bean paste. Use your mixer to mix the ingredients together.
They should be mixed at high speed for around five minutes. When the mixture is finished, it should have a light and fluffy consistency with the sugar almost fully dissolved.
Step Two
Add your dairy-free cream cheese to the bowl. This should be at room temperature so if it has been refrigerated, make sure you take it out with enough time for it to reach room temperature.
Mix the cream cheese into your mixture for another three minutes. The mixture should now become smooth and evenly mixed.
Step Three
Add the vanilla extract and dairy-free sour cream and mix for another three minutes. Your mixture should now be thick and creamy.  
Step Four
Remove your springform pan from the fridge. Slowly pour your cheesecake filling mixture into the pan and ensure it is evenly distributed.
Step Five
Place the pan into the preheated oven on the center rack. Bake for 45 minutes. Don't open the oven door during the cooking time as this will reduce the temperature in the oven and affect how the cheesecake cooks.
Step Six
After the cooking time has elapsed, remove the cheesecake from the oven. Place it on a counter and allow it to cool to room temperature. This should take around one hour.
When it has reached room temperature, place it in the fridge and allow it to chill for at least four hours before serving.
Notes
When you choose your vanilla extract, be aware that the higher the quality of your extract, the more intense the flavor of your cheesecake will be.
You may need to adjust the amount of vanilla extract used depending on your preferences.
We recommend using a springform pan as this makes removing the cheesecake much easier.
If you don't have one, you can use a regular nine-inch pan but be aware that this will make it more tricky to remove the cheesecake.
You can make removing it easier by using a non-stick baking spray to coat the pan as well.
Make sure that your dairy-free cream cheese is at room temperature when you add it to the mix.
This is important because by being at room temperature instead of chilled, you will get a better texture when the ingredients are mixed together. It will make your cheesecake filling smoother and creamier.
Although it's tempting, don't open your oven during the cooking time to check on the cheesecake. It needs to cook at a steady and even heat and opening the oven will reduce the oven temperature.
After 45 minutes the cheesecake will be ready so just wait for it to cook. You don't need to assess whether it is cooked with a toothpick either as it will have a creamy texture even when baked.
Frequently Asked Questions
Let's answer some commonly asked questions about our gluten-free and dairy-free cheesecake.
Can This Cheesecake Be Made Ahead of Time?
Cheesecake can be easily stored once cooked and as this cheesecake has no dairy, this makes it even easier! When cooked and cooled to room temperature, you should refrigerate the cheesecake.
Once in the fridge, it can be kept for a few days without any trouble. We would recommend not adding any toppings until it is ready to be served, however, if you do decide to prepare it a day or two in advance.
Can This Cheesecake Be Frozen?
Yes, it can! After the cheesecake has completely cooked, you can place it in the freezer. We recommend removing the side of your springform pan while leaving the cheesecake on the bottom of the pan. 
If you're not going to eat the cheesecake in one sitting, you should slice the cheesecake before wrapping it and placing it in the fridge.
However, if you do expect to eat and serve the cheesecake in one go, simply wrap the entire cheesecake in plastic wrap and put it in your freeze.
Make sure that you don't place anything on top of the cheesecake as the filling will be soft and easily squashed until it has frozen.
What Toppings Are Good For This Cheesecake?
The main flavors in this cheesecake are vanilla and this makes a cheesecake that has a very mild and light flavor.
This means that this cheesecake is the perfect base for a wide variety of different toppings. Virtually any topping that you wish to use will suit this cheesecake and complement the vanilla flavor.
Our personal favorites are fruit toppings such as raspberry, strawberry, or cherry. You can just serve the fruits, but we prefer a mix of fruit and sauce. You can make your own or use a pie filling such as cherry pie filling.
Can I Make This Cheesecake With Dairy?
The recipe for this cheesecake has been designed to be both gluten-free and dairy-free. If you switch the dairy-free ingredients for dairy products such as cream cheese made with cow's milk, then the recipe may not work as well. 
If you want to make a cheesecake with dairy products, we would recommend using a recipe for a cheesecake that includes dairy products in its ingredients list.
There are so many great dairy cheesecake recipes to choose from that you don't need to adjust this one.
Final Thoughts
In this article, we introduced a recipe for the best gluten-free and dairy-free cheesecake.
None of the ingredients used in this recipe contain either dairy or gluten, making it a safe and delicious choice for anyone who needs to exclude these from their diet (for more fantastic recipes that don't include gluten or dairy, read here).
We explained how to make the cheesecake and included a variety of hints and tips to ensure you make the best cheesecake possible.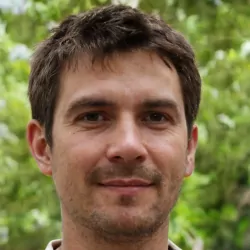 Latest posts by Justin Roberts
(see all)