Ravioli are Italian pasta with various fillings inside and covered with a sauce.
With this recipe, we'll teach you how to make your own homemade ravioli with a filling of spinach and ricotta and cover it with a butternut squash sauce.
You'll only need ten ingredients to make homemade butternut squash and spinach ricotta ravioli.
In this article, we'll tell you what equipment you will need and how to make the ravioli and the sauce easily so that you can enjoy a delicious meal for two.
Ingredients
To make your homemade butternut squash and spinach ricotta ravioli, you will need to gather a few ingredients to get started.
Overall, you will need ten ingredients to make your homemade dish:
A cup and a half of butternut squash, chopped into ½-inch-sized cubes
Two cloves of garlic
Three tablespoons of butter
Salt and ground black pepper
Three-quarters of a cup of whole milk ricotta
Half a cup of frozen spinach that you have thawed and dried
A quarter of a cup of grated Parmesan cheese and a little bit more for garnish
Two eggs
Twenty-four wonton wrappers
Three-quarters of a cup of chicken broth or milk
Equipment Needed
Along with your ingredients, you will need a few tools to help you:
A sheet pan to cook your butternut squash
A medium-sized mixing bowl to make your ravioli filling
A small-sized mixing bowl for your egg wash
Some parchment paper to place your butternut squash and place each of your ravioli as you fold them
A blender to purée your ravioli sauce
A saucepan to cook your ravioli sauce
A large pot to cook your ravioli
Preparing Your Ingredients
Before you cook your ravioli and butternut squash sauce, you will need to prepare a few ingredients first.
You will first have to bake your butternut squash, prepare the filling, and make an egg wash.
Bake the Butternut Squash
Set your oven to 450°F and cover a sheet pan with parchment paper. Once you cover the sheet pan, arrange your butternut squash cubes onto the pan evenly.
Include the garlic and butter when you do this, and season it with some salt and ground black pepper.
You will need to bake it for about 25 or 30 minutes. The butternut squash will be ready when it is tender and the butter has gone brown.
Prepare The Ravioli Filling
Put an egg, ricotta, spinach, and parmesan into a medium-sized mixing bowl. Season them with some salt and some ground black pepper and mix them until they've all combined.
Make An Egg Wash
Once you've done this, grab a smaller mixing bowl and put an egg and two tablespoons of water so that you can make your own egg wash.
Make Your Ravioli
Once you've prepared your ravioli filling, you should clean a flat surface to place six wonton wrappers beside one another.
So that your other wonton wrappers don't dry up, you should ensure they remain covered.
Once you've covered the wonton wrappers, you should put a teaspoon of your ravioli filling in each wrapper.
After you've placed a filling of ravioli into the lower half of your wonton wrappers, wipe some egg wash around the edges of each one. The egg wash works as a glue that keeps it all together.
You then need to fold each of these wrappers, starting from the lower half and working upward. To stick them together, you just need to squeeze the edges together.
Transfer each of your ravioli onto some parchment paper and continue until you have used all the fillings or your wonton wrappers.
As you remove each of your ravioli and put it onto your sheet, you should take care to wipe your surface down with a dry cloth to ensure that none of the wonton wrappers stick to your surface.
Make Your Butternut Sauce
Now that you've made your ravioli, you should focus on making your sauce. Take your baked butternut squash out of the oven and ensure that the butter is brown and the squash is tender.
Once you're confident that you've cooked them correctly, put your butternut squash alongside the melted butter and garlic into the blender.
As you do this, include either your chicken broth or milk, and purée for roughly 45 seconds until it's smooth.
After you've puréed it successfully, transfer your sauce from the blender and pour it into a saucepan. Put it on a low heat as you begin cooking your ravioli.
Boil The Spinach And Ricotta Ravioli
Get a large pot and fill it with water that is two-thirds full. Boil the water, and carefully place each of your ravioli in the pot.
Stir gently as you do this, and try not to let the ravioli stick to one another or get stuck at the bottom of your pot.
You should cook them until they start to float to the top, which should take about two or three minutes to happen.
Keep an eye on them, and make sure they aren't overcooked. They'll fall apart when you try to eat them if they are overcooked.
Once you have finished cooking your ravioli, remove them and place them on a plate or shallow bowl of your choice.
Putting Everything Together
Once you've placed your cooked ravioli into a bowl, you should take your butternut squash sauce off the heat.
Pour the sauce evenly over your ravioli, and if you want to, you can garnish it with some grated cheese. Once done, you'll be able to enjoy a hearty and delicious meal for two.
Final Thoughts
As you can see, this butternut squash and spinach ricotta ravioli are pretty simple to make.
Next time you're making dinner for two, why not show off your cooking skills with this delicious pasta dish?
Consider keeping this recipe saved, and check out some of our other recipes to build up a selection of healthy and delicious recipes for when you need them.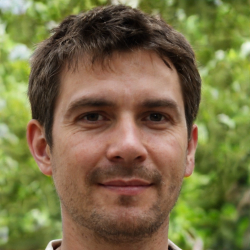 Latest posts by Justin Roberts
(see all)