When many of us think about bagels, we usually imagine them being covered in added sugar and sweeteners, but when switching to a paleo diet, there can definitely be some worries about whether bagels are a suitable food to incorporate into your daily diet. 
You'll be glad to know that because of the sheer amount of ways you can prepare these small and delightful bread rolls, it means that you can easily switch out all the processed and sugary ingredients to make a bagel far more nutritious and perfectly safe to eat in a paleo diet. 
Here are 15 chewy and delicious bagel recipes that are entirely paleo-friendly and can be made in just a handful of minutes. 
When you take a bite of these "authentic" bagels, it's hard to believe that they aren't the real thing with how sweet and soft they are to bite into, but the truth is that the recipe simply substitutes a few key ingredients to make them paleo-friendly. 
Make sure you have almond and tapioca flour at the ready, along with some raw honey, instant yeast, and coconut sugar to ramp up the sweetness enough to make these bagels as flavorful as possible.
Bagels are known for being soft and a little chewier in their texture when compared to similar foods like donuts, but if you did want to make them a little crunchier and nuttier in texture, consider sprinkling a few black sesame seeds as a seasoning. 
They can be found very easily in most food stores and will stick to the bread instantly thanks to the maple syrup which is glazed over the top. 
While there are many fans out there of firm and chewy bagels which give you a little more to crunch down on, some people love nothing more than having a soft and fluffy snack that tastes a little lighter and is perfect for enjoying in the morning with a cup of coffee on the side. 
These types of bagels are a true New York classic, and as soon as you take that first bite, you'll immediately understand why they are so beloved. 
Bagels are one of those types of food that are great to make when you're low on time but want something that you know is going to fill you up and isn't too unhealthy at the same time.
This recipe makes preparing bagels easier than ever, only requiring 8 ingredients and 10 minutes of your time.
This isn't to suggest that they don't still taste incredible however as the apple cider vinegar and organic chicken bone broth grant the bread an appetizing savory flavor, making them the perfect bite-size snacks to whip up while on a break. 
These bagels pack an entire brunch meal in between two buns to create a snack bursting with multiple different flavors that you are definitely going to want to prepare when you want to impress a few arriving guests.
Scrambled eggs, tomato, and salmon are just a few of the ingredients packed in between this split bagel, but feel free to add any other ingredients that you usually enjoy snacking on during your afternoon lunch. 
If you're wondering what the psyllium husk is in this recipe, it is a key ingredient that thickens any liquid it comes into contact with, which is why it is so essential as a coating on these breakfast bagels so that the melted ghee butter and white wine vinegar can be as vibrant as possible in their taste. 
Himalayan salt is an unrefined salt that contains so many health benefits and essential nutrients that many people will use it as a nutritional substitute for regular salt in many different recipes, and that includes bagels. 
The orange extract and dried cranberry grant these bagels a little more of a zesty taste which is evened out elegantly by the strawberries and blackberries, though don't be afraid to add any other small fruits you feel would improve the overall taste of this hearty dish. 
While packing some cauliflower in the middle of a bagel might not sound too exciting on its own, the trick is to get rid of as much of the moisture as possible so that each floret can soak up all of the flavors from the added ingredients, giving them an entirely different taste while still remaining extremely nutritious and packed full of vitamins. 
The dried minced onion and garlic are what really take these breakfast bagels to the next level in terms of taste while also providing an elegant and refreshing aroma to these breakfast bites.
Don't forget to add some nutty poppy seeds over the top to make the texture a little more firm while also adding a hint of fruitiness to the overall flavor. 
Gluten-free, paleo-friendly, and bursting with a cocktail of exotic flavors, this is a bagel recipe you are not going to want to miss out on, especially if you or someone you know is a big fan of the slightly citrusy taste of cinnamon. 
The soaked raisins are the perfect topping since they will quickly absorb the juices and flavors of the added ingredients, especially the maple syrup, with everything coming together to create a soft and juicy raisin-filled bagel snack that is perfect for sharing around the table after dinner. 
We all know that kids will be much more inclined to enjoy certain foods depending on how they look, especially when a meal contains a mixture of several different vibrant colors that helps make it look all the more appetizing, and this recipe is no exception. 
Using dairy-free cream cheese and paleo rainbow sprinkles, each one of these bagels is swirling with multiple different colors that help them to pop out a lot more than the standard brown bread many of us are used to seeing, making them the perfect go-to after school treat which can be made in just a few minutes. 
There really is no better feeling than waking up on a bright and early summer morning and sinking your teeth into a fruit-filled bagel, especially when it includes almond butter which helps to make each and every bite creamier than the last. 
As if this didn't all sound appetizing enough, this is also one of the easiest paleo bagel recipes out there, simply toast the paleo bagels, spread a layer of almond butter over the top, and then pack it full of your fruit of choice, that's all there is to it. 
When gathering all the ingredients for this soft and delicious bagel recipe, make sure that you try and pick up a natural coconut yogurt that is on the thicker side so that you can have a nice and sweet glaze over your bagels which will help keep them as moist as possible.
It's also a good idea to use a beaten egg on the glazing too, just to add a bit more protein to the overall dish while also evening out the sweet taste of the coconut which can be very noticeable and potent when you start tucking in.
While most paleo bagel recipes will only use one or two seasonings at a time so that their taste can be as noticeable and vibrant as possible without the risk of getting overpowered by any other ingredients, this recipe decides to go all in, sprinkling several different seeds and spices over the top to ensure that you get an explosion of flavor every time you chew down on these fluffy treats. 
Poppy seeds, white sesame seeds, and black sesame seeds all make an appearance here, along with dried garlic and onion flakes, making the flavor incredibly strong and memorable.
Flaked sea salt is an ingredient more people really need to know about, primarily because of how effortlessly it can make a dish taste so much smokier and rich in flavor, even when you sprinkle just a cup or two over your favorite foods. 
When paired up with some minced dried garlic and sesame seeds, and glazed over the tender surface of a bagel, it makes every bite seem like you're snacking on a bacon sandwich, which is always a bonus in our books. 
Summary
By using paleo-friendly flour, a few toppings to add to the texture, and a handful of extra ingredients to elevate the overall flavor, you can create a bagel that tastes just as good, if not better than the original, and with a limitless number of recipes to choose from, you are guaranteed to find one suited to your specific taste preferences.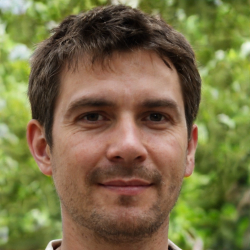 Latest posts by Justin Roberts
(see all)