Are you looking for a delicious and healthy meal that is both Paleo-friendly and full of flavor? Look no further than this Singapore-style Paleo Courgette Stir Fry. 
This easy-to-make dish combines sweet and savory flavors with nutrient-rich courgettes to create an amazing stir-fry that's sure to please everyone at the table.
What's So Great About Paleo Courgette Stir Fry?
This Paleo Zucchini Noodles Recipe with Chicken recipe is an absolute delight. The pesto really packs a punch in terms of flavor. 
It's slightly salty, nutty, and incredibly fresh tasting. The combination of basil, cherry tomatoes, chicken, and zucchini noodles makes it a true Mediterranean masterpiece.
The best part about this wholesome meal is that it only requires 10 ingredients to make. That means less time grocery shopping, less mess in the kitchen, and more time enjoying your delicious concoction. 
Not only that, but you can use it in other dishes. So you get even more out of your precious time spent cooking.
Whether you're doing a paleo diet or just looking for a quick and tasty meal – this zucchini noodle pesto stir-fry recipe delivers on both accounts.
How Long Does It Take To Prepare And Make Paleo Courgette Stir Fry?
Preparing The Sauce
The process of preparing the sauce for your meal can seem daunting, but it doesn't have to be.
With a few simple ingredients and a few steps, you'll be well on your way to having the perfect sauce to complete your dish. This should take no longer than 5 minutes.
Preparing The Chicken
Preparing the chicken is an invaluable part of a good dish. To start, the chicken should be cut into even-sized smaller cubes. 
Begin by slicing the chicken breasts, then lengthwise cutting those slices into long stripes and finally cubing them crosswise. 
The most important part of preparation is the seasoning. In a bowl, combine the cubed chicken with spice and salt, making sure to coat each piece in the mixture with a spoon or your hands, depending on preference. 
Preparing The Veggies
Preparing vegetables can be a laborious task, but these simple instructions will make it effortless. 
First, take a carrot and use a Y-peeler to cut long ribbons that are even in width. This is great for topping salads or garnishing dishes with an extra garnish of color.
After using the peeler, you will have a leftover piece to either eat as a snack or save for later.
Cooking Time
Stir-frying is a quick, easy, and delicious way to get dinner on the table in no time. In this recipe, we'll be making a stir-fry with chicken and vegetables.
First, heat 2 teaspoons of olive oil in a large non-stick skillet over high heat. Once the oil is hot, add the chicken and cook for 3 – 4 minutes until it's no longer pink (it will finish cooking later).
What Ingredients Do You Need To Make Paleo Courgette Stir Fry?
This delicious chicken pesto courgette noodle stir-fry is a great way to get healthy and delectable flavors into one meal.
You'll need some simple ingredients such as olive oil, chicken breasts, courgette, garlic, cherry tomatoes, pepper, and salt. 
How To Make Paleo Courgette Stir Fry: Singapore Style
This flavorful dinner of zucchini noodles with pesto and chicken is deceptively simple to make. All it requires is some simple and easy steps.
First, begin by heating a splash of olive oil in the pan on medium to high heat. Once the oil is hot, add the chicken and cook until it has evenly browned on all sides.
During this time, halve your tomatoes, spiralize the zucchini noodles, and chop any garlic/herbs you might be using.
Once the chicken is done cooking, remove it from the pan and set it aside while you finish off the dish. 
Now add in the spiralized zucchini or courgette noodles and sauté for several minutes until slightly softened. Then stir in prepared pesto sauce plus the halved tomatoes or other vegetables to give it some flavor. 
Finally, mix in your cooked chicken, so everything can cook for a few more minutes before serving it up.
Common Issues With Courgette Noodles That Can Be Solved
Cooking zucchini noodles, so they come out perfect every time, can definitely be a struggle. The most important thing to remember is that you need to get as much water out of the noodles as possible. 
We recommend using a thick, absorbent dish towel and squeezing out all the liquid hard. After it's done, the towel should be damp. Once you've got this part taken care of, it's time to start cooking your noodles.
A great idea is to lay them on a paper towel-lined baking sheet and bake for around 8 minutes at 375 degrees F. This dries them up further and allows them to crisp up nicely without getting soggy or mushy.
For extra dryness, you can also cook the zucchini noodles in the oven by coating them lightly with olive oil, sea salt, and pepper, spreading in an even layer on a baking sheet lined with parchment paper, and baking for about 10 minutes at 350F. 
Why Should You Make Paleo Courgette Stir Fry?
We're big fans of this chicken courgette pesto stir-fry, and here's why: it's a delicious combination of healthful ingredients and tantalizing flavors. 
With diced cherry tomatoes, garlic, zucchini spirals, fresh herbs, olive oil, and pesto dressing, the delicate balance of sweet yet savory ensures this dish will leave you satisfied. Plus – with chicken as an ingredient – it can be a complete meal.
This dish is not only scrumptious but full of nourishing benefits: it has around 1.5 servings of vegetables per serving – making it veggie-loaded – and it's diet friendly too; it works for paleo, gluten-free, dairy-free, and even keto diets if you reduce the number of tomatoes. 
Final Thoughts
Making this delicious paleo courgette stir-fry: Singapore style is a great way to enjoy a variety of healthy and flavorful ingredients. 
You'll be sure to love the combination of zucchini spirals, garlic, and cherry tomatoes atop a bed of pesto dressing.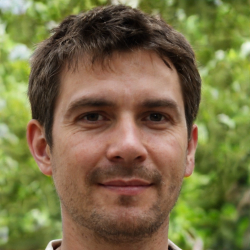 Latest posts by Justin Roberts
(see all)