If you love pumpkin bread, then you will enjoy these pumpkin muffins. Not only do these muffins taste great, but they are tender and really nutritious.
What makes this recipe even better is the fact that anyone can enjoy these muffins, since they are dairy, grain and gluten-free.
This recipe for pumpkin muffins is really simple to follow, but will help you to produce really flavorful muffins. You can easily make more customizations to his recipe to suit your dietary requirements or what you have on hand.
Read on to discover how to create a batch of these delicious paleo pumpkin muffins.
How Long Does This Recipe Take?
These pumpkin muffins can be customized to include spices that you enjoy and chocolate chips. You will enjoy how simple this recipe is to follow. 
Overall, this recipe will yield you 12 large muffins, which can be prepared in under 10 minutes. The total cooking time of these muffins takes 25 minutes. Hence, the time it will take you to fully complete this recipe is under 45 minutes. 
Ingredients In This Recipe 
To make these paleo pumpkin muffins, you need to collect the following ingredients:
2 cups of fine almond flour.
2 large eggs.
¼ cup of coconut oil (melted and cooled).
¼ cup of maple syrup.
⅓ cup of pumpkin purée.
¼ teaspoon of salt.
½ teaspoon of baking soda.
1 teaspoon of vanilla extract.
½ cups of chocolate chips or cacao nibs.
1 teaspoon of pumpkin spice (optional).
Paleo Pumpkin Muffin Steps
Now that you have collected everything you need to make these muffins, you can follow the simple steps below. 
Step 1: Line Your Tin
Preheat the oven to 350 degrees Fahrenheit. 
Then line your muffin tin with 12 paper muffin liners. This tin can be set aside until you need it later on. 
Step 2: Make Your Muffin Batter
Using a large bowl, whisk together all your dry ingredients including the salt, baking soda and almond flour. 
Once mixed together, you add in the wet ingredients including the vanilla extract, eggs, pumpkin purée, maple syrup and coconut oil. Using either a whisk or wooden spoon, ensure that everything is well combined and there are no traces of four left. 
Step 3: Add Your Chocolate
Your muffin batter should have a thick consistency. It is at this point that you can fold in your chocolate chips or cacao nibs into the batter. 
If you are using it, you can also add your pumpkin spice mix. If you don't like the flavors of pumpkin spice, but still want heat, then you could add ½ teaspoons of the individual species that you wish to include. 
Step 4: Divide Your Batter And Bake
With an ice cream scoop or a large tablespoon, equally divide your muffin batter into the lined muffin tin. Once you have added all the mixture, you can bake your muffins for 22 to 24 minutes. 
Once the muffins are golden brown and cooked in the middle, they are ready to be removed from the oven. 
Step 5: Cool Before Serving
When your muffins are cooked, then you can remove them from the oven and place them onto a wire rack. It is important that you allow the muffins 5 to 10 minutes to cool, before serving them. 
Storing Your Muffins
If you are making these muffins in advance, then you must allow the muffins to cool completely before transferring them into an airtight container.
These muffins will stay fresh and good to eat for around 5 days when stored this way.
You could also freeze these muffins if you have made far too many. Allow the muffins to cool completely and transfer them to an airtight and freezer safe container.
You can store these muffins in the freezer for up to 3 months, before the quality of the muffins deteriorates. 
Can You Substitute Any Ingredients In This Recipe?
With any recipe, it is always possible to make certain substitutions, depending on any allergies you have and ingredients you can get hands on. 
Maple Syrup
In this recipe, we use maple syrup, which adds moisture and a slight sweetness to the muffins. However, if you can't get your hands on maple syrup, you could always use agave or honey instead.
Although, it is worth noting that the flavor of the muffins will be slightly different because of this. 
Almond Flour
Almond meal could be used instead of almond flour, or you may want to try coconut flour. It is important to keep in mind that if you change the type of flour you are using in this recipe, then this will affect the overall taste and texture of the muffins. 
There are a lot of other paleo-friendly flours out there that you could try, but it may be trial and error on which flours will provide you the best and similar results to almond flour. 
Chocolate Chips
It is up to you the kind of chocolate chips that you use. You don't have to use chocolate chips at all, you could leave them out of the recipe or use cacao nibs instead. 
Final Thoughts
If you are looking for a healthy snack or something quick and easy for an on the go breakfast, you should give these paleo pumpkin muffins a try.
They involve very little hands-on time, and this recipe allows you to produce soft and delicious muffins every time.
You can make simple substitutions to customize this recipe to suit your tastes. All your friends and family will want to try one of these muffins, and they won't even know that they are paleo friendly.
We hope this article has been interesting. Hopefully, you are now tempted to try making these nutritious pumpkin muffins yourself.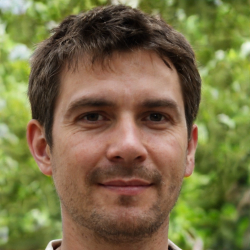 Latest posts by Justin Roberts
(see all)