Carbonara is an iconic Italian dish consisting of creamy pasta paired with pancetta and parmesan. Unfortunately, you will be unable to make a traditional carbonara when following a paleo diet. 
Luckily, you can still make this luxurious smoked salmon and zucchini carbonara. The recipe replaces pasta with a courgette or zucchini alternative, making this a much healthier version of carbonara than more traditional recipes.
Follow this recipe for a simple yet delicious smoked salmon zucchini carbonara.
Easy 10-Minute Paleo Smoked Salmon Courgette Carbonara
Serves: 4
Preparation time: 10 minutes
Cook Time: 10 minutes
Total time: 20 minutes
With the help of this recipe, you can make a phenomenal alternative to standard carbonara that is suitable for paleo diets.
The dish is formed of spiralized zucchini, which is a superb stand-in for traditional pasta. This zucchini is paired with smoked salmon, which gives this dish a more luxurious vibe. 
Ingredients
To make this recipe, you will need the following ingredients:
3 zucchinis
A pinch of salt and pepper
5 ounces of smoked salmon
2 garlic cloves, minced
½ a cup of coconut cream
2 large eggs
A garnish of parsley (optional)
Equipment
To make this zucchini dish, you will require the following tools:
A tabletop spiralizer
A sharp knife
A chopping board
A small saucepan
A balloon whisk
A non-stick frying pan
A large mixing bowl
A wooden spoon
A plate and cutlery
Instructions
1. Spiralize the zucchini into spaghetti noodles with the aid of a countertop spiralizer. To do this, you will need to clamp the zucchini into place before twisting the spiralizer. 
2. Cut the smoked salmon into bite-size chunks with a sharp knife and chopping board.
3. Crack the eggs into a cup. Add the salt and pepper before whisking.  
4. Pour the coconut cream into a saucepan. Place this on the hob and begin cooking the cream over low heat. The cream should begin to melt. Stir it regularly to prevent the cream from burning. 
5. Add the egg mixture to the coconut cream. Using a whisk, blend the mixture. Stir the mixture for approximately 1 minute, during which time the liquid mixture will thicken. When the mixture has thickened, you should take it off the heat immediately. If not, the eggs can become scrambled.
6. In a saucepan, saute the garlic for around 30 seconds in a frying pan, stirring often. Then, add the zucchini noodles to the frying pan and toss them in the garlic. Cook for roughly 1 minute until the zucchini has been cooked.
7. Once the zucchini noodles are cooked, take them off the heat. Pour the noodles into a large mixing bowl. Add the egg mixture and stir it into the noodles with a wooden spoon. Then, add the smoked salmon to the carbonara mixture.
8. Serve the smoked salmon zucchini carbonara on a plate and enjoy this delicious dish. Sprinkle with a garnish of parsley if desired. 
Recipe Variations
If you want to try some different versions of this recipe, you can try some of these variations:
Cheese is not consumed as part of a strict paleo diet. Yet, cheese is typically sprinkled on top of a carbonara in the form of parmesan cheese. If you love cheese, generously sprinkle parmesan or another type of cheese onto the carbonara.
Pancetta is also a standard ingredient for carbonara. Therefore, if you want to make a more conventional carbonara, you can replace smoked salmon with pancetta. Alternatively, you can use another form of pork, such as guanciale or bacon. 
Add paprika to the carbonara for an earthy and spicy twist. This will work particularly well when pork has been added to the dish.
Consider using different vegetables to make pasta noodles. For instance, squash noodles are a popular paleo-friendly alternative.
If you want to make a thicker version of this dish, use less coconut cream and reduce the number of eggs that you're using. On the flip side, if you want a creamy carbonara, try adding a little more coconut cream.
To make a vegetarian version of this dish, replace the salmon with a vegetarian alternative. For example, you could use meat-free bacon. If you aren't a fan of meat-free products, you can add vegetables. For example, you can add sauteed onions to the carbonara.
Other Paleo Carbonara Recipes
There are tons of other paleo-friendly carbonara recipes, such as these excellent examples:
This carbonara recipe uses a common substitute for zucchini noodles in the form of spaghetti squash. This paleo carbonara has a homely and hearty vibe to it. It also has a super rich taste and creamy consistency. 
Made with bacon, this spaghetti squash carbonara recipe feels a little heavier than a salmon courgette carbonara. You can also give the carbonara a boozy twist thanks to the addition of white wine.
This irresistible recipe brilliantly combines chicken with bacon to create a unique carbonara. Asparagus is an amazing addition to their recipe, as it pairs beautifully with the bacon.
Not to mention, the use of asparagus and onion ensures that this dish also contains a decent number of vegetables. 
Instead of using traditional pasta, a squash alternative has been used to great effect. The result is a vibrant and appealing dish that looks almost too good to eat. 
Overall, this paleo recipe carbonara is fantastically flavorsome. 
This dairy-free carbonara recipe also uses zucchini noodles to create an incredible carbonara dish. It uses the ingenious idea of adding cauliflower to the mix, which gives the dish a nutritional boost. 
Despite being a keto and dairy-free recipe, this zucchini carbonara is still super creamy. This is thanks to the use of unsweetened almond milk. You can also give this dish spicy notes through the addition of red pepper. 
Final Thoughts
Carbonara is a delectable Italian dish that is ideal for making an indulgent dinner-time meal. Sadly, many carbonara recipes are not paleo-friendly. Luckily, this paleo smoked salmon zucchini carbonara is a paleo-friendly recipe that is colorful and has an elegant vibe.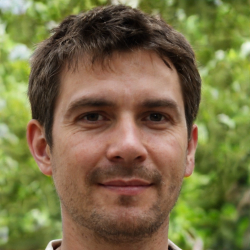 Latest posts by Justin Roberts
(see all)