Fish cakes are normally made using flour. That's how the fish bind together to create the patty shape we love. On the Paleo diet, we cannot have flour, so instead, we need to get creative.
Swapping flour with plantains is the perfect way to add new flavors to your meal while still creating a binding thickness.
Ingredients
Because we are making two parts to this meal, the ingredients list is separated into fish cakes and salsa.
Paleo Plantain Fish Cake
Yellow Plantains – 2
Extra Virgin Olive Oil – 1 teaspoon and 2 tablespoons
Raw Cod – 10 oz
Egg – 1
Arrowroot Powder – 1 tablespoon
Red Onion – ½ cup (Diced)
Mayonnaise – ¼ cup
Coconut Milk – 2 tablespoons
Chipotle Powder – ½ teaspoon
Garlic – 1 clove (Minced)
Mango Salsa
Mangoes – 3 (Diced)
Red Bell Pepper – 1 (Chopped)
Red Onion – ½ cup (Chopped)
Cilantro Leaves – 1/34 cup (Chopped)
Jalapeno – 1 – (Seeded and Minced)
Lime Juice – ¼ cup
Salt
Method
This recipe will serve 3 or 4 adults, we suggest giving adults 2 cakes each and children 1.
Step 1
First, you should slice the ends off the plantains. Then cut them into 4 sections.
Using a large and deep pot, pour in a lot of water and then place the plantains inside. Also, add 1 teaspoon of olive oil and bring the water to a boil.
The olive oil will prevent the plantains from sticking to the pot.
Boil the plantains for around 10 minutes.
Step 2
While this is happening, grease a skillet and lay down the cod. Cover the fish with water, making sure it's completely submerged.
Turn up the heat until the water begins to boil, and then reduce again so it starts to simmer.Cook the cod on a simmer until it becomes opaque. This should take around 5 minutes.
Step 3
Lay out some kitchen paper towels onto a plate, then lift the cod onto the towels and pat it dry. 
We suggest using long tongs as any splashback could result in burning your hands.
Step 4
Once the plantain is cooked, drain the water and wait for it to become cool. When you can touch it with ease, remove the peel and discard it. 
Place the plantains into a large mixing bowl and mash them until smooth. Once mashed add in the garlic, onion, arrowroot, egg, and cooked cod.
Mix the ingredients together until the egg and the arrowroot are no longer identifiable. 
Step 5
Now we make the mango salsa. Simply add all the ingredients to a serving bowl and mix it together. Taste the salsa and add salt as needed.
Leave the salsa for 10 minutes or more as we cook the fish cakes.
Step 6
Head back to the skillet, and add the remaining olive oil to medium heat. As it's simmering, use your hands to shape the fish batter mix. You can make 8 cakes from this batter.
When 4 cakes have been shaped add them to the skillet and pan-fry them for around 5 minutes on each side.
Do the same with the other 4 cakes. If you need more oil, add some as you go..
Step 7
As the last fish cakes are cooking, take out a small sauce bowl and add in the mayo, chipotle powder, and coconut milk. Whisk the ingredients together to create a dipping sauce.
Serve your cakes with the mango salsa and dipping sauce, and enjoy!
Sides For This Dish
This meal is considered low-carb. Yes, there will be some carbohydrates in the plantain and the cod, but there aren't any carb-heavy ingredients. For most Paleo diet followers, this is exactly what they want.
However, if you or your guest need something a little heavier to go with their meal, remember that potatoes are part of the diet.
Normally you should serve mashed potatoes with fish cakes, however, both butter and milk are off the menu. So instead pick fries.
Peel and chop your potatoes into matchstick shapes. Then sprinkle garlic powder and chili flakes on them. Lastly, pop them into an air fryer for 15 minutes.
Final Thoughts
This meal is delicious and morish. Anyone, no matter their diet, will enjoy this meal as it hits the sweet, savory, and spicy elements of our taste buds.
The mango salsa should be used as a cooling element to the meal, but play around with your sides to see which combinations work best for your table.
Frequently Asked Questions
Is Plantain The Same As Banana?
Plantains are a type of banana, but they taste nothing like their cousin. They are larger, have thicker skins and most importantly they taste closer to a potato than an actual banana.
The sugar content is lower, while the starch content is higher.
Can You Eat A Plantain Like A Banana?
You cannot eat plantain raw. You also cannot peel plantain skin like a banana, as it's too thick. It needs to be boiled or cooked first.
Why Do My Fish Cakes Fall Apart?
If your fish cakes are falling apart, it's because your mashed potato or mashed plantain is too wet. Some people purposely make their mash slightly lumpy, this allows them to add texture to their cake, and helps the ingredients bind to each other.
If you notice your cakes are falling apart, play with the dryness and texture of your mash.
What Binds Fish Cakes Together?
The egg binds the fish cakes together, but if you use too much of it you'll end up with an overly eggy flavor. We only want the egg as a binding agent, if you notice a scrambled egg visual in your meal you may have added too many.
What Do You Eat Mango Salsa With?
Normally mango salsa is eaten with Mexican food. This could mean tacos, burritos, or spicy meals. The mango acts as a cooling agent and pairs well with lime.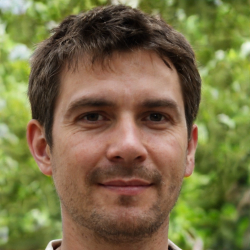 Latest posts by Justin Roberts
(see all)