Are you tired of your current raw vegan blondie recipe? Maybe you are looking to create a new snack or dessert?
Or is this your first time making a raw vegan blondie? Whatever your reason might be, we bet you are here looking for a new recipe! 
But finding a raw vegan blondie recipe you will love can be tricky, especially if you have never made them before.
You head online for some inspiration but are met with pages and pages of confusing and contradictory recipes.
Plus all of them seem to call for super expensive and hard-to-find ingredients! Frustrated and disappointed, you wonder if you will ever find a raw vegan blondie recipe that works for you. 
Well, no more! Today, we are here with the answers you need! Keep reading to see 11 raw vegan blondie recipes you will love!
We also have plenty of tips and tricks that will make the cooking process smoother too. Let's not wait any longer and dive into our list now!
First up, we have this stunning recipe from Navitas Organics! The use of salt, sugar, and vanilla helps to create a butterscotch-like flavor you are sure to love!
Plus these blondies are super easy to make, even if you aren't a big fan of cooking or baking, you are sure to make these! 
Cashews help to make this recipe creamy and they blend easily too! We recommend adding cacao nibs to the top of your blondie slices to add some richness.
They will also satisfy any chocolate craving you might get! 
We love any recipe that is quick and this five-minute one is no exception! In just five minutes you can enjoy a single-serving raw vegan blondie.
It's the perfect dessert or afternoon snack, with hardly any preparation time! 
There are just seven ingredients for this delicious blondie, and plenty of substitutions listed, so you don't need to spend ages searching for coconut sugar!
We found it worked just as well with other sugars, especially light brown sugar as it gave the blondie a slight caramel flavor! 
This recipe is perfect for anyone that wants a small, bite-size blondie to enjoy! They are delicious and the large chocolate chunks on top add a layer of sweetness and richness to the blondie! 
You can use any vegan chocolate you want on top, or cacao nibs if you prefer. We just broke down a few of our favorite bars of vegan chocolate so that every bite had a different flavor.
Just make sure you don't handle the chocolate too much as they can start to melt in your hand, especially if you are working in a warm kitchen.
Next up, we have these Rawkin blondies. Unlike others on the list, these don't feature high-fat content. Almonds and almond flour are used to keep the fat content down.
Now they aren't fat-free, but if you are trying to cut down on your fat content, these are a treat to try! 
The recipe calls for you to make your own almond flour using the pulp from the milk. This does require a little more effort than some of the other recipes, but don't panic!
The recipe walks you through the entire process, and it isn't as challenging as you might think. Plus, the end result is a tasty blondie, so we think it's worth the effort! 
If you love peanut butter, then you need to try these peanut butter blondies! Not only are they vegan, but they are raw and super easy to make!
You can also customize them if you prefer, adding a chocolate frosting instead of peanut butter. This can be done with a layer of your favorite melted vegan chocolate. 
We have even added both, to create a chocolate and peanut butter blondie, which was a huge success! 
The recipe is simple to follow and is broken down into small steps that allow the most novice baker to have success.
It doesn't take too long to make either, allowing you to have a sweet treat when you want! 
If you love pecans, then this is the recipe for you! These healthy, no-bake blondies are the perfect treat packed full of fruit and nuts!
It's a whopping recipe that makes 16 blondies too! Whether you are looking to make your snacks for the week or impress your friends with a new recipe, this is a fantastic one for you! 
If you wanted to, you can add some cacao nibs or vegan chocolate to the blondies! This works well with the nuts and fruit and can add an extra layer of richness to the blondies!
Compared to others too, these are low calories per serving, making them a wonderful snack for anyone that is counting calories. 
These caramel blondies are the perfect recipe for anyone after a vegan and gluten-free snack! With just two steps to follow, they are an incredibly easy snack or dessert to make.
They are also super quick too, as the longest part of your cooking is waiting for them to chill! 
The blondies have a lovely caramel taste thanks to the coconut sugar and vanilla paste. You could top them with a caramel sauce if you wanted to, or add some cacao nibs to decorate as we did!
This adds a little texture and richness to the blondie without overpowering the caramel flavor.
If you don't want a bar, then try these raw blondie cookies! Packed full of raisins and cinnamon they are a delicious treat that your friends and family are sure to love!
They don't require baking and are easy to make, allowing you to enjoy a delicious cookie whenever you fancy! 
The cinnamon powder adds a warmth and subtle spice to the cookie without overpowering it too,  so you don't need to worry about flavors getting lost in the mix!
The only downside is how long the recipe takes. You need to wait at least nine hours for the cookie to dehydrate before you can eat it, and they must be flipped every three hours during this time.
This is a recipe that you need to be in the house for! 
That's right, we have another quick recipe for you to enjoy! With just seven ingredients, these high-protein blondies are ready in 10 minutes!
There is no need to wait for any ingredients to set, you can enjoy them right away! It's the perfect recipe for anyone looking for a quick snack or dessert. 
You can change the flavor of the protein powder if you wish, but we think it works best with vanilla, especially as there is vanilla essence in there.
But you could swap this out if you preferred to make orange or even lemon blondies!
The choice is yours, although they are wonderful as vanilla protein blondies! Just make sure you are using vegan protein powder! 
These no-bake blondies are wonderful for anyone after a quick snack!
You get plenty of sweetness from the maple syrup and walnuts, ensuring that you can satisfy your sweet craving, without the need for added sugars! 
The blondies are also gluten-free, making them perfect if you are preparing a snack or dessert for anyone with a gluten intolerance.
There aren't many ingredients either and all of them are easy to find so you don't need to worry about heading to obscure stores! 
These delicious vegan blondies are gluten-free and low glycemic, making them great for everyone to enjoy! These dense, fudgy treats are super easy to make and come with plenty of flavors! 
With just seven ingredients, the blondies are super easy to make! You get eight with the recipe, but the quantities can be adjusted easily to make more if you prefer.
The addition of dark chocolate chips helps to create a rich blondie and compliments the sweetness of the almond butter well. 
You can make your own almond butter, or you can use store-bought if you prefer or are on a tight schedule.
The blondies will take an hour in the refrigerator to set, making it the ideal recipe to make during a rainy afternoon and enjoy in the evening! 
Final Thoughts
And there you have it, 11 raw vegan blondie recipes you will love!
Whether you are looking for a quick and easy recipe, one packed with flavors, chocolate, or protein, we are sure you have found the recipe here for you!
Don't forget to use our tips and tricks and to follow the recipe carefully for success. 
With these no-bake blondies, you don't need to worry about turning the oven on. Just make them, leave them set, and dig in! 
Enjoy!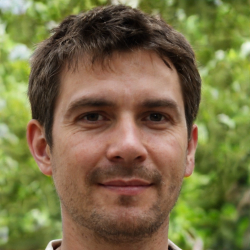 Latest posts by Justin Roberts
(see all)