Blueberries are among the most popular fruits used in baking thanks to how versatile they are.
While they, along with most fruit, are not usually considered to be a good option for anyone on a keto lifestyle, they can still be enjoyed in moderation!
These fantastic little berries are a popular choice for a variety of desserts, including cakes, pies, muffins, and so much more.
If you do want to use this fruit in your baking as someone on a keto diet, just remember that moderation is key.
So, to help you out on your keto journey, we have done all the hard work for you and found a variety of blueberry keto-friendly recipes you can use!
This should shave the time off your research. Just looking at these recipes should make your mouth water – ours definitely is!
The use of chia seeds in this recipe adds great flavor and nutrients, and also adds protein and fiber to the jam! In other words, this jam is delicious, but also has health benefits for you, so it's a win-win.
Use this jam for your classic jam on toast, or use it on cakes, crêpes, or anything else you like. It is versatile and easy to use, and will store great.
Got 30 minutes, and you are craving blueberry muffins that are keto-friendly This easy recipe is going to be your new go-to, and you only need a handful of ingredients!
They will make a perfect breakfast option, snack, or even a dessert if you have the space.
These muffins are moist and packed full of flavor. There is nothing not to love about them.
Have you got blueberries, tapioca flour, sugar-free sweetener, coconut oil (or butter), and almond flour sitting at home? Then you can make this delicious low-carb blueberry crumb bar recipe easily!
This recipe is ridiculously easy and delicious, and will probably become a new favorite as soon as you try it. Don't blame us when you can't stop eating it!
This keto lemon blueberry cheesecake bar recipe is, without a doubt, the best blueberry recipe you could hope to come across.
It is made up of an almond flour crust, a delicious low-carb blueberry sauce, a lemon cheesecake layer, and a coconut crumble topping.
Your mouth should be watering just reading that. If you have to make one recipe from this list, let it be this one, and be transported into heaven.
A jamboree is a dessert that is far too often overlooked in the culinary word – or maybe people just don't know about it yet!
Either way, this keto blueberry jamboree consists of a delicious pecan crust, cream cheese filling, and a blueberry topping.
If that sounds like something you want to try (of course it is, it's like a cheesecake!), you need to take a look at that recipe. It's so good, you might actually cry
Everybody loves cobblers – we don't make the rules. This particular cobbler is the best of the best, and it is gluten-free!
To make it, you will need your all-important blueberries, as well as Swerve, lemon juice, almond flour, and a handful of other simple ingredients.
If you make this, don't forget to serve it with a healthy dollop of your favorite keto-friendly ice cream! It will make for the perfect summer dessert.
It is called a dump cake because everything just gets dumped in, right? Either way, this low-carb blueberry dump cake is one easy dessert that you will not want to miss out on if you have a love for blueberries.
This recipe calls for a combination of almond and coconut flour, as well as your favorite sugar-free sweetener, some cinnamon, lemon juice, and a handful of other baking basics. It doesn't get much easier than this dessert, so making this is a no-brainer.
Your mouth should be watering just reading that – ours certainly is. In under half an hour, you can get this wonderfully refreshing keto blueberry cheesecake mousse ready to enjoy.
To make this, you will need cream cheese, your favorite sugar substitute, lemon juice, blueberries, vanilla extract, lemon extract, whipping cream, and a pinch of salt.
You essentially beat everything together, dish it up, chill, and enjoy. This is perfect for a summer dessert – can't you picture yourself watching the sunset with this in your hand?
You will notice that this cake is called a "breakfast" cake, so you will get to live your fantasies with this! This blueberry "breakfast" cake is super easy, and only needs around 35 minutes from start to finish.
The usual almond flour, coconut oil and other basic ingredients will be needed, so you probably have everything you need already!
The cream cheese frosting and juicy blueberries is where this cake will grab you. It is packed full of juicy flavor, and you will not be able to get enough of it. Not to mention, this cake is just stunning with those vibrant colors.
This easy keto cake with blueberries and dark chocolate might sound like a sin, but it is perfect for a keto diet!
The trick here is to make sure that the dark chocolate you use is at least 70%, so the sugar content is already reduced.
Other ingredients needed for this delicious cake include vanilla extract, olive oil, baking powder, almond flour, eggs, and the all-important blueberries. In as little as 30 minutes, you can have this delight ready to go.
It doesn't get much easier than this keto blueberry froyo recipe. You are going to need some Skyr yogurt (or something similar), heavy whipping cream, sugar-free vanilla extract, erythritol, and frozen blueberries.
This cool and refreshing dish can be a dessert or simply a snack on a hot day. If you wanted to, you could always add some extra ingredients into the mix.
However, if you want to keep things keto-friendly, we would recommend doing some research before you jump into it.
A classic blueberry cream cheese pie is always going to be a winner, right. This recipe uses coconut flavored yogurt, cream cheese, blueberries, and a handful of other simple ingredients to get the job done.
Like many keto recipes, almond flour is great for making the crust, but you could also use pecan, or walnut flour if you prefer!
Make sure you have enough blueberries for this dessert! You will need around 900g (1.98lbs) for the filling, as well as tapioca starch (or cornstarch or arrowroot).
Other ingredients include butter, cinnamon, lemon juice, and your favorite keto-friendly sweetener like xylitol or erythritol.
Follow the instructions and make a double batch of flaky keto pie crust, and be sure to serve this wonderful dessert with some fresh, keto-friendly ice cream.
This recipe is a lot easier than you think, and it is full of fruity goodness – it's perfect for a summer evening.
These fluffy, low-carb keto blueberry pancakes are not something you are going to want to miss for breakfast.
The pancakes are fluffy and thick, and are made with coconut and almond flour instead of sugar flour. There are even dairy free and egg-free options to choose from if you have dietary requirements to fulfil!
For a flourless version, rolled oats will be used instead of almond or coconut flour. This really is the ultimate healthy breakfast that you can enjoy guilt-free daily.
You didn't think we could make a list like this and not include at least one cheesecake recipe, did you? That would be impossible, because you know that we love cheesecake around here.
This blueberry cheesecake recipe is complete with a stunning blueberry-lemon swirl, and it definitely draws you in.
The recipe combines a sugar-free vanilla cheesecake, and the crust is made from almond flour. The real winner there is the blueberry lemon sauce, which will definitely blow you away.
All you need to make it is blueberries, lemon zest, and granular erythritol – it's that easy.
Final Thoughts
Moderation is important because of the natural sugar content of these berries. However, this should not put you off making the recipes we have mentioned above – they are way too delicious to pass up!
Remember that the majority of keto friendly desserts will use almond flour or even coconut flour instead of regular flour. This is an important distinction, and is never something that should be swapped out.
Well, get out there and start baking! These are some killer recipes that you are not going to want to pass up.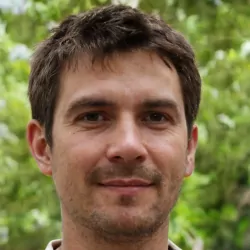 Latest posts by Justin Roberts
(see all)