Have you recently become aware that your diet is seriously lacking some fiber? If your fiber intake is extremely low, you may notice some inconvenient side effects such as digestive issues, weight gain, and even heart disease. 
Increasing your fiber intake can seem rather difficult if you have nowhere to start. By adding foods with a higher fiber content to your meals you can begin to reap the benefits of having a high fiber diet. 
Below are 15 of the best high fiber lunch recipes for you to enjoy. Whether you have an hour to cook lunch or 15 minutes, you can create a delicious lunch with a high fiber content.
Perfect for keeping you energized and on the go!
When you are in need of a lunch that is quick, tasty, and super filling, then you have to make this White Bean and Avocado Sandwich. 
With 15 grams of fiber—more than half of what most women should aim for each day—from avocado, beans, greens, and whole-wheat bread, this vegetarian sandwich recipe is also a fiber powerhouse (see also "High Fiber Vegetarian Recipes That Don't Lack Protein").
Keep things exciting by using a range of condiments to get a new flavor combo every day! 
Turn a simple can of black bean soup into something incredible with a few of your favorite toppings. 
Add cheese, avocado, fresh tomatoes, and some tortilla chips for a quick take on nacho soup. Filled with protein and fiber from the black beans, you have a nutritious meal that takes less than 20 minutes to make. 
Add a squeeze of fresh lime juice for a vibrant flavor that is sure to keep you energized and productive throughout the day. 
With most teriyaki sauces being vegan, this Teriyaki Tofu Rice Bowl recipe is perfect for vegetarians, vegans, and meat-eaters alike!
With a few simple ingredients and less than 30 minutes, you can create a week's worth of high fiber lunches. 
Make sure to add lots of veggies to this dish to make it super filling and delicious. Swap the tofu for a protein source such as chicken for even more flavor. 
It doesn't need to take hours in the kitchen to prepare a week's worth of lunches. These 10-minute meal prep bowls with a Greek flair can be made with just 4 ingredients: greens, falafel, tabbouleh, and tzatziki.
Keep them in the fridge for a quick snack on the go, or serve with a leafy green salad for a filling meal full of fiber. 
Using store bought falafel and tabbouleh will keep your prep time low and the process super simple. 
If you work from home then this Caprese Avocado Toast recipe is about to make your lunch break a lot tastier! 
Use brown or whole-wheat bread for extra fiber and top with fresh tomatoes, avocado, mozzarella, and brazil for something truly mind-blowing. 
Simple yet fresh and delicious, this recipe is going to become your lunchtime favorite. Add a drizzle of balsamic vinegar to take your Caprese Avocado Toast to the next level. 
Don't forget to season with ground black pepper to elevate all those flavors. 
More often than not, salads can be bland, uneventful, and honestly, not that filling. However, this Thai-Style Chopped Salad with Sriracha Tofu is full of fiber, protein, and flavor. 
Prepare up to 4 lunches at once with this incredible recipe so you always have something to enjoy throughout the day (see also "Best Wednesday Lunch Paleo Recipes"). With sriracha spiced tofu you get a nice heat while the veggies and dressing keep things mild. 
Dress with vinaigrette at least 1 day before serving to allow all of those ingredients to soak up the flavor. 
For this nutritious lunch option, we substitute the usually heated filling with a cold salad of plant-based beans that is heavily flavored with lemon and fresh herbs. 
Before adding the food, sprinkle some quinoa on top of each lettuce leaf to prevent the wrap from becoming soggy.
The best lettuce to use for your wraps is butter or Bibb lettuce. They provide the best flavor to enhance your filling. 
Salmon is an excellent source of both protein and fiber. It is a fun way to spice up your typical salad and give yourself some new flavor combos to try. 
The broiled salmon must be served at room temperature, making it ideal for the workplace. The brussels sprouts are a satisfying, high fiber substitute for lettuce.
With a dressing of honey,  Dijon mustard, lemon juice, and salt and pepper, this recipe is vibrant and refreshing. Perfect for a summer's lunch on the patio. 
Tempeh is a type of meat alternative created by cooking and slightly fermenting soybeans. It is full of more protein and fiber than tofu, making it an excellent upgrade for salads. 
In this recipe, the tempeh is marinated in tahini, tamari, ginger, and lemon juice. It absorbs all of those flavors and turns into something decadent and bright. 
Serve alongside your sweet potato chips and spinach salad for a filling, fiber-packed lunch that is going to have you full for hours. 
No time to spend cooking off chicken and searing meat? Then this Black Bean Avocado Tuna Salad Sandwich is your new best friend. 
Packed with fiber, protein, and flavor this 10-minute lunch is sure to be a favorite.
Simply mash your avocado, fold in your tuna, black beans, cilantro, lemon juice, and salt and pepper. Spread into a toasted slice of whole wheat bread and top with tomatoes and goat's cheese. 
All of your daily needs in one meal!
Roasted red peppers are excellent for soups, sauces, and of course subs! 
Take a bite out of a whole-wheat baguette that has been crisp-toasted and topped with avocado, creamy hummus, sweet roasted red peppers, carrots, and even more fresh vegetables. Prepare it to use as a hearty lunch or light dinner!
Add some shredded chicken for even more protein or add more leafy greens to up your iron. 
You can truly customize this sub to your liking. 
Mediterranean cuisine is filled with delicious grilled veggies. This recipe takes those incredible flavors and turns them into a high fiber, protein rich meal that you can enjoy throughout the week. 
Using whole wheat tortillas, garlic roasted hummus, chicken, and some veggies, this lunch is filling and tasty. 
Don't forget to add some feta cheese for those super healthy fats. With a stunning blend of spices, who knew it was simply chicken and vegetables!
One way to transform your sweet potatoes is to bake them. Mash up the insides and some glorious toppings for a quick, simple, yet delicious lunch. 
This recipe tops your sweet potatoes with black beans, avocado, tomatoes, salsa, and green onion. 
Sweet, spicy, and all things tasty, this is the perfect lunch to store in the fridge and to take to work. Keep your vegetables separate until the potatoes are reheated. 
Add a squeeze of lime juice for a delicious bite and incredible flavor. 
Need a quick lunch that can be made in under 30 minutes? This Artichoke and Pea Rigatoni Pasta is delicious. 
As the sun begins to shine, we are looking forward to colorful dishes that keep our bellows full. And this recipe is just perfect. 
The key to making the pasta mouth-watering is to use marinated artichoke hearts. 
And you can store it in the refrigerator for up to 3 days. Perfect for meal prep or if you simply don't have to cook throughout the day. 
An absolute classic for when you are feeling under the weather or simply need something warm and delicious in your stomach. This Split Pea and Ham Soup recipe should always be in your freezer. 
Using a ham bone or ham hock you can give your soup a truly delightful taste with every spoonful. Whether it is made on the stove or in the slow cooker, this recipe is sure to come out hearty every time. 
Filled with fiber and protein, it is the perfect lunch all year round. 
Serve with some crusty bread for a wonderful meal. 
Final Thoughts  
Getting more fiber in your diet is always a good idea. Although finding which foods have a decent fiber intake can be a little tricky. 
We have done all of the work for you. With 15 delicious high fiber lunch recipes that you can prepare and enjoy in your own kitchen. 
Many of these recipes are perfect for meal prepping meaning you can cook once, store them in the fridge, and heat them up in the office!
So, find your favorite recipes and watch as your body thanks you for all that amazing fiber. 
Get started today!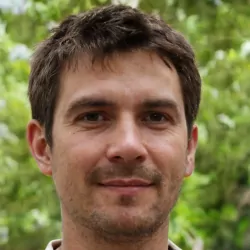 Latest posts by Justin Roberts
(see all)