When you start a new diet, it's all too easy to get into the habit of restricting yourself from eating anything that isn't 100% totally healthy.
But here's the thing, if you don't allow yourself to enjoy some treats here and there, you'll never stick to it. 
You'll get these cravings that are impossible to ignore and at some point or another, you'll fall off the wagon. It's inevitable.
And once you're off, it's always so much harder to jump back aboard. 
But it doesn't have to be this way. If you opt for healthy alternatives, you can quash the cravings, enjoy a delicious treat, and stick to your diet.
And besides, no one should be denied the joy that scrumptious and delicious desserts deliver. 
So, with this in mind, we've compiled a list of some of the best-tasting keto-friendly dessert recipes around. Check them out below. 
15 Delightfully Delicious Keto-Friendly Desserts 
Yes, the rumors are true – you can have your cake and eat it too.
This devilishly delicious moist and rich chocolate cake won't break the diet bank but it will leave you feeling super satisfied and will curb the chocolate cravings for good. 
While this low-carb cake might look completely complex, it's actually super simple to make and is packed full of flavor. You'd never know it wasn't the real deal. 
This recipe was made in heaven.
Super sweet, rich, creamy goodness in bar form that comes in at just a little less than 5 net carbs per bar? Um, yes, please? 
Never in your wildest dreams would you think that you could chow down on both cheesecake and chocolate chip cookie dough while on a diet.
But thanks to this recipe, dreams really can become a reality. 
Blueberry muffins make the perfect light and luscious dessert, or the cheekiest and tastiest breakfast option.
And these blueberry muffins, my oh my, they are delicious. Your biggest problem here will be stopping yourself from going back for seconds, thirds, and fourths! 
They're light and super fluffy, and bursting with berry goodness! 
You won't find a better autumnal dessert than apple crisp. It's got all those spices and flavors that just tantalize your taste buds.
It's so cozy and comforting that it'll feel like a real indulgence. But don't worry, guilt has no place here because these are low-carb and pretty healthy! 
And not only is this low-carb, but it's also vegan, dairy-free, and grain-free too. 
A slice of coffee cake and a cup of joe is the ultimate pairing. And when it comes to coffee cake, this recipe is as good as it gets.
You can make it all in one bowl, it's ready in mere minutes, oh and it's just 3 grams of net carbs! 
Not that you'd ever know! This cake is rich, dense, moist, delicious, decadent, and every other quality that the perfect cake should be. 
Okay, so you might have had to bid a tearful farewell to Krispy Kreme or Dunkin' Donuts, but that doesn't mean you should never eat a donut again. Imagine that horror. 
Luckily, there's no need to swear off this delectable dessert when there are plenty of great keto-friendly recipes out there.
And this is a promise – you won't tell the difference. These mimic a regular donut down to perfection, they're moist and super soft and can even be dunked, or drenched, in keto-friendly frosting. 
Come Thanksgiving, you'll definitely still want to tuck into those comforting flavors and delicious desserts.
I guess there's one more thing to add to the list of things to be thankful for; this recipe. 
You get all those classic indulgent flavors, just without all that sugar and carbs. Who said you had to compromise? 
Still sticky, ooey and gooey, with all your favorite autumnal flavors, this recipe definitely deserves pride and place on your Thanksgiving table. 
Sometimes, you just get those candy-bar cravings that you just can't shake. Well, at least now you don't have to.
You can create your very own snickers bars from the comfort of your own home. And they taste amazing. 
Chow down on that delicious nougat base that is topped with a sugar-free caramel layer and then smothered in a low-carb chocolate coating.
And considering these imitations taste just as good as the real deal, it's mind-boggling to believe that they contain 29.5 fewer carbs than the counterpart it is based upon. 
Did you know that Apple Pie has been voted America's top favorite dessert of all time?
There's something about that spiced warm apple encased in pastry that just knocks all other deserts out of the water. 
And why should you not be able to tuck into the nation's favorite desert because of your diet? That's not happening on my watch. 
This pie is terrifically tart, super gooey, and oozes delicious apple flavor…all without actually using apples! It's cozy and comforting and will put those sugar cravings right at bay. 
Banana bread is one of those desserts that is socially acceptable to eat at any time of day. AKA the best kind of dessert.
Whether you're after a light dessert after a hearty meal, a mid-afternoon snack to tide you over until dinner, or a delightful breakfast on the go, banana bread has you covered. 
And this banana bread is divine. It's super moist, packed full of flavor, and just hits the spot perfectly. It's also gluten-free, grain-free, sugar-free, and contains just 2g of net carbs per slice.
The perfect moreish option that won't break your diet – yay. 
If you're looking for a bite-sized snack that's chocolatey, crispy, and crunchy, then look no further than this coconut cluster recipe. 
It can be whipped up in under 10 minutes, requires no baking, and is ultimately downright delicious. 
Toasted coconut, chewy nuts, and crunchy seeds come together to give you the most ASMR-worthy crunch you'll ever experience.
The hardest thing about this delicious dessert is knowing when to stop. 
Red velvet cake is one of those top-tier desserts that is so rich, dreamy, and devilishly delicious that you would just automatically assume it was not appropriate for anyone following any kind of diet. 
But huzzah, for this incredibly soft, super velvety, and buttery cake smothered in smooth cream cheese frosting comes with all the indulgent taste and none of the pesky carbs of gluten.
Pinch me, am I dreaming? 
And not only does it taste amazing, but it looks pretty impressive too. This will definitely impress any guests that see or try it. 
Who doesn't adore peanut butter cookies?
They are so simple and yet oh so effective, and delicious. And considering these cookies contain just 2 net carbs each, there's no feeling of sin that comes along with snacking on them. Yay. 
You'll easily devour these bad boys. They are so soft and chewy and seem to just melt away in your mouth.
They are brimming full of nutty flavor and are so incredibly moreish. 
On a hot summer's day, there is no better way to cool down than tucking into a pint of ice cream. The only problem?
Our friends such as Ben & Jerry come with a whole lot of fattening ingredients that make them unsuitable for a keto-diet. 
But never fear, because you can make your very own mouth-watering strawberry ice cream at home that's so much healthier. But it tastes just as good. 
This no-churn ice cream is low in carbs but still maintains that creamy texture that makes ice cream so elite. 
Ever find yourself desperate for something super sweet? Well, then before you ditch the diet, try these stunning salted caramel pecan bars out for size. 
Honestly, these are so sweet and just generally so delicious the recipe had to be double-checked just to ensure that it actually is keto-friendly. It is.
Not only is it keto-friendly, but it is also gluten-free too. 
Each bite of these bars bursts with nutty and sticky and oozing caramel that will have you licking your lips.
Between the texture, the flavor, and the presentation, you couldn't find a better dessert recipe to try out. 
Final Thoughts
It's an unfortunate misconception that everything that tastes good must be crammed full of fats, sugar, and carbs.
Of course, plenty of desserts do have all those things. But they don't have to. They're not a requirement for great-tasting flavor. 
As this article proves, there are actually tons of healthy options for your favorite desserts that aren't packed full of all the 'bad stuff.' 
So, don't try to ignore those tasty-treat cravings when they come.
It'll only promote you to ditch the diet. Instead, satisfy your cravings with any of these truly delicious and delectable desserts.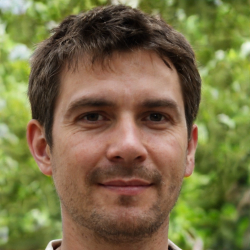 Latest posts by Justin Roberts
(see all)