Ham is one of the best meats out there, with its tender texture and slight hint of sweetness, and it lends itself to all kinds of fabulous recipes and dishes.
Even better, ham is very low in its carb content, which makes it an ideal meat for followers of the low-carb diet to use in their meals.
In our tasty guide below, we've got 15 amazing keto ham recipes for you to make at home. Whether you like your ham on its own, in a soup or salad, or even in a casserole, we've got keto-friendly, low-carb recipes that you'll love. Read on!
15 Amazing Keto Ham Recipes To Make At Home
We're starting our list off with a simple, straightforward, but no-less delicious ham dish for you to try: glazed ham.
This is the tender meat you know and love, but covered in a sweet and savory sugar-free maple glaze whose sweetness pairs so perfectly with the meat. This is a keto-friendly dish, too, and it takes just 5 minutes to prepare and 75 minutes to cook!
While the ham is being baked, you make the homemade sweet and savory glaze to later add to it.
The sauce is packed with great ingredients, using keto-friendly maple syrup, Dijon mustard, garlic powder, cinnamon, apple cider vinegar, ground cloves, and butter.
Some of those are sharp and sour, some of those are sweet, and it all goes to create a glaze that's a perfect mix of sweet and savory. 
There's nothing like a warming bowl of soup on a cold evening, and this keto-friendly soup is brilliantly cheesy, full of ham, and contains healthy broccoli too. Better yet, since it's soup, it's incredibly quick and easy to make!
The soup gets its cheesiness from not one, but two sources: cream cheese and cheddar cheese. This helps to make it extra cheesy and creamy, and the addition of heavy whipping cream helps make it creamier too.
Meanwhile, ham, bacon, and chicken broth give the soup its meaty flavors, and the inclusion of nutmeg gives it all a slight hint of warmth – perfect for eating in the fall.
Who doesn't love pizza? Nobody! This keto-friendly ham and cheese pizza is low in carb content and takes 40 minutes in total to make. 
While you might normally use a pre-made dough for your pizza, this recipe tells you how to make your very own keto-friendly crust, which itself contains cheese and uncooked cauliflower. 
As you can see, ham and cheese is an incredibly popular combination, and it's easy to see why! The ham is meaty and tender, the cheese is gooey and sweet, and the two go perfectly together.
Our next keto ham recipe is some delicious ham and cheese rolls, which are low in carbs and high in flavor. Plus, they're the perfect bite-sized snack to have for your lunch or on a work break!
Even better, these rolls are totally easy to make, because they only require a few ingredients. You need three types of cheese (mozzarella, cheddar, and grated parmesan), some diced ham, and then a couple of eggs. Simple!
Our next keto-friendly ham recipe is a mouth watering, gooey ham and cheese bake. Essentially a casserole, this is totally filling, making it the perfect keto dish to make for a family meal.
As for its ingredients, it contains two types of cheese: mozzarella and sharp cheddar. In addition to that, heavy whipping cream makes the dish even more gooey and creamy, while sour cream adds a touch of sharpness to its flavor.
Meanwhile, frozen cauliflower provides some vegetable healthiness to the mix, and its taste pairs perfectly with all the cheese. 
Another fantastic keto-friendly ham casserole for you to make for the whole family, or simply enjoy over a few nights, this next recipe is a great pick.
While the previous ham casserole/bake used cauliflower, this uses both cauliflower and broccoli for its vegetables.
The broccoli is an especially great addition, because its sweet and slightly bitter flavor really brings the dish to life. 
The casserole also features plenty of cheesiness, thanks to the use of both cream cheese and plenty of cheddar.
A fantastic keto-friendly pick for breakfast or brunch, this ham and cheese quiche is packed with flavor, and it's the ideal blend of crispness and gooeyness. 
In terms of ingredients, you'll only need a small handful, making this a perfectly quick treat to throw together in the morning.
You'll need your ham and some sharp cheddar cheese, but also a helping of broccoli florets to give the quiche some lush green healthiness.
Meanwhile, you can't make a quiche without eggs, so add 6 of those into the mix too! Additionally, some heavy cream helps to make it creamy and fluffy.
Like the keto-friendly ham and cheese rolls we looked at earlier, these delicious bites are a great snack to enjoy throughout the day. These are fantastically low in carbs, too, with just 1.5 net carbs in each bite.
For extra cheesiness, the bites use two different types of cheese, with softened cream cheese and shredded cheddar cheese. They make each bite-sized treat perfectly gooey and creamy, which will keep you coming back for more!
Of course, no list of keto ham recipes would be complete without a salad. Incredibly easy to make, yet packed with healthiness and flavor, salads are one of the best meals you can make.
This keto-friendly ham salad really couldn't be simpler, using just 3 ingredients, and taking only 10 minutes to prepare. 
Naturally, ham is one of those ingredients, and gives the salad a tender, meaty touch. Meanwhile, mayonnaise and sliced pickles  make up the other ingredients.
The pickles give the salad a slight tanginess that makes it really flavorful, while the mayonnaise helps moisten things up.
Another fantastic keto-friendly ham salad, this one is a little more complex, but by no means a time-consuming meal to make. Better still, it's very low in carbs, with just 1 gram of net carbs in every serving.
As for the ingredients, this brilliantly creamy salad uses uncured ham and deviled eggs for its primary ingredients.
Meanwhile, it also has celery for a hint of healthiness, garlic powder and onion for extra flavor, and Dijon mustard to give it a sharp kick. Finally, plenty of mayonnaise helps make it creamier. 
Our next pick is this keto-friendly chowder, which is like a thick soup, packed with tender ham and glorious cheesiness. It's got plenty of tasty ingredients, but still only takes 15 minutes to prepare and then 15 minutes to cook.
To make it extra cheesy, there are two types of cheese used here, being shredded cheddar cheese and grated parmesan. Additionally, the chowder also includes broccoli florets and turnips to add some healthiness, which also bring plenty of flavor to it.
Another quick and easy keto ham recipe for you to follow is all about these delicious ham and cheese pockets, where you can enjoy warm ham and gooey swiss cheese, all encased between soft and crispy pastry. Delicious!
Interestingly, it isn't just the filling that has plenty of cheese in it, because the dough also uses cheese! You'll need cubed cream cheese and shredded Mozzarella to make the dough, along with an egg and some almond flour.
It all makes for a pastry whose cheesy flavor goes perfectly with the tender, warm ham inside it. 
If you thought that last recipe was easy, wait until you see this one! There are few quicker-to-make lunches than these delicious keto-friendly ham roll ups, which are simply just a bunch of tasty fillings all encased in some rolled up ham. Who needs bread!
Simply lay the ham out and fill it with mayonnaise, mustard, dill pickles, and cheese, then roll the ham up and seal the makeshift "sandwich" with a toothpick.
This delicious and stylish keto-friendly sandwich is packed with ham and cheese, a mouth watering sauce, and all encased in a cheese-flavored bread with a braid shape to it.
The ham and cheese complement each other perfectly, while the tasty sauce uses a mixture of mayonnaise, mustard, and thyme.
Finally, we've got these loaded keto-friendly ham and cheese triangular scones, which are perfectly crisp and doughy. They only take a short time to make, and burst with rich ham, creamy cheese, and tasty chives. 
Final Thoughts
Ham is low in carbs, making it perfect for the keto diet. There are countless keto-friendly ham dishes to enjoy from our list, many of them cheesy!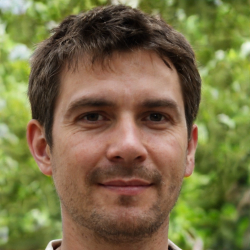 Latest posts by Justin Roberts
(see all)