Treat yourself to a delicious and healthy Paleo Pistachio Mint Ice Cream Smoothie! This creamy and dreamy smoothie combines the fresh flavors of mint and pistachio with a hint of sweetness.
It's simple to make, vegan-friendly, gluten-free, and dairy-free, so everyone can enjoy it. Plus, you'll get a great dose of protein, fiber, and healthy fats from the nuts and seeds. Enjoy it as a snack or even dessert!
What Is A Paleo Diet?
A Paleo diet is a way of eating that mimics the diet of our ancestors during the Paleolithic era. It focuses on consuming whole, unprocessed foods such as fresh fruits and vegetables, nuts and seeds, lean protein sources, and healthy fats.
This type of diet eliminates all grains, legumes, dairy products, artificial sweeteners, processed foods, and refined sugars. By avoiding these foods, many individuals report a reduction in inflammation and an improvement in overall health.
What Are The Benefits of A Paleo Diet?
A Paleo diet can provide numerous health benefits, and these include:
Boost Weight Loss
A Paleo diet can help promote weight loss by reducing calorie intake. By eating whole and unprocessed foods, you can get more nutrients without consuming excess calories.
This type of diet is also rich in fiber, which helps keep you feeling fuller for longer, reduces hunger cravings, and aids in regulating digestion.
Reduce Inflammation
Eliminating all grains, legumes, and dairy, means you can reduce inflammation in the body. Many of these foods can cause intestinal issues, which can lead to chronic inflammation.
Additionally, a Paleo diet is rich in anti-inflammatory foods such as fatty fish, fresh fruits and vegetables, nuts, and seeds, which can help reduce inflammation even further.
Improve Heart Health
A Paleo diet is also beneficial for heart health. It is low in sodium and high in omega-3 fatty acids, which help reduce bad cholesterol and improve heart health.
Additionally, the increased intake of fresh fruits and vegetables can help reduce the risk of stroke, coronary artery disease, and other cardiovascular diseases.
Improved Mental Health
Eating a diet rich in whole, unprocessed foods can help improve your mental health. These types of foods are packed with essential vitamins, minerals, and antioxidants which can help reduce stress and improve mood.
Additionally, the increased intake of healthy fats from nuts and seeds can also help balance hormones and provide long-term mental health benefits.
Increased Energy Levels
Eating a diet high in nutrient-dense foods can help provide sustained energy throughout the day. By cutting out processed sugars, you can reduce spikes and crashes in blood sugar levels, which can lead to fatigue and low energy levels.
Eating a Paleo diet can help you remain energized throughout the day and have more mental clarity.
Achieve Optimal Health
By following a Paleo diet, you can boost overall health and wellness. This type of diet is low in sugar, high in healthy fats, and contains plenty of nutrient-dense foods.
Eating this way can help reduce inflammation, improve heart health, and boost weight loss. Additionally, it can also improve mental health and provide increased energy levels.
Why Opt For A Smoothie?
Smoothies are an excellent and easy way to incorporate a Paleo diet into your lifestyle, and some of the main advantages include:
High Nutrient Content
Smoothies are a great way to get your daily dose of vitamins and minerals. By adding ingredients such as fresh fruits, vegetables, nuts, and seeds, you can ensure that you are getting all the nutrients you need.
Quick And Easy To Make
Smoothies are quick and easy to make, requiring minimal effort and time. All you need is a blender and some fresh ingredients, and you're good to go.
Additionally, you can also customize your smoothie with different fruits, vegetables, nuts, seeds, and spices for added flavor and nutrition.
Delicious Taste
Smoothies have a delicious taste that is sure to please. Many people find them preferable to other types of drinks as they are sweet and refreshing, and can be enjoyed either cold or warm.
Paleo Pistachio Mint Ice Cream Smoothie Recipe
Ready to create your own mouthwatering paleo pistachio mint ice cream smoothie? Then read on for a super simple recipe!
Ingredients
1 cup coconut milk
½ cup pistachios
3 fresh mint leaves
½  frozen banana
¼  cup ice cubes
Instructions
Place all the ingredients in a blender and blend until smooth.
Serve chilled and enjoy!
Are There Any Tips?
Yes! Here are a few tips and tricks to make your Paleo Pistachio Mint Ice Cream Smoothie even better, while still sticking to the paleo rules.
Boost Your Nutrition
To boost the nutrition of your smoothie, try adding in some ingredients such as chia seeds, flaxseeds, maca powder, or hemp seeds. These are all packed with essential vitamins and minerals and can provide you with an extra nutritional boost.
Add Sweetener If Desired
If you find that your smoothie is not sweet enough for your taste, feel free to add in a natural sweetener such as honey or maple syrup. Just make sure to use them sparingly, as they are still considered sugar and should be consumed in moderation.
Change The Thickness
If you find that your smoothie is too thick, try adding more coconut milk or some water to thin it out. On the other hand, if you prefer a thicker smoothie, add in some extra frozen banana or a handful of ice cubes.
Try to Add Variety
If you are looking for some variety, try adding in different fruits and vegetables such as strawberries, blueberries, or spinach.
You can also add in some superfood powders such as spirulina or wheatgrass for an extra nutritional boost. This will help to keep your smoothie interesting and nutrient-dense.
Experiment With Flavors
Lastly, don't be afraid to experiment with flavors. Try adding in different spices such as cinnamon or nutmeg for a unique twist. You can also add in some shredded coconut or cacao nibs for an extra boost of flavor.
Final Thoughts
By following a Paleo diet, you can achieve optimal health and wellness, and smoothies are an excellent way to incorporate this way of eating into your lifestyle, as they provide plenty of nutrients and are quick and easy to make.
The Paleo Pistachio Mint Ice Cream Smoothie is sure to satisfy your sweet tooth while still adhering to the rules of the Paleo diet, so get blending!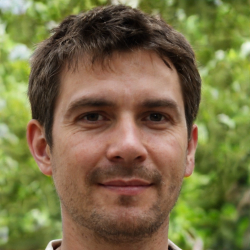 Latest posts by Justin Roberts
(see all)