Brownies are one of the most popular sweet treats in the world, and they're a lot of people's favorite dessert in the US. However, traditional brownie recipes include a lot of ingredients that are not suitable for those on a paleo diet. 
This doesn't mean you have to give up brownies if you want to switch to a paleo diet. Instead, you just need to find the right recipe with the best substitute ingredients – and we have found it for you!
Check out the guide below to learn how to make a batch of paleo-friendly plantain brownies that are just as fudgy and moist as regular brownies! 
How To Make Paleo Brownies
Traditional brownies use ingredients like butter to get that delicious rich, fudgy brownie texture. However, classic butter is not paleo-friendly so those on a paleo diet have had to find a good alternative.
The answer is plantains – starchy fruits that are very similar to bananas! 
Unfortunately, a lot of people are unfamiliar with how to properly prepare plantains so check out the recipe below for a full in-depth guide to help you! 
How To Peel Your Plantains
Plantains are not as easy to peel as bananas are, and this can catch a lot of people off guard. So, here's a handy guide to help you out. 
First, it's important to remember that the riper the plantain, the easier it will be to peel – so try and get the ripest plantains possible.
Ripe plantains are easy to spot because they have much softer, thinner skin. You can also use overripe plantains because you are going to blend them eventually anyway – but plantains that are very ripe are very soft and difficult to peel and slice, so keep that in mind. 
Once you have your plantains ready, it's time to get slicing. 
Take a sharp vegetable knife and cut both ends off each plantain. Cut the plantains in half so you have four pieces. 
Cut into the plantain skin lengthwise (that's tip to tip, from end to end) and then, the skin should peel off in one piece!
Repeat this step for each plantain piece and throw the skins away. You should have four pieces of peeled plantain ripe and ready for slicing! 
Ingredients 
2 Large Plantains (Peeled)
½ Cup of Pitted Dates 
⅓ Cup of Cocoa Powder
2 Tablespoons of Avocado Oil
2 Tablespoons of Plant-Based Milk
1 Teaspoon of Vanilla Extract
½ Teaspoon of Grain-Free Baking Soda
¼ Teaspoon of Salt 
Method 
Once you have all your ingredients ready, and you have peeled your plantains, you need to prepare your brownie pan and oven.
Preheat the oven to 350 degrees Fahrenheit. Take your brownie pan (or a regular baking dish) and line it with parchment paper. 
Cut up your plantains into slices at least ½ an inch thick. Add them to a food processor with the pitted dates and blend to combine the two ingredients well. 
Add the mixture to a bowl and mix in the remaining ingredients. Stir well with a wooden spoon or spatula until you have a smooth, thick brownie batter. 
Pour the brownie batter into your prepared brownie dish and spread it so the surface is flat and even. Then, place the pan into the oven and leave them to bake for 25 to 30 minutes. 
Remove your brownies from the oven and let them cool down while still in the pan. Once they are cool, you can then cut up and remove the brownies, either to serve or to store for later – and that's it! 
How To Make Paleo Plantain Brownie Frosting
Plain paleo plantain brownies are all well and good but why not take your brownies an extra step further? 
Add some extra flavor and delicious taste to your paleo brownies by adding a rich, creamy frosting. Here's a paleo-friendly recipe for a delicious frosting you can add over the top of your brownies! 
Ingredients 
1 Cup of Coconut Cream 
1 Tablespoon of Maple Syrup
½ Teaspoon of Vanilla Extract 
Method
Add all your ingredients into a small bowl and whisk until the mixture is smooth and creamy. Spread the frosting over the top of your brownies once they are at room temperature.
You can even add additional toppings like paleo chocolate chips, nuts, or coconut flakes, to add some extra and more diverse flavor to your brownies!
Get creative and try out lots of different toppings to match your favorite flavors! 
How To Store Your Paleo Plantain Brownies
You probably are not going to eat an entire batch of brownies in one go so if you want to store some to enjoy at another time, then you can! 
It's important that you store your paleo plantain brownies in an air-tight container and keep them in the refrigerator.
This will stop your brownies from going stale and keep them well out of direct sunlight. If you don't store your brownies in an airtight container or in direct sunlight, then they will go stale very quickly and you may end up letting all your hard work go to waste! 
As long as you store your paleo plantain brownies in the right way outlined above, then they can last up to one week before going stale.
You can treat yourself to a brownie or two a day if you desire, or bake your batch well in advance to share with others on a particular day! It's totally up to you! 
Final Thoughts
Following a paleo diet doesn't need to be boring. You can still enjoy lots of your favorite meals and treats by making sensible substitutions.
This recipe is one of the best for making paleo brownies that are still moist and have that classic fudge-like texture! 
So, if you want to enjoy brownies while following a paleo diet, just follow the instructions above! It's super easy to do and you will be very happy with the results. So, try it out and enjoy!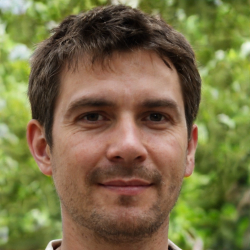 Latest posts by Justin Roberts
(see all)