Looking for a fresh and delicious way to add some zing to your next meal? Look no further than this easy persimmon pomegranate mix leaf salad.
Perfect for a side dish or even as an appetizer, this salad is full of flavor, texture, and color.
With a combination of sweet persimmons, juicy pomegranates, and crunchy greens, this salad is sure to please.
What Exactly Is A Persimmon?
Persimmons are a much-loved fruit around the world. These lovely fruits come in various sizes, and their skin should be taut and shiny.
Persimmon shapes vary across the species, with many having an acorn or tomato shape. 
Persimmon is an ideal backyard addition as they are easily grown, and thrives in most American climates; they need sunny areas but can withstand temperatures as low as 15 °F. 
They love fertile soil and require enough water during warm months; careful though not to overwater, as it can dramatically decrease their lifespan.
This tart-sweet treat features in many recipes where it adds mouthwatering flavor and nutrition whether eaten raw or cooked in sweet treats like cakes and pies.
What Is So Great About Persimmon Pomegranate Mix Leaf Salad?
Creating a seasonal salad is one of the simplest and most satisfying ways to make use of the flavors and colors of the new year's winter produce. 
With just two basic ingredients, the bright flavor and vibrant hue of pomegranates and persimmons can steal the show in salads ranging from minimalist to extravagant.
This Persimmon Pomegranate Salad is not just aesthetically pleasing to the eye, but also an amazing source of balanced flavors and textures.
Fresh fruit, crunchy nuts, soft greens, and sweet pomegranate make this salad perfect for any holiday season. 
The festive colors that this dish emits from each ingredient make it especially inviting. But what makes this dish even better than it already is?
The dressing. This sauce brings all the flavors and textures together to create a sublime concoction in one delicious bowl. 
Not only will you love the taste of this vegan-friendly salad, but you'll also love how healthy and easy to prepare it is.
The Juicy Pomegranates
Pomegranates may feel intimidating when you cut them open, but they are fairly simple to work with, as long as you don't mind staining your hands.
The ruby-red seeds inside provide an unmistakably bold contrast against green leaves or any salad toppings you choose.
Sweet Persimmons
Meanwhile, orange-fleshed persimmons are deceptively soft – like a juicier version of an apple – adding sweetness and warmth during the cool winter months. 
They go especially well with creamier components such as avocados or feta cheese, allowing their flavor to shine through in each bite without overpowering other ingredients. 
The combination of these two fruits – deep red pomegranate and orange persimmon wedges – will bring bold strokes of rich color to your seasonal salad creation.
How To Prepare This Salad
Preparing persimmons for a salad is a simple process that will give you an amazing and flavorful result. First, you'll need to peel the persimmons.
Make sure to cut through the skin carefully so as not to waste too much of the precious fruit within. 
After peeling the persimmons, cut them lengthwise into wedges or slices, depending on your desired presentation, and place them in your bowl.
You can then season them lightly, then dress them with lemon juice or a choice of oil for some extra flavor. 
What Are The Ingredients Needed To Make Persimmon Pomegranate Mix Lead Salad?
This combination of ingredients provides a delicious and flavorful way to enjoy the season's freshest fruits. You'll need:
Persimmons 
Salt and black pepper
Lemon juice
Extra-virgin olive oil. 
Pomegranates
Hazelnuts
Mixed Leaf Salad Of Choice (Lettuce, Spinach, Rocket, etc.)
The bright notes of lemon juice help to bring out the natural sweetness of persimmons, while rich olive oil creates an enticing aroma and flavor.
How To Make An Easy Persimmon Pomegranate Mix Leaf Salad
Overview
To make this salad, start by combining your favorite mix of greens in a large bowl. We suggest using baby spinach, arugula, and romaine for a nice balance of flavors.
Make sure to roast your hazelnuts for long enough before they go in the salad. Then top with chopped persimmons and pomegranate seeds for sweetness and crunch. 
The Fruits
This persimmon salad recipe is a perfect mix of crunch and sweetness.
The combination of the mixed leaf salad, the hazelnuts, and the persimmon itself creates an incredible crunch that is balanced out perfectly by both the sweet fructose found in the fruits plus the candy hazelnuts. 
To create this easy floral-flavored salad, start by rinsing a bundle of green leaves and transferring them into a bowl ready for the dressing. 
Next, you'll need your choice of dressing, perhaps a vinaigrette. A few tablespoons at a time will suffice, but if needed to add more until the greens are lightly coated.
When the dressing is applied, divide it between individual plates or arrange it in one large platter for a family-style presentation.
The next step is to cut away the stem from the persimmons so that your slices are about 1/8 -1/4 inch thick. 
Place these beautiful slices into artful patterns on top of the dressed greens and sprinkle over some pomegranate seeds for extra crunch and color, making persimmon pomegranate salad an unforgettable feast.
Not only does it look stunning when served, but it tastes delicious too.
Make sure to roast your hazelnuts for around 4 – 5 minutes to really get the flavors you want out of them, and simply add them to the salad as desired. It's as simple as that.
Final Thoughts
This easy persimmon pomegranate mix leaf salad can be made with a few simple steps. Start by gathering your favorite mix of greens and combining them in a large bowl. 
Then add chopped persimmons and pomegranate seeds for sweetness and crunch.
Dress the salad with your favorite dressing or vinaigrette, top with pepper or anise-like leaves, and enjoy.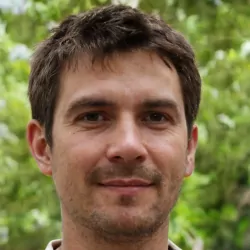 Latest posts by Justin Roberts
(see all)