Many of us believe that when we start following a low carb or ketogenic lifestyle, that we'll have to give up all of the sweet treats we previously adored.
Thought you could never eat chocolate cake again? Well, this recipe will prove you wrong.
In fact, our amazing recipe for low carb chocolate cake is pretty healthy, as it's absolutely packed with protein.
A healthy chocolate cake? We hear you ask. That's right, this recipe is both nutritious and delicious. 
We've completed a handy recipe guide that you can follow to recreate this delicious cake. All you have to do is simply keep reading below to find out more.
What Is Protein Cake?
Before we jump straight into our recipe, let's take a closer look at what exactly protein cake is. Essentially, protein cake is exactly what it sounds like. Cake made with protein powder.
Adding some protein powder to your home baking can help to elevate your recipes, and transform them into something nutritious. 
Protein powder is great for using in baked goods, because it doesn't denature the mixture. This makes it a great option for baking items such as cakes, cookies, cheesecake, and cake bars. 
Eating desserts that are high in protein (see also "The Easiest And Healthiest Protein Pudding") have also been proven to be good for you. They can aid you in your weight loss journey, because they can help you to stay fuller for longer.
In addition, it also helps you repair your muscles faster after working out. This makes it an ideal snack to eat before hitting the gym. In addition, it can also aid your digestive system. 
By making a cake that is both low carb and high in protein, you can help your body to reduce the number of blood sugar spikes. This is integral for maintaining a state of ketosis. 
The Ingredients For Single Serve Chocolate Protein Cake 
Now that we've covered what a protein cake consists of, as well as some of the nutritional benefits, we can move on to discuss the ingredients.
You'll be pleased to find that you'll already have a lot of these ingredients in your pantry, making it super easy to make. 
All of the ingredients in this bake are completely gluten free, as well as being unrefined. This ensures that the cake is as healthy as possible. To find out more, simply keep reading below. 
3 Tbsp Coconut Flour
One of the main components for this recipe is coconut flour. This helps to make sure that the cake fits in with a ketogenic lifestyle.
Coconut flour is renowned for being incredibly low in carbs, as well as being healthier too. 
It is known for having a lower glycemic index, which means that it's absorbed by your body at a far slower rate than wheat flour.
This helps your body to adequately absorb and digest the food. Ultimately, coconut flour can keep your blood sugar levels stable. 
¼ Cup Protein Powder
When it comes to choosing the correct protein powder for your cake, the choice is entirely up to you. There are no hard and fast rules, but rather, you can just choose your favorite. 
If you want a softer, more subtle flavor, then go ahead and choose a neutral protein powder flavor such as vanilla.
If however, you want to double the chocolatey goodness of this cake, why not choose a chocolate variety? 
In addition, if you don't want the flavors from the protein powder to affect your cake, you can go ahead and purchase an unflavored version.
Some of these include pea protein powder, soy protein powder, and rice protein powder.
Make sure to always check the nutritional content of your protein powder to make sure that it's low in carbs. 
3 Tbsp Cocoa Powder
This ingredient goes without saying, but you'll require some cocoa powder in order to make your cake. Make sure that when you're purchasing your cocoa powder, that it is completely sugar free. 
Many cocoa powders that you'll find at your local supermarket will have additives. You want to make sure that what you're purchasing is 100 percent dark cocoa powder. 
1 Tsp Sweetener
The next ingredient that you'll require is some form of sweetener.
When it comes to choosing a low carb or ketogenic sweetener, always check that it doesn't contain sucralose, as this could potentially spike your blood sugar. 
Instead, opt for sweetners that have 0 carb content, such as erythritol, or stevia. Both of these are incredibly popular options amongst people following a ketogenic diet. 
3 Tbsp Greek Yogurt
This is the secret ingredient behind making your cake as moist as possible. It will help it to achieve an incredibly soft and fluffy texture that simply can't be beat. 
1 Eggs & 2 Egg Whites
In order to help the cake achieve its correct texture, you'll require a couple of eggs to add into the mix. 
3 Tbsp Plant Based Milk
In order to make this recipe low carb, we recommend purchasing a plant based milk variety.
Some of the most popular for baking include soya milk, almond milk, or coconut milk. All of which have an incredibly low carb content. 
If you don't care about the carb content of the cake, you can replace it with whole milk too. 
½ Tsp Baking Powder
Finally, you'll require some generic baking powder in order to make sure that your cake bakes all the way through. 
How To Make Your Low Carb Chocolate Protein Cake
Now that we've taken a look at all of the key ingredients that you'll require in order to make your cake, we can move on to discuss the method. It's incredibly simple to make, and will be ready in only around 30 minutes. 
In addition, this cake is great for those who are just getting started out with baking, as it's very much at a beginner level. 
Step 1
To begin making your cake, grab a large bowl where you can begin to combine all of your dry ingredients. This includes your flour, baking powder, protein powder, and sweetener.
You can simply stir all of these ingredients in with a wooden spoon until they're properly combined. 
Step 2 
Next, you'll want to take two of the three eggs, and in a different bowl, separate the egg whites. You can then gently whisk the egg whites until they're light and fluffy.
After you've done this, you can go ahead and add them, along with one whole egg to your dry ingredients. 
Follow on from this step by adding in the greek yogurt, along with the milk. Make sure that you stir all of these in, until they're fully combined.
You'll notice that you get a thick batter like consistency. This is exactly what we're looking for. 
Step 3 
Next, you can go ahead and grease your cake tin. We recommend choosing one that's around 12cm. Make sure that it's well greased either with oil, or butter, so that your cake doesn't stick to the tin and fall apart. 
Bake for approximately 20 minutes at 325 degrees fahrenheit.
After this time is up, make sure that you check the consistency of the cake by placing a toothpick in the center. Place it back in the oven for further baking if it's not done. 
After it's finished baking, leave it to cool on a wire rack inside the tin for around 30 minutes. 
Frequently Asked Questions
Now that we've taken a look at how you can recreate this delicious chocolate cake, we can move on to discuss some frequently asked questions.
These range from ingredient replacements, to storage, so keep reading to find out some helpful tips. 
How Do I Store My Cake?
When it comes to storing your cake properly, you should always make sure to keep it in an airtight container after it's finished cooling.
You can keep it on your countertop for up to two days, but after this, you'll need to place it in the refrigerator for up to five days. 
When it comes to freezing your cake, you'll need to make sure that you wrap it in some plastic wrap, then secure it in an airtight container before freezing. It should last for approximately 2 months. 
Can I Make This Recipe Dairy Free? 
When it comes to making this delicious keto cake dairy free, this is absolutely possible. One of the key things that you'll need to do is simply replace the greek yogurt. 
This shouldn't be difficult at all to do, as most plant based yogurts will work in its place.
Some of the most popular choices of plant based yogurt include soy yogurt, almond yogurt, or coconut yogurt. These can be found easily in your local supermarket. 
In addition, as we mentioned above, we always recommend using plant based milks for low carb recipes. This will help to make your cake both dairy free and keto friendly. 
Can I Substitute The Protein Powder? 
If you're not a fan of protein powder for whatever reason, don't worry, because you can substitute this ingredient. Instead of using the powder, simply replace it with almond flour instead.
You can purchase ground almonds in your local grocery store, or simply make it yourself by pulsing some almonds until they reach a fine, floury texture. 
What If My Cake Wasn't Sweet Enough? 
We recommend that you always try the batter when you're making this cake.
Depending on the sweetener that you're using, some can be much stronger than others. This means that it's important to adjust the recipe based on the one that you're using. 
If you need to, simply add some more into the mix. 
Final Thoughts
To sum up, making a delicious, low carb, chocolate protein cake couldn't be easier with this recipe.
You'll only require a few basic ingredients, most of which you'll probably already have, and it only takes a total of 30 minutes to bake. 
This means that you can enjoy your chocolate cake as soon as possible.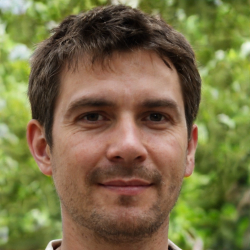 Latest posts by Justin Roberts
(see all)