Following a diet can be tough enough, but following a keto diet introduces a whole new realm of difficulty to the process, as you must contend with the total lack of carbs that the diet entails. 
You may find yourself totally shocked at the number of foods that contain carbs, and this can make the keto diet seem totally impossible to so many people that attempt it. 
The keto diet exists to force the body to enter into a state that is known as ketosis, in which the body burns away fat in the body to use it as an energy source, as opposed to the carbohydrates that the body ordinarily draws from. 
Because the keto diet pulls you away from carbohydrates, you may find yourself frequently craving some of your favorite carb-laden foods.
In this case, you're likely finding yourself craving fried chicken, which seems like it would be incompatible with a keto diet.
Luckily, we are here today to show you 15 of our very favorite recipes for fried chicken, or involving a fried chicken that you can cook today! Read on to get started! 
The ingredients used to create the 'bread' coating around this fried chicken are very interesting.
Ingredients like celery salt, chili powder, and finely grated parmesan are just a few of the ingredients that help to give the outside of each piece of chicken a crispy texture that makes the soft tenderness of the inner meat all the more pleasant.
We definitely recommend serving this dish up alongside the cauliflower mash as the recipe suggests. It can create a dish that is totally reminiscent of your favorite KFC orders without any of the fattening carbohydrates and grease!
The great thing about this recipe is that you can use an air fryer to bring it to life, so you can not only save on carbohydrates, but you can also save on electricity thanks to the low power usage of an air fryer. 
This recipe includes baking powder and almond flour to create that crispy outer coating, and we were blown away by how well it worked out.
The chicken was so incredible, and the slight extra flavor from the almond flour was a total delight.
Crispiness is one of the key elements of creating truly delicious and memorable fried chicken, and this recipe has an ingenious way of creating this texture with no need for loads of carbs.
To create that crispy texture you crave, this recipe uses crushed pork rinds, which not only adds the right texture but also helps to add a bit of extra meaty flavor! Yum!
One popular alternative that many people on a keto diet turn to is keto breadcrumbs.
Keto breadcrumbs are able to very accurately replicate the texture of real breadcrumbs, all without any carbohydrates needed!
This recipe is one of the best at utilizing this awesome ingredient, and we were really surprised at just how convincing these faux breadcrumbs proved to be. 
Almond flour also helps to bring the flavor to this recipe!
Not only does this recipe leverage the benefits of almond flour to create an immense texture, but it also makes the most of coconut flour, which helps to improve the texture while also helping to add further dimensions of flavor that you will love. 
This recipe again makes use of crushed pork rinds, but when these rinds are combined with the coconut flour used here it tastes totally mind-blowing and incredible!
Chicken katsu curry is one of the most popular dishes in the world that utilizes fried chicken to create its flavor.
Many assume that chicken katsu curry is totally off the table when it comes to a keto diet, but this recipe is here to change the record and show you that katsu curry can still be safely enjoyed while sticking to the keto diet!
It will not only show you how to create the low-carb version of the chicken filet but also how to create a low-carb version of the curry sauce! 
While it's easy to assume that all fried chicken ultimately tastes the same, the iconic taste of KFC chicken proves that it is more than possible to put a unique spin on fried chicken. 
Of course, many of us assume that KFC is totally incompatible with a keto diet, but this recipe will show you how you can create a perfect imitation of the popular food without any diet-destroying carbs getting in the way! 
We loved the way this chicken tasted, and especially the texture it took on. It managed to have the same sense of juiciness, and that iconic spice!
A good chicken katsu curry is only half as good as the rice it is served alongside. But when you consider that rice is incompatible with a keto diet you may find yourself at a loss for options.
This recipe will not only show you how to create low carb chicken and curry sauce, but also cauliflower rice to go with it!
The name of this website could not be more appropriate, as this recipe will show you how you can easily create fried chicken that is not only keto-friendly but also has a great savory taste that will delight your taste buds.
Want to take your keto fried chicken to the next level?
Then why not try out making this amazing spicy fried chicken recipe that will help you to create fried chicken that has a totally vibrant flair? 
This recipe will not only ignite a party in your mouth but will also provide you with the texture you crave.
This recipe stands apart from the crowd by using whey protein isolate which is coated around the chicken before it is then fried.
This creates an immaculate texture completely similar to KFC!
While it does involve some amount of deep frying, it still is incredibly healthy and keto-friendly!
These fried chicken bites of goodness are also coated with herbs, to give them that extra dimension of flavor.
Best of all, this recipe doesn't require any frying, and instead simply requires the use of a standard oven.
Despite involving no frying, the chicken is incredibly juicy and the outer coating of the chicken is similarly indulgent and crispy.
We loved this recipe not just because it tasted great, but because it also took very little time to follow!
Creating fried chicken entirely in your oven seems like it should lead to disappointment, but we have found ourselves constantly blown away by this recipe that managed to make the chicken taste exactly like it had been fried without any need for frying at all.
It's a true work of magic, but following this recipe will help you to create it in no time at all! We loved how simple but effective it proved to be.
We just know this will be a favorite on those busy nights when we only have a small amount of time to get to cooking!
This recipe makes use of a very unique blend of spices and herbs to create a recipe that tastes unlike anything else on this list.
The inclusion of Chinese five spice makes this one of the best on this list. It really adds an extra dimension of flavor that blew us away.
If you want to make keto-friendly fried chicken that can easily serve multiple people simultaneously, then you will want to give this recipe a shot.
Not only does the chicken become incredibly soft and tender, but it is also made in a very small form that is easy to serve up to guests and friends. 
This recipe makes the best use of its ingredients to create the right flavor and texture but in a smaller form!
To Wrap Up
Sticking to a keto diet while enjoying fried chicken may seem impossible, but we hope that this list has shown you the potential that a keto diet can offer!
Frequently Asked Questions
Is Almond Flour Good For Frying?
Yes. Almond flour works as a perfect alternative to more traditional frying ingredients!
What Is The Downside Of Almond Flour?
While almond flour is useful, it does have drawbacks, mostly in how it leads to slightly denser baked goods.
Can You Have Butter On Keto?
Yes. Butter is totally safe for consumption on a keto diet!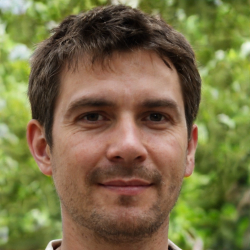 Latest posts by Justin Roberts
(see all)