Paleo is a popular diet that is based on the foods that humans might have eaten during the Paleolithic Era.
It's a natural diet that excludes many of the ingredients that were found and created during the Agricultural Revolution and this excludes many ingredients common in ice cream, including dairy and refined sugar.
This can make ice cream a tricky food to eat if you're following a paleo diet. Ice cream is typically made with dairy and additional sugar so this means that most types of ice cream are not compatible with paleo.
Luckily, you can make your own ice cream that works with paleo and is still just as delicious (see also "Paleo Pecan Pie Recipes")! That's why we've picked 15 delicious paleo ice cream recipes that you are sure to love (see also "Paleo Crackers Recipes").
For our first paleo ice cream, we've chosen this delicious and unusual golden milk turmeric ice cream. Turmeric is a great ingredient that can add a lot of flavors and several health benefits to any dish. Some extra spice is provided by cinnamon, ginger, and cardamom.
The only milk in this ice cream is coconut milk and it has a tasty nutty flavor thanks to the inclusion of cashews and pecans.
Peaches are one of our favorite fruits so as soon as we saw this recipe for peach and lemon thyme ice cream, we had to include it! You'll need three large peaches for this ice cream recipe and these should be roasted in honey first.
The peaches are then combined with some more honey, coconut milk, vanilla extract, egg yolks, and some chopped lemon thyme. Serve with some peach slices on a hot summer's day!
Of course, no list of ice cream recipes is complete without a recipe for strawberry ice cream. It's one of the most popular flavors and nothing says summer like strawberries! This is also one of the easiest recipes on this list as it only requires five ingredients.
Those ingredients are strawberries, maple syrup, salt, coconut cream, and some grass-fed gelatin. The end result is a delicious ice cream full of strawberry flavor.
Vanilla may be the most basic of all ice cream flavors but that doesn't mean that it isn't delicious or should be ignored. A well-made vanilla ice cream is just as delicious as any other ice cream flavor, as you'll find after you make this!
It uses a vanilla bean so the vanilla flavor is authentic. Add in some coconut milk, almond milk, egg yolks, and honey for a perfectly creamy vanilla ice cream.
If you love chai tea and the variety of spices contained in every cup, then you're sure to love this chai coconut ice cream as well.
This is a great recipe to customize to your tastes as you can adjust the amounts of each individual spice to get the perfect chai coconut ice cream for you.
The ice cream uses cinnamon, nutmeg, cardamom, and whole cloves to get those delicious chai spices and we recommend following the recipe the first time you make this ice cream.
Don't worry, there is no processed peanut butter in this recipe, instead, the nutty flavor comes from almond butter. There is no processed chocolate either, just unsweetened cocoa powder.
This chocolate and peanut butter ice cream is delicious and follows the paleo diet perfectly. There's no dairy, just coconut milk, and some raw honey to make the ice cream smoother.
Lime-flavored ice cream is very refreshing and this paleo version is no different. The bright green color is sure to appeal to anyone who sees it and this is the result of including both several forms of lime and some avocados in the ingredients.
The combination of avocado, maple syrup, and coconut milk ensures that your ice cream is thick and creamy as well.
Ube isn't a very common ingredient in Western cooking but you'll see it in several Asian ones and especially in Japanese cooking. It's a purple sweet potato that is full of goodness and is well worth the trip to an Asian supermarket to pick up a couple.
This is easily one of the easiest recipes on this list as it only requires two ingredients! All you need is one ube and four cans of coconut cream.
Apricots are a delicious but often overlooked fruit. They make delicious ice cream so if you're looking for a fruity ice cream that isn't your usual flavors, this recipe is a good choice.
As apricots are quite small and have a big stone in the middle, you will need several of them for your ice cream. The apricots are then mixed with coconut cream, honey, and vanilla extract to make the ice cream.
Mint is always a popular choice for ice cream and especially mint that is mixed with chocolate chips. You will need to be careful when buying the chocolate chunks for this recipe to ensure that you get chocolate that is compatible with paleo.
The mint flavor comes from peppermint extract and if you want to make your ice cream especially green, you can add some avocados as well. The creaminess of the ice cream is achieved by adding coconut milk, egg, and maple syrup.
If you're the kind of person that runs on coffee, then why not try out some paleo coffee ice cream? There is a little debate about the position of coffee in a paleo diet but most agree that it is acceptable as long as you aren't overly sensitive to caffeine.
This ice cream uses coconut milk, instant coffee, coconut cream, maple syrup, egg yolks, vanilla extract, and a little sea salt. At the end, you will get a delicious ice cream with a little taste of coffee.
Simply thinking about the combination of blackberry and chocolate chips is enough to make our mouths water! Blackberries are one of the most delicious fruits and a little goes a long way with these berries.
When you choose your chocolate-chips for this recipe, opt for dark chips and make sure that they're paleo compatible. As well as blackberries, there is also some banana in this ice cream so it's full of fruity goodness.
Although pumpkin ice cream can be eaten at any time of the year, we think that it is especially perfect for the period leading up to, and including, fall. After all, fall is the season of pumpkins so why not extend that to your choice of ice cream as well?
This ice cream uses pumpkin puree instead of fresh pumpkin so it's easier to make. You'll get a little spice from the addition of ginger, cinnamon, nutmeg, and cloves and everything is made deliciously creamy by the addition of coconut milk.
Do you love chocolate ice cream? If so, then you're going to adore this decadent chocolate fudge swirl ice cream! It uses raw cacao powder, raw honey, and vanilla extract to make the chocolate fudge part of the dish and this is thick and tasty.
For the ice cream, you'll need coconut milk, more vanilla extract, and a little himalayan salt. Mix it all together for an ice cream you won't believe is paleo!
For our final ice cream recipe, we've picked this delicious mix of flavors. It's more complex than many ice creams on this list and requires more ingredients, but we think it's worth it.
You will need to make an ice cream base, caramel sauce, and a topping for this ice cream.
Final Thoughts
In this article, we introduced the 15 most delicious paleo ice cream recipes that you are sure to love (see also "Paleo Fudge Recipes"). We included a wide variety of different ice cream flavors so whatever type of ice cream you like, there is sure to be something here for you.
We have traditional flavors such as vanilla but also more unique flavors such as ube and peach and lemon thyme. Whatever recipe you choose, you can be sure that it is both paleo and delicious.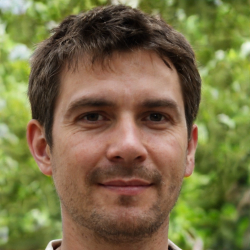 Latest posts by Justin Roberts
(see all)