Pecan Pie has always been a holiday classic dessert. If you're looking to make your favorite dessert paleo-friendly, then you've come to the right place.
Don't worry, you don't have to do any of the hard work when it comes to figuring out how to recreate this sweet and creamy filling that surrounds the ingredients. 
These paleo pecan pie recipes have done all the work for you. All you have to do is pick your favorite and get ready to make a deliciously sweet treat! 
With this in mind, this guide will explore all the best paleo pecan pie recipes that you need to make. 
Let's get straight into it! 
If you're looking for an out-of-this-world delicious paleo pecan pie, then you can't go wrong with this recipe (see also "Paleo Fudge Recipes"). It is refined sugar-free, grain-free, and gluten-free – the perfect healthy dessert. 
Plus, you can make it as a paleo dessert for both Christmas and Thanksgiving – your friends and family won't be able to tell the difference.
It is gooey, rich, and packed with crunchy pecans – you can't get much better than that! 
Here, the grain-free pie crust is made using a combination of arrowroot, almond, and coconut flour – the result is a beautifully flaky pie crust. Plus, the perfect base for your pecan pie filling. 
When it comes to the perfect dessert this holiday season, you can't go wrong with a freshly baked pecan pie. 
Over the holiday season, there are three pies that are most enjoyed, these include: pumpkin pie, pecan pie, and apple pie. 
While these three varieties of pies are delicious, this homemade paleo-style pecan pie recipe is out of this world. 
There is only one word to describe the homemade filling and crust: perfection. 
A flaky grain-free pastry crust and an easy dairy-free salted caramel sauce come together to create this delicious salted caramel pecan pie. 
The result is a richly sweet and gooey paleo dessert perfect for both special occasions and the holiday season. 
Salted caramel and pecans go together like two peas in a pod – there is no better combination. 
For this recipe, you have the classic paleo pie crust. To transform the filling into a custard, all you have to do is whisk the eggs with the cooled salted caramel with some maple-syrup-soaked pecans, a pinch of cinnamon, and vanilla. 
If you're looking for a delicious twist on the classic pecan pie recipe, then you've come to the right place. Here, the classic pecan pie is enhanced with rich tastes of chocolate and hints of maple. 
The crust is made using a gluten-free almond flour shortbread that creates a buttery and light base for the filling. 
The best part? This recipe is paleo-friendly, refined sugar-free, and contains all the flavors you grew up loving as a child. 
With this recipe, in addition to making the pie, you'll also learn how to make a creamy, smooth dairy-free whipping cream that compliments the chocolate perfectly. 
This recipe combines two of your favorite pie toppings to create this paleo pumpkin pecan pie – it is sure to become a fan favorite among all your friends and family. 
With the holiday season comes one of the most important times of the year: pie season.
On Thanksgiving, there is always a debate about what pie to make, however, we're here to settle that once and for all. 
Here, the recipes combine two of your favorite pies to create this masterpiece. The result is a smooth, velvety pumpkin base with nutty and sweet pecans on the top – it is a winner every time! 
If you're looking for the ultimate treat, then look no further than these paleo pecan pie muffins.
Not only are they super simple to make, but they are sweet, rich, and packed with buttery pecans. It is also dairy-free, gluten-free, and oh-so-delicious!
These muffins are dense enough that they are reminiscent of pecan bars. Here, the coconut oil keeps them moist while the molasses adds depth of flavor. 
In this recipe, they add chocolate chips to the mixture. However, these can be left out, too. 
Not only are these paleo pecan pie scones a fun treat but they are also delicious and super simple to make! 
They are tender, not overly sweet, and work perfectly with a warm cup of coffee. Plus, they are naturally sweetened, dairy-free, and gluten-free. 
If you can make cookies, then you won't have any trouble making these scones. All you have to do is mix the dough, shape, cut, and then bake – it is that simple! 
These chocolate caramel paleo pecan pie bars contain a light, thick crust that is topped with plenty of chocolate chips and a delicious caramel sauce. 
You're sure to love the contrast between the crust texture and the gooey yet crunchy topping – they won't last long on the plate! 
The result is some additive, indulgent, and utterly decadent bars – these have everything you could ever want in a dessert and more. 
These non-bake paleo pecan pie bites are the perfect bite-sized portion. Plus, they are paleo-friendly and gluten-free, too. 
While they may not be the classic dessert you grew up knowing and loving as a child, they are sure to become your new favorite healthy dessert. 
The best part? This recipe is so much easier to whip up than the traditional pecan pie recipe. 
With this recipe, the classic pecan pie dessert gets a chocolate and healthy makeover. The result is these gooey chocolate pecan pie bars!
Here, a low-carb, thick, shortbread base is topped with a deliciously gooey caramel glaze that is packed with pecans and drizzled with an irresistible chocolate sauce. 
Essentially, these pecan pie bars are a game-changer – you'll want to make them every holiday season. 
The delicious grain-free, buttery shortbread crust is made using coconut flour which is then topped with a caramel-pecan topping that is then baked to perfection. 
If you're looking for something super simple to whip up, then look no further than this crustless sweet potato pie. All you need is some simple ingredients and then the crust forms in the oven. 
With the holiday season comes a lot of stress and busyness, however, you won't feel any of this stress with this recipe.
Here, you skip the entire process of making a pie dough from scratch – perfect for those days when you don't want to bother making a pie crust! 
For a quick, simple, and relatively healthy dessert, you can't go wrong with these five ingredients: pecan pie fudge. It is gluten-free, vegan, dairy-free, and naturally paleo. 
For this recipe, all you need is pecan butter, maple syrup, coconut oil, cinnamon, salt, and vanilla. All you have to do is allow it to boil for two minutes and then pour it into a mini muffin pan, and freeze. 
The result is a pecan pie fudge that has a salty-sweet combination that is utterly delicious. That said, if you don't like salt, only use ¼ teaspoon in your mixture. 
While pecan pie-stuffed cupcakes may not be your grandmother's traditional recipe, that doesn't mean it is not delicious! 
If you're looking for a healthier alternative to apple pie, without all that added sugar, then this recipe is a must-try. 
Since all-purpose flour is devoid of all nutrients, you can make the base using pecan which will provide you with all the nutritional benefits you need. 
This sweet, tart, and utterly creamy paleo key lime pie has the perfect balance of nutty and crispy flavors thanks to the coconut pecan crust – the perfect dessert for spring and summer. 
Plus, it is paleo, gluten-free, soy-free, and dairy free, too! 
Not only is this paleo pecan pie granola super simple to make but it is also deliciously sweet, crunchy, and super simple to make (see also "Delicious Paleo Ice Cream Recipes").
The perfect vegan, gluten-free, and dairy-free breakfast or a quick snack! 
Your kitchen will be filled with scents of toasted coconut, cinnamon, and sweet maple syrup in no time. 
Final Thoughts
Pecan pies aren't only reserved for the holiday season. In fact, they can be eaten throughout the year. Thanks to these recipes, your favorite holiday dessert is now made paleo-friendly, too. 
Hopefully, this guide has provided you with some inspiration for the best paleo pecan pie recipes – your house will be filled with fall scents in no time!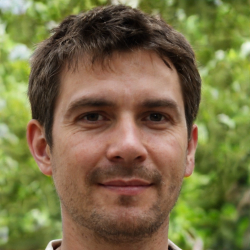 Latest posts by Justin Roberts
(see all)