It's hard to think of any occasion where crackers aren't a suitable snack.
They work as a delightfully crunchy breakfast option, a welcome addition to an afternoon lunch, or even just as a simple way to end off the day, but another reason why these baked biscuits are so beloved is down to how much freedom you get in regards to the ingredients.  
Because of this, they are a fantastic addition to so many different meal plans, and if you are someone abiding by a paleo diet, you too can snack on these fan-favorite biscuits by simply switching out a few ingredients.
Rather than just having plain crackers however, it's always worth checking out a few recipes so that you can make these delicate snacks as delicious as possible, and we've got 15 of the very best paleo cracker recipes right here that you need to test out for yourself. 
We all know that crackers are well known for their crunchiness, but if you want to make the texture even more delightful, alongside adding some sweetness to the overall taste, this is the recipe for you.
With flax seeds, sesame seeds, and sunflower seeds all making an appearance, these crackers give you an enhanced crackling sensation with each and every bite. 
The 4 ingredients required for this recipe can be found incredibly easily in any local food store, but the truth is you probably already have them lying around the house, making this a simple and quick recipe that is packed full of omega-3 thanks to the inclusion of chia seeds. 
These crackers are also extremely healthy and still have a very noticeable sweet taste to them due to the almond flour, but if you did want the overall taste to be a little nuttier and more flavorful, you can even switch this out for cassava flour instead. 
The combination of sesame seeds and pepper ramps the sweet and nutty flavor of these crackers up a notch, however rather than using salt which would not be acceptable in a paleo-diet, consider using seaweed flakes instead which are very rich in minerals and a great natural ingredient that will only make these crunchy snacks all the more appetizing. 
At first glance, you wouldn't think that the small and powdery sea salt flakes would make too much of an impact when used as part of a recipe, but as anyone who has tried it for themselves will tell you, this simple ingredient actually contains a relatively strong bitter flavor that is very easy to fall in love with.
With that being said, the flakes never seem too overpowering in this paleo recipe thanks to the inclusion of the herbes de provence which mellows the taste out while also lending a very earthy aroma to the entire dish. 
Ghee melted butter is a very common ingredient that can be found in so many paleo recipes, whether it's a seafood dish or baked goods, it is a natural ingredient that never fails to add a good dose of creaminess to any food it's added to, which is why it pairs so well with crackers. 
The sesame seeds and tahini paste still give the crackers a sweet flavor and a decent level of crunchiness, but the smooth and mouth-watering melted butter is the real star of the show here. 
It's astonishing how these crackers can manage to taste so downright delightful yet can still be made in just 15 minutes, to the point where if you have the ingredients at the ready, there really is no reason not to make them, especially if you're a fan of the sweet and potent taste of garlic. 
As an added bonus, you also have the poppy seeds which help keep the texture of the crackers nutty and crunchy while also keeping the garlic from ever becoming too strong or overpowering. 
With 4 different types of seeds used as part of this incredibly nutritious and hearty recipe, you can be sure that these crackers are crunchier than ever and are bursting with a whole range of different flavors and tastes. 
Whether it's the zesty element of the pumpkin seeds you enjoy the most, or the much lighter and more vibrant sensation that comes from the sunflower seeds, this recipe brings together the most delicious seeds and packs them into a single delicious and nutritious afternoon snack. 
Seeing sweet potatoes listed as a main ingredient on a recipe sheet is a sight that fills so many of us with joy, and the best part is they are perfect for using to make some soft and sweet crackers. 
You also can't forget about the fresh rosemary which lends a slight herby sensation to these party snacks which can be whipped up in no time and enjoyed at any time of the day, though we would recommend preparing them for special occasions since they are such a delicious delicacy. 
There's a reason why rosemary and thyme are two of the most commonly used herbs when it comes to meat dishes, and it's because they complement each other so well, infusing the lamb, chicken, or beef with a powerful and noticeable peppery taste that even contains sweet hints of lemon. 
However, it's not just meat that these two beloved ingredients work well with, but also biscuits, and especially crackers where they can effortlessly add a whole mixture of different flavors just by being sprinkled over the top as a delicate seasoning. 
If you like the idea of snacking on some thick and crunchy crackers that are a lot sweeter than usual, you need to follow this recipe which combines cinnamon and coconut sugar to make some of the most delightfully flavorful and nutritious crackers you've ever tried and perfect as a morning treat to look forward to in the morning.
Vanilla is a flavor many of us wouldn't traditionally relate with crackers, but once you try a crunchy cracker with a teaspoon of vanilla smothered over the top, there really is no going back. 
While sea salt is a paleo-friendly ingredient that will work just fine at enhancing the natural sweetness of the vanilla, you can also use Himalayan rock salt if you want a little extra bitterness.
You will always want to make sure that you are using paleo-friendly baking powder which is completely free of any traces of aluminum. 
Dial up the heat and enjoy a bowl of fruity crackers in the summertime with this mouthwatering recipe that features a whole host of wonderful ingredients. 
From jalapenos and fresh cilantro, all the way to sesame seeds and orange zest, this recipe packs as many vibrant ingredients and flavors as possible into each and every cracker, making them an absolute joy to snack on, especially when the temperatures start to heat up outside. 
One ingredient that many people following a paleo diet admit that they struggle leaving behind is cheese, however with that being said, there are still a few tasty alternatives that give you that strong and creamy flavor that so many of us can't get enough of. 
In this case, it's the nutritional yeast that mimics that cheesy flavor in these soft and delicious crackers, and on top of replicating the familiar taste, nutritional yeast is also incredibly rich in protein, iron, magnesium, and B vitamins, so you can feel refreshed and healthy while snacking on these cheesy treats. 
After a long and strenuous workout, the last thing you want to be doing is taking half an hour to prepare a big and hearty meal, so why not simply make a few protein-packed crackers instead? 
The sheer amount of plant seeds used in this recipe ensures that the crackers are full of not only protein, but also antioxidants, vitamins, and plenty of minerals, making them a healthy treat you can look forward to when traveling home from the gym. 
These exotic and moderately spicy crackers are incredibly crispy thanks to how they are made with the lengthy drying process making them a lot snappier and a little more crunchy, however, if you did want to make the texture even firmer, simply store them in the refrigerator for an hour or two, and they will quickly become even more enticing to bite into. 
Summary
Crackers are a food that everyone loves to snack on for any occasion and at any time of the day, so don't just leave them plain, combine them with a few healthy and delicious paleo ingredients and you might just have a new favorite bite-size recipe on your hands (see also "Delicious Paleo Ice Cream Recipes").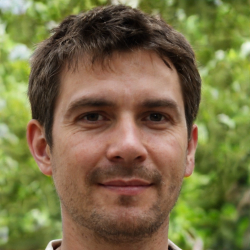 Latest posts by Justin Roberts
(see all)