Finding recipes that are both vegan and paleo can be tough.
These restrictions can result in some rather bland dishes. Not to mention, it can be difficult to find substitutes that allow you to make your favorite dishes.
Luckily, this recipe will allow you to make a vegan and paleo-friendly alternative to pasta.
Made using zucchini, which is also known as courgette, this pasta substitute is surprisingly versatile. It can be used to make dishes like bolognese and carbonara. 
If you are looking for a healthy paleo and vegan alternative to pasta, this guide will teach you how to make spiralized zucchini pasta. 
How To Make Paleo And Vegan Spiralized Courgette Pasta
Serves: 4
Preparation: 8 minutes 
Cooking time: 10 minutes
Total time: 18 minutes
Ingredients
This recipe calls for just a few pieces of equipment, such as:
A sharp knife
A chopping board
A garlic press (optional)
A vegetable spiralizer or julienne peeler
A frying pan or wok 
A wooden spoon
Serving equipment
Equipment
For this recipe, you will need to purchase the following ingredients:
4 zucchinis
2 cloves of garlic
A pinch of salt and pepper
2 tbsp of olive oil
Instructions
Wash the zucchinis under running water. 
Peel the garlic cloves. Using a sharp knife and chopping board, mince the garlic into tiny pieces. Alternatively, use a garlic press to achieve the same result. 
Cut off the ends of the zucchinis. Using a spiralizer, lock the zucchini into place. Then, twist the dial to spiralize the vegetable. Repeat this for all the zucchinis that you are using. If you do not have access to a tabletop or handheld spiralizer, a julienne peeler can be used to create a similar ribboned effect. 
Pour the olive oil onto a frying pan and spread it evenly. Then, heat the oil over low heat. Once the oil has been heated, add the garlic to the frying pan and begin to saute it until the garlic develops a golden hue. Stir the garlic regularly with a wooden spoon to avoid burning.
Chuck the spiralized zucchini into the pan and continue to stir the mixture so that it becomes coated in the garlic seasoning. Cook the zucchini for approximately 5 minutes. The vegetable will be finished once it has softened slightly but still has a somewhat crunchy texture. 
Remove the spiralized zucchini from the heat and serve it on a plate. Sprinkle the pasta substitute with a pinch of salt and pepper. Add whatever seasonings you desire and enjoy this indulgent spiralized zucchini pasta. 
Recipe Variations
As mentioned, this zucchini pasta will work well with lots of different dishes.
To make this recipe a little more flavorsome, you should consider experimenting with these amazing variations:
Pasta pairs brilliantly with cheese. Likewise, this zucchini pasta recipe will taste delicious with a generous sprinkling of grated cheese. You can either use vegan cheese or, if you are not following a vegan diet, feel free to add whatever cheese you fancy. 
Serve the zucchini pasta with whatever sauce you fancy. Bolognese, carbonara, or tomato and basil sauce will all work wonderfully with this vegan pasta recipe. 
If you do not have access to fresh garlic cloves, consider using garlic powder, garlic flakes, or garlic salt. Alternatively, you can use chives to cumin to season the dish.
Zucchini is not the only paleo and vegan substitute for traditional pasta. For instance, you can try using squash to make spiralized pasta noodles. 
Different meat products will pair phenomenally with the courgette pasta noodles. For instance, chicken and bacon will taste delicious with the noodles. Of course, you will not be able to eat these meat products on a vegan diet. However, if you are paleo but not vegan, try adding these meats. 
Try serving the pasta with fried vegetables, such as red onions, shallots, and red pepper. This will help you to create a vibrant, nutritious, and flavorsome pasta dish.
If you want to give your pasta a spicy twist, consider seasoning it with paprika or red chili flakes. This amazing addition will ensure that the pasta packs a punch.
For a healthier version of this dish, do not season it with salt. Instead, you can season the zucchini pasta with a range of different herbs and spices, such as thyme.
Other Paleo Courgette Pasta Recipes
There are tons of delectable paleo and vegan pasta recipes out there for you to try, including some of these dishes that are bound to fill you with inspiration
This tantalizing zucchini pasta recipe is seasoned with pesto, which works well.
This thick green source is an amazing addition, as it gives the pasta a tangy and nutty taste. 
Another benefit of making this dish is that it is aesthetically pleasing. The dish has vibrant colors thanks to the use of pesto and cherry tomatoes, which contrast nicely with one another. 
Made with meatballs, this paleo dish will not be suitable for vegans or vegetarians. Yet, if you are merely following a paleo diet, this magnificent dish has a welcoming vibe.
This dish also has an Italian influence. Instead of using ground beef, these meatballs have been made with Italian sausage. These sausages are bursting with flavor, thus giving this dish tons of irresistible flavors.
Lastly, this zucchini pasta dish made with sausages and sauce is a great way of getting kids to eat paleo food. This dish makes an outstanding family lunch or dinner.
This pasta dish is also luxuriously creamy thanks to a spicy sausage tomato cream sauce. The zucchini noodles have a spicy kick without being too overpowering.
This is thanks to ingredients like red chili flakes. 
Final Thoughts
Not many recipes are both paleo and vegan. Thankfully, this delectable spiralized zucchini pasta recipe fits both of these conditions.
This dish is super simple to make, as it requires only a handful of ingredients and will be ready in just 10 minutes. Additionally, it is incredibly versatile.
So why not try this straightforward paleo-friendly recipe?!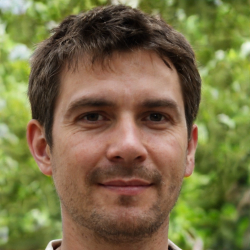 Latest posts by Justin Roberts
(see all)