Everyone loves a good dessert, unfortunately, they aren't necessarily the healthiest meal to put in your body.
Desserts are typically high in sugar and have little nutritional value in them, which is why people tend to avoid them. But, you don't have to.
We have created a list of 10 low calorie desserts that you can make at home to satisfy any sweet cravings you may have.
You get to have a delicious guilt-free dessert any day of the week, and most of these ingredients you probably already have at home.
While it may seem impossible to get a super fudgy and chocolatey brownie that is under 100 calories per serving, this recipe somehow does it (see also "Making Vegan Brownies Without Any Strange Ingredients").
You get a chewy inside and a crispy outside that is just like a brownie that was made with lots of chocolate and sugar.
Not only do these brownies have minimal sugar, but they are dairy-free. To ensure this, dark chocolate chips are used since they are dairy-free and can also be sugar-free.
What makes these brownies healthy is that they use whole wheat flour, honey, apple sauce, and coconut oil. This is instead of the typical white flour, sugar, and butter.
They are very simple to make, essentially just needing to be all mixed together and then baked. This means you can whip these up with little baking experience.
To make them even more elevated you can mix assorted nuts into the batter before cooking or sprinkling them with sea salt once baked.
This recipe produces 12 chewy and soft peanut butter cookies that still have that iconic fork-pressed cross on the top.
These cookies use peanut butter for flavor, but also peanut butter powder.
Peanut butter powder still has the intense flavor of peanut butter, but far less oil. This ensures a strong flavor, a healthier snack, and a fair amount of protein.
You only need 5 ingredients to make these cookies including oat flour and maple syrup to make them wonderfully sweet.
They are very simple to make and are also dairy-free and vegan, so are suitable for many diets.
You can make these for a light dessert, or an on-the-go snack.
Made in under 10 minutes, these matcha balls are chewy and sweet, perfect for those who are looking for a bitesize treat after a meal.
They are a good energy boost due to the caffeine in green tea and are also full of protein.
This is is because the balls have protein (Also check out Super Tasty Peanut Butter Protein Balls) powder in them, you can use unflavored but vanilla will also work with the flavor of matcha.
Matcha itself has quite an earthy taste that works well with the sweetness of maple syrup. Oats and peanut butter are also in the balls to provide extra flavor and to make them rollable.
Once they have been rolled into balls, they are then further rolled in desiccated coconut which gives a nice texture difference.
These crepes are perfect for dessert, or breakfast. Crepes are like a thin, delicate pancake and are perfect for an assortment of fillings, such as the bananas in this recipe.
The use of yogurt and letting the batter rest before cooking also makes these crepes easier on your guts than pancakes.
The use of sorghum flour gives the pancakes a malty flavor that pairs perfectly with the tangy yogurt flavor.
Not only are these pancakes filled with bananas, but they also have coconut which gives them a tropical flavor.
They can be served with either a drizzle of maple syrup or honey.
Fruits are a great way to make a dessert that is super sweet but has no added sugars.
This particular dessert uses apples and raspberries, but you can use any fruits you like and try out different combinations.
The fruits are further flavored with cinnamon and vanilla paste. Vanilla paste is similar to vanilla extract but has a stronger flavor, but you can replace it with extract if you want to.
Frozen pre-made puff pastry is used as making puff pastry from scratch is not the easiest pastry to make.
As it bakes the pastry flakes up and becomes wonderfully crispy which pairs well with the soft fruit. You can bake it in the oven for 20 minutes, or in the air fryer for half the time.
You can serve these cute fruit parcels with low calorie ice cream or custard.
Rice pudding is creamy, thick, and a perfect light dessert. It is relatively simple to make and is perfect no matter the weather.
It can be warm on a winter's day or nice and cooling depending on what temperature it is served at and what toppings are on it.
Due to its simple taste, rice pudding can be paired with a lot of toppings to give it different flavors. This recipe recommends pistachios and edible flowers, but you can top it with fruits and spices.
What makes this rice pudding special is that it has rose water and orange blossom water infused into it as it cooks. This gives the rice pudding a unique and refreshing flavor. 
Remember to stir the rice pudding constantly as it cooks as that is how it will become creamy and evenly cooked.
For those hot summer days, all you really want is a dessert that can help cool you off, and nothing is better for this than sorbet.
It is sort of a dairy-free version of ice cream and can be made at home with no ice cream maker needed.
All you need is four ingredients, frozen fruit, a sweetener, lemon juice, and water.
It is super simple you just need to blend them all together until smooth and then freeze them until you are ready to eat them.
This recipe suggests using sugar-free syrup as the sweetener, but you can use honey or maple syrup. Depending on what fruit you use, you will need different amounts of sweetener.
You can make raspberry sorbet or experiment with different flavors like strawberry, mango, or lemon.
These cookies are only 13 calories each, so you are able to consume a few in one sitting. They are bitesize, but you can make them into any size you like, just make sure you adjust the cooking times.
Meringue is made from whipped egg whites and cream of tartar that helps with the stability of the eggs.
The egg whites are flavored with sugar and unsweetened cocoa powder that gives them an appealing light brown color.
Since they are mainly made from egg whites, these cookies are gluten-free, and they are also dairy-free.
The cookies are piped out of a star-shaped piping tip before being baked which gives them a beautiful design that is also commonly used in cake decorating.
They are super elegant and light and airy to snack on. The meringues are chocolatey and crispy but you can slightly undercook them for a chewier texture if you wish.
These cookies are gluten-free because they use almond flour instead of the common wheat flour. Due to this, they taste almost like macarons that also use almond flour.
The cookies come out chewy and with a strong almond flavor since almond extract is also included in them. 
They are super easy to make and decorate, only requiring a simple drizzle of dark chocolate. The drizzle isn't required but it does make the cookies even better and also look decadent. 
One of the reasons these cookies are considered healthier than other cookies is that it has coconut oil instead of butter.
These slices are layers of flavors and textures that make the perfect low calorie dessert. It is also colorful with yellow from the lemon curd and pink from the raspberries.
The base of the slice is made from coconut, coconut oil, almond meal, honey, and egg whites.
The middle layer is homemade lemon curd, made with both lemon juice and lemon zest, that also has fresh whole raspberries in it.
Finally, the slice is topped with a wonderful coconut topping that is made from honey, coconut, and an egg white.
The topping is then grilled slightly so that it becomes slightly crispy and a gorgeous golden brown.
Final Thoughts
When it comes to desserts, you don't have to sacrifice taste for fewer calories. You can have healthy and delicious snacks and desserts with surprisingly little effort.
All of the desserts in the above article require little baking knowledge and don't require you to search out any hard-to-find ingredients.
You can easily produce tasty and healthy desserts for yourself and your guests to enjoy.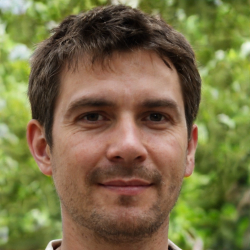 Latest posts by Justin Roberts
(see all)