I don't know about you, but I just love cooking on the weekend. You don't have to rush, you can just take your time, and do plenty of taste testing as you go along.
One of my favorite veggies is cauliflower. It's naturally high in fiber, which is great for enhancing weight loss and digestion. And it has B vitamins and antioxidants in it as well.
I decided to look into what Whole30 recipes I could find to make my beloved cauliflower taste even better.
I found loads, and it was hard to narrow them down into a shortlist of favorites. But I came up with 20 such recipes that I'd love to share with you here.
And without further ado, let's get straight to it.
I thought we'd kick things off with something that's surprisingly simple to make yet absolutely delicious.
It's an excellent swap for a traditional mashed potato side dish, and it has a nutty, slightly sweet flavor, thanks to ingredients such as nutpods, chopped garlic, and ghee.
It works best with an immersion blender, but if you don't have one, you can use a potato masher.
For those of you who don't already know, tahini is basically a paste made from sesame seeds, and when you use it, it adds a real depth of flavor.
Besides cauliflower, you only need 4 ingredients for this recipe, namely coconut aminos, everything bagel mix, smooth tahini and a little coconut oil.
If you can't get everything bagel mix you can use garlic, onion flakes, sesame seeds and poppy seeds.
Barbecue is always a flavor that goes down well – such a crowd pleaser.
And the great thing about this recipe is how little you have to do from scratch. It uses lots of store-bought ingredients  that are both paleo diet and whole30 approved.
And in addition to the barbecue sauce for the cauliflower florets, there's also a recipe for a yummy ranch dressing!
If you want to make something with a little crunch, then this is the recipe I would recommend you try.
You will need some nutritional yeast, garlic powder, eggs, shallots, almond flour and some salt and pepper to taste. 
You cook them until golden brown, and you can serve them with some whole30 approved ranch dressing.
This link takes you to not one, not two, but 6 different whole30 cauliflower recipes. First it explains how to make cauliflower rice, then it goes onto explain how to make 6 different recipe variations.
These are: fajita cauliflower rice, cheesy bacon cauliflower rice, coconut curry cauliflower rice, green goddess cauliflower rice, mushroom and scallion cauliflower rice, and cilantro lime cauliflower rice.
This is such a great recipe for Game Day!
You don't need a lot of ingredients for it, just cauliflower, ghee, garlic powder, whole30 approved hot sauce, apple cider vinegar, coconut aminos, cayenne pepper, and some sliced green onions for garnish.
It goes down a treat, and each serving is a mere 95 calories!
This dish is packed with healthy, flavorful ingredients – there's cauliflower, scallions, bell peppers, onion, crushed garlic, fresh ginger, chilies, toasted cashew nuts, Szechuan peppercorns, coconut aminos and more.
There's also a yummy sauce to go with it, made with medjool dates. The recipe makes 4 servings, coming in at just 208 calories each.
If you love to have fried rice delivered from your local Chinese or Thai takeout restaurant, then this recipe is the one for you.
This low-carb dish is ridiculously flavorful – it's got green onions, ginger, chili garlic sauce, cashew nuts, sesame seeds, and healthy veggies carrots and peas.
Better yet, you can make 4 servings in a mere 10 minutes!
Cauliflower soup is excellent comfort food – but this particular recipe is even better!
In addition to typical ingredients like onion, cauliflower, chicken broth, celery, bay leaves and garlic, there's also hints of smoky bacon, and you can top it with some sour cream, green onions, fresh chives, and shredded cheddar cheese.
The recipe makes 4 servings, coming in at a mere 114 calories each!
This recipe is so good, and combining the ground beef with some cauliflower makes the dish way healthier than the traditional variety.
It's still got all the usual ingredients you know and love in a chili, like onion, chili powder, garlic, canned diced tomatoes, and more.
This recipe makes 8 servings in total, so you'll be going back for second helpings!
This is a great dish to go for if you want to serve subtle flavors. And it's simple to make, too.
You just roast some chicken in the oven with a seasoning of lemon zest, rosemary, and paprika in butter and oil with some salt and pepper.
And just before the chicken is fully cooked, you add some cauliflower rice, chopped apple, and chives, in some oil with salt and pepper.
If you ask me, coconut rice is the perfect side dish for a curry – but when you use cauliflower rice in place of regular rice, it's way healthier.
You only need 5 ingredients for this recipe, namely cauliflower, coconut flakes, lime zest and juice, and a pinch of salt.
If coconut is not your thing, then maybe this is more up your street.
Again, you'll only need 5 ingredients, namely cauliflower, minced garlic cloves, ghee, salt and pepper to taste, and if you wish some option red pepper flakes.
Better yet, you can make as many as 4 servings, at just 99 calories each, in just 15 minutes.
Did you know that you can make hummus with cauliflower? It's a great alternative if you can't get hold of any chickpeas. And it has all the texture and flavor of traditional hummus.
It's got ingredients like garlic, smoked paprika, lemon, roasted peppers, tahini, nutritional yeast and more.
Better yet, the whole dish only comes to 140 calories!
If you love Mexican food, then this, my friend, is the recipe for you!
Better yet, you don't need many ingredients for it, and you can make 4 servings in just 10 minutes.
All you need is some cauliflower, coconut oil, chicken broth, cumin, chili powder, tomato sauce, salt, and chopped cilantro.
This take on Indian butter chicken is just as delicious, but is way healthier.
It has an authentic Indian curry sauce, made with the likes of garam masala, coconut cream, tomato sauce, garlic cloves, fresh ginger, curry powder, and more.
I like to serve it with some lemon wedges!
I was so pleased when I found this whole30 risotto recipe online, and I was even more pleased when I tried it.
It makes for great comfort food, thanks to ingredients like ghee, coconut milk, garlic powder, chives, onion powder, and more.
It comes together in minutes, and I can confirm it makes an excellent side dish.
I know this is an article about recipes to make on the weekend, but this one is great for weeknights, too, because it's ready to eat in as little as 20 minutes.
It has some nice ingredients in there, like tamari soy sauce, toasted sesame oil, ground pork, green onion, and coconut aminos.
You 'll be pleased to hear that you can enjoy pizza on your whole30 diet, thanks to recipes like this one, where the pizza crust is actually made out of cauliflower.
You don't need a lot of ingredients, just shredded cauliflower, coconut flour, egg, oregano, garlic powder, and a pinch of salt. Fun to make, too!
Last but not least, here's how you can enjoy grain-free oatmeal, All you need is some cauliflower, coconut milk, cinnamon, vanilla extract, and a pinch of salt.
Then you can top it off however you like. I like to with fresh berries and coconut flakes!
Wrap Up
Well, I hope you've enjoyed scrolling through our list. There's certainly some food for thought when it comes to deciding which one of these lovely concoctions you'd like to try your hand at first. Bon appétit!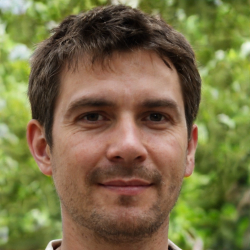 Latest posts by Justin Roberts
(see all)