Smoothies are delicious and a great way to get plenty of fruits and veggies into your diet. What's better than a delicious drink with plenty of superfoods to nourish your body? Nothing in our book! 
Today we're looking at 20 amazing recipes that you can try to make your own smoothies (see also: 15 Best High Fiber Smoothie Recipes To Try Today)at home. The best part? They're all low-calorie. Let's jump right in! 
This first smoothie is super creamy and delicious, and only contains 100 calories per serving! You'll only need four ingredients, too.
Frozen fruit is great for all smoothies as it makes them thicker and creamier, like a healthy sorbet. 
You can add sugar-free sweetener to this smoothie to adjust it to your tastes. Plus, it only takes five minutes to make!  
You cannot beat a strawberry banana smoothie.
These two ingredients are the staple for all good smoothies, right? This recipe calls for four ingredients, and you can add as much or as little of each fruit depending on your personal taste. 
The ice makes it deliciously thick and cold, creating a thicker consistency. You can also alter the ice amount depending on the consistency you prefer. 
The simplicity of this recipe always makes us laugh, but it really is as simple as putting everything in a blender and whizzing together! We couldn't have a low-calorie smoothie recipe article without a green (see also: Best Recipe For A Healthy Green Breakfast Smoothie)smoothie, could we? 
Don't let the color deter you – this smoothie is amazingly refreshing. The apple juice offers a natural sweetness to counteract the veggies, too. 
Hang on… did someone say strawberry MINT? Like a virgin mojito? This recipe calls for you to run, not walk, to your blender and whiz up your new favorite drink.
The minty flavors offer you a gorgeous refreshing taste while the strawberries will satisfy your sweet tooth. Yum! 
You'll need five ingredients for this smoothie, and you can alter them to make the smoothie lower calories. For example, swap out vanilla yogurt for fat-free. 
The love smoothie is a vibrant pink color and offers love to both your taste buds and your insides.
The red pigments come from the blood orange and beetroot, offering incredibly high levels of vitamin C and plenty of antioxidants to keep you thriving. 
This is a great low-calorie, detoxifying smoothie to drink every day. It includes six ingredients and takes five minutes to blend up. 
Another green smoothie – we just can't stay away! This smoothie is full of beneficial nutrients and has three simple ingredients to enjoy. Plus, it's only 98 calories per serving! 
The mango offers an amazing sweetness to counter the spinach and kale, which is where most of the nutrients will come from. Blend together with water or ice and enjoy your energy-boosting smoothie! 
Another strawberry and banana smoothie, this one is bound to fill you up at breakfast or lunchtime. It's packed with healthy ingredients, such as bananas, strawberries, milk, and yogurt. 
The calorie count is 297 per serving, and you can make this even lower by swapping out the yogurt for a low-calorie alternative or using water instead of milk. 
Bananas and yogurt go hand in hand as some of the most popular smoothie ingredients.
And who can blame them – they're delicious together! This low-calorie recipe is sure to get your tastebuds singing with every sip. 
This smoothie has a calorie count of 202 per serving. This is slightly higher than other smoothies on our list, but the ingredients are so filling that you can substitute this smoothie for your usual breakfast. 
Picture this – the tartness of blueberries against the mellow flavors of bananas. This smoothie boasts a low-calorie count of just 143 calories, but the thickness would make you think otherwise! 
The trick? Frozen fruit! The pineapple juice adds to the tartness of the flavor, so this is a great option for anyone who enjoys a sharp drink. 
If you're ever in a pinch without ingredients for a smoothie, but desperately want one, frozen berries are always your best bet.
We keep a bag of frozen berries in our freezer at all times, just in case a smoothie craving ever strikes in the middle of the night. 
This recipe offers a berry smoothie (see also: 10 Tasty Paleo Smoothie Recipes You'll Love)for just 100 calories per serving, using berries, almond milk, and sweetener. It's simple yet delicious, and you'll be making it again and again. 
81 calories – we repeat – 81 calories! That is all this smoothie contains, and you won't miss the extra calories for a moment.
The frozen pineapple and peaches make for such an amazing texture that you'll feel like you're eating dessert during the day. 
There is no added sugar, either, so this recipe is great for anyone on a health kick. 
With just five ingredients and a few minutes, you can whip up a yummy mixed berries smoothie with vanilla yogurt and orange juice. This smoothie is simple yet delightful, and it is loved by all of the family. 
Add a teaspoon of honey for extra sweetness if you're feeling risky. 
This next recipe is packed to the brim with fruity goodness. Blackberries, blueberries, raspberries, bananas – you name it, this smoothie can take it.
Add as much or as little fruit in as you want to make this the perfect smoothie (see also: All About Dragon Fruit: How To Make The Perfect Dragon Fruit Smoothie)of your dreams. 
This recipe makes two or three smoothies, so you'll have enough for your friends or family. Or refrigerate and enjoy throughout the day! 
Everyone needs a go-to smoothie, and this is ours. It is full of superfood goodness, from celery to avocado, ginger to apple. It's a detoxifying drink that also makes your taste buds happy. 
The pineapple and apple add some much-needed sweetness to the smoothie, without overpowering the taste.
Most of these ingredients don't contain many calories at all, making this an excellent workout companion. 
Anything with fewer calories than 100 is a winner in our eyes, and this smoothie tastes great, too.
With only four ingredients you can make a healthy, delicious drink to enjoy throughout the day. 
Choose any fruit that you want to add any blend with the rest of the ingredients.
From berries to mango and pineapple, you'll never get bored of this customizable recipe! 
Blueberry smoothies are amazing as you never know what you're going to get. Have you ever eaten a punnet of blueberries with each one tasting different? It's amazing! 
So, a blueberry smoothie will always have a varied taste, and that's our favorite part. You can't get bored of something that is always changing! This smoothie is only 197 calories, too. 
Sometimes we don't have time to make an entire breakfast, but you shouldn't skip this meal either.
The compromise? This delicious smoothie is packed with goodness. You'll be getting plenty of fruit and veggies, protein from the greek yogurt, and energy from the almond butter. 
This is a creamy, thick smoothie that will leave you feeling satisfied and ready to take on the day. 
Have you ever heard of an apple smoothie? Most of the people we talk to haven't, but it's one of our least-kept secrets.
Why? We love apple smoothies! All you're going to need is six ingredients and a blender, and you'll have an apple cinnamon smoothie to warm your bones. 
Add some almonds to give it a nutty taste, too. This recipe is perfect for anyone who wants to enjoy a smoothie (see also: A Guide To Meal Replacement Smoothies Plus Recipes)with a less sweet taste. 
Strawberries, bananas, milk, and vanilla extract. That's all you'll need to whizz up this lovely smoothie for the entire family. It's a great snack, breakfast companion, or pick-me-up throughout the day. 
We love making this smoothie within a few minutes when we feel like we have been slacking on our fruit and veggie intake. Plus, the low-calorie content keeps us from feeling guilty! 
Our final recipe is one that we make whenever we have some extra time to make ourselves a treat. It is healthy, packed with greens and superfoods, and also comes with a deliciously refreshing minty taste. 
It's one of our favorite green smoothies to make all year round, and the entire family loves it. It uses a lot of ingredients, but the results are so worth the extra effort! 
Summary
Thanks for reading our article on our favorite 20 low-calorie smoothies. Now you have read a little more about them, the only thing left to do is pick your favorite! Harder than it sounds, right? Enjoy!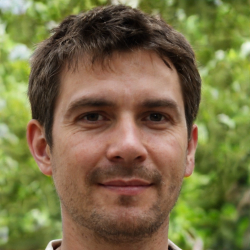 Latest posts by Justin Roberts
(see all)