A paleo diet is one of the cleanest diets that exists today. Eating only foods that are offered by the Earth, you are providing your body with the very best nutrients it needs.
Avoiding processed foods such as refined sugars and artificial sweeteners will give your body the cleanse it needs to begin running perfectly. 
But that doesn't mean that your meals have to be boring. You can easily make your paleo diet exciting and delicious. Not sure where to start?
We have 15 of the best chicken thigh recipes (see also: 10 Superb Keto Chicken Thigh Recipes Everyone Will Love!)that are going to make your paleo diet mouth watering good. Let's get into it!
A simple and filling recipe that consistently wins is teriyaki chicken. Chicken pieces should be stir-fried quickly and combined with sticky, sweet teriyaki sauce. Along with newly steamed vegetables, serve it on top of a bed of rice. 
The best part? In only 20 minutes, you'll have a filling, healthful dinner on the table. You can easily store this recipe in the refrigerator for a simple, quick lunch at the office. 
Butter chicken has taken the nation by storm and you can count on us to have a delicious paleo recipe! 
One of the finest chicken recipes you'll ever eat is probably a tablespoon of this Indian butter chicken with warm basmati rice. A tasty spicy yogurt marinade is applied to tender chicken thighs. But this thick, creamy curry sauce is the real star here; it's insanely delicious.
Serve on a bed of steamed rice with a side of your favorite veggies. 
When following a paleo diet, the one thing that is essential is learning to bake your chicken in the oven.
Ditch the chemical filled process of deep frying your chicken, bake them in the oven until golden and crispy. 
This recipe is a basic yet a staple. Especially when meal prepping for the week ahead. Pair with your favorite sides for a new meal every night of the week! 
Whether you use boneless or bone-in chicken thighs, they will turn out tender, juicy, and delicious. 
Throughout the week, the last thing anyone wants to do is spend hours in the kitchen. This Greek Chicken Sheet Pan recipe is perfect!
Simply place your chicken and chopped veggies on a pan, drizzle with olive oil, season, mix and pop in the oven. 
Add some crumbled feta cheese and olives for an authentic Greek flavor that will blow your taste buds away. 
This one pan meal is perfect for throughout the week or even to serve a large crowd of guests. Simple, delicious, with minimal clean up. 
Not all incredible dishes have to be complicated and time consuming. This Roasted Balsamic Chicken recipe is a super simple dish that takes less than 15 minutes prep. 
However, you are going to need to let your chicken marinade for 1 to 2 hours. So make sure to leave plenty of time for all of those flavors to melt together. 
This recipe is perfect for getting in some much needed nutrients while keeping things tasting delicious. Even the kids will love it!
As the months start to become cooler, we all want a warming, comforting meal after a long day at work. This Basil Chicken recipe is a must this winter. 
Kumquats are in season throughout the winter months and become sweet and vibrant when roasted. The perfect pairing for some succulent chicken thighs. 
Pop everything into a skillet, season, and cook in the oven until soft, juicy, and mouth watering. 
Use your leftover kumquats as a garnish for your favorite cocktails!
These mouthwatering Korean Paleo Chicken Thighs are a quick and nutritious weekday supper because they are marinated in gochujang, a sweet and smoky chili paste.
Taking only ingredients, this marinade is extremely easy for even the most inexperienced of cooks. As the chicken cooks, the sauce becomes sticky and sweet. You'll be licking the dish clean!
Garnish with sesame seeds and fresh green onion for a delicious bite every time. 
When you need something extremely quick, cooking your chicken thighs in the air fryer is always the way to go. 
Coated in a fresh, zesty blend of seasonings and aromatics, your chicken will come out beautiful every time. Add a squeeze of fresh lemon juice for a truly outstanding dish. 
Serve with your favorite sides for a satisfying meal that is perfect in every way. Pre-heating your air fryer always for a more even cook all the way through. 
Honey and garlic is one of the worlds best flavor combinations. Combine those flavors with a succulent chicken thigh and you have something incredible. 
The most wonderful sticky, sweet, and garlicky sauce is then added to the crisp, grilled chicken thighs. 
Making this Paleo Honey Garlic Chicken only takes 30 minutes, making it ideal for weekday meals. You can even make this recipe in advance, allowing the chicken to marinate in the sauce. 
This BBQ chicken is undeniably extremely juicy, flawlessly grilled, and sparkling with my personal homemade BBQ sauce. And if you've never barbecued before, this simple technique will make you the star of your next summer BBQ.
Using a mix of thighs and drumsticks, you have an awesome blend of flavors and textures that are greeting for serving crowds. 
Serve with a range of dipping sauces and watch as everyone enjoys this fantastic meal. 
Getting picky eaters to eat every inch if their meal has never been easier with this Herbed Honey Mustard Chicken recipe. 
Baked chicken thighs become crispy and delicious. The rich honey mustard sauce will have  you going back for more. 
Serve with a side of veggies or on a bed of zucchini spaghetti for a truly wonderful meal. 
Add dairy free cream cheese to turn this marinade into a delicious, thick sauce that is perfect for pasta or homemade roast potatoes. 
On just one baking sheet, you can prepare this shrimp boil with Creole influences. This nutritious dish of chicken, sausage, and vegetables has a deep, complex flavor that comes from a variety of spices.
 Bonus: The preparation time for this quick sheet-pan supper is about 20 minutes.
You can easily make the substitutes to make this dish perfect for you. Not a fan of corn? Use peas! You can also use thawed, frozen shrimp to make this dish quick and simple. 
Got leftovers? Freeze for up to 2 months and have it when you need a quick dinner!
As the holiday season approaches, nothing sounds better than the sweetness of roasted cranberries over crispy chicken. 
Using deep but simple flavors, this dish is perfect for a dinner party or to spice things up throughout the week. 
With a thick cranberry sauce and tender chicken thighs, this meal is complete all on its own.
However, we recommend adding a side of brussel sprouts or honey glazed carrots for a delicious meal. 
Enjoy with your favorite beverage and welcome the holidays in style. 
A delicious and dependable option for dinner is always a healthy chicken and sweet potato meal (see also "10 Easy And Delicious Sweet Potato Toast Toppings"). Chicken thighs and sweet potatoes are combined in this low-calorie sheet-pan dinner, which cooks quickly in a very hot oven. 
Serve with a blue cheese, apple, and mixed greens salad for fall.
This dish is expertly versatile. No matter the occasion or the season, this Roast Chicken and Sweet Potato recipe is sure to be a hit. 
Serve with a homemade gravy to add a comforting element that is sure to make you feel warm and satisfied from the inside out. 
One of the simplest ways to add some freshness to your chicken thighs is with lemon. With fragrant rosemary, butter, and coconut milk you have a vibrant, delicious meal for the whole family to enjoy. 
This simple, quick meal is perfect throughout the week or as a lunch at the office. Plus your home will smell absolutely delicious as you cook. 
Don't forget to garnish with fresh oregano and lemon slices for a full range of flavor!
Final Thoughts 
Unless your diet does not include meat, chicken thighs are an excellent choice of protein. Holding a dense flavor profile, this cut of meat can really elevate your meals without you having to put in any extra work. 
So, as you continue your journey to cleaner eating make sure it remains tasty and exciting. With 15 versatile chicken thigh recipes, you can stay on track while exploring the flavors the world has to offer. 
Check them out above and get to cooking! Whether you are serving a large dinner party, the family cookout or just want to try something new, we have got you covered. 
With a few simple tweeks, you can create a delicious paleo meal using chicken thighs!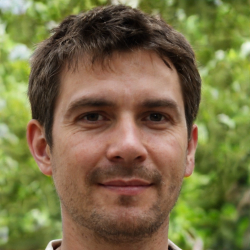 Latest posts by Justin Roberts
(see all)