If you're new to the keto diet, you'll realize that there are a lot of recipes out there that are predominantly meat based.
Many of these recipes involve the use of beef, or other red meats which can be unhealthy when consumed in excess. 
Adopting a ketogenic lifestyle doesn't necessarily mean that you have to consume a ton of beef, and sometimes, you want something lighter, and lower in calories instead. That's why turkey can be such a great option for many. 
Turkey is known for its immense nutritional benefits. To begin with, it's naturally low in calories, but it's also packed with protein and Vitamin B.
These can help to keep us going throughout the day. Finally, ground turkey is also economical, so you don't have to spend a ton of money at the grocery store. 
If you've been on the hunt for some amazing ground turkey recipes that you can make in the comfort of your own home, then you've come to the right place.
Below, we take a look at what we believe to be some of the very best on the internet. 
To find out more, simply keep reading. 
When it comes to weeknight dinners, Italian meals are a go to for many of us. One of the most popular Italian dishes is spaghetti and meatballs, but what if you're trying to cut down on the carbs and the calories? 
This recipe shows you how to make some delicious meatballs using ground turkey instead of beef (see also "Paleo Meatballs Recipes"). They're incredibly easy to prepare and are packed full of flavor.
Instead of using the regular spaghetti that you're accustomed to, why not try replacing them with zucchini noodles instead? 
If you're in the mood for some tasty and filling meatloaf, but don't want to load up on carbs and calories, then we'd recommend taking a look at this turkey meatloaf recipe. 
All you need are a few simple ingredients, and you can make this dish just as tasty as the regular variety.
The key to making this meatloaf the best ever is to choose ground turkey that has a good meat to fat ratio. That's because turkey is very prone to drying out when cooked for prolonged periods of time. 
So, if you choose one that has a higher fat percentage, you can guarantee your meatloaf will be as moist as possible. 
If you want to try one of the best Asian based keto recipes out there, then we'd recommend that you whip up this delicious Thai ground turkey stir fry.
It's honestly one of the easiest to make on our entire list, and is packed to the brim with plenty of aromatic flavors. 
It also has some crispy peppers and onions added in to give it a little bit of added flavor. 
If you're looking for a delicious and healthy lunchtime recipe that uses ground turkey, then we'd recommend that you take a look at these stuffed zucchini boats.
Zucchini is a great vegetable to enjoy whilst following a low carb diet, as it only contains 2.7 net carbs per 100g. 
This stuffed zucchini boat recipe is super tasty, and just involves using some tomato puree, ground turkey, cheese, and the toppings of your choice.
These are really great for when you find yourself craving a slice of pizza, but you don't want to ditch the diet. 
Looking for a keto friendly ground turkey recipe that you can eat for breakfast? If so, then we've got the perfect recipe for you.
This ground turkey hash recipe is packed full of flavor, and is a great way to get your vitamins and minerals early in the morning. 
If you want to make this dish even tastier, why not try topping it off with a fried egg? This dish is really easy to make, and if you feel like having a lazy morning, you can simply prepare it the night before.
We really can't think of a better way to start the day.  
If you're looking for a breakfast ground turkey recipe that's a little more indulgent, then allow us to introduce you to this delicious recipe.
It starts off with some super golden and crispy cauliflower hash browns at the bottom, then it's loaded with plenty of hearty vegetables. 
Following on from this, it's topped with some super tender and meaty turkey balls, then loaded with fried eggs.
This recipe is basically everything you could wish for when it comes to deliciously indulgent breakfasts. 
If you've never made a turkey burger before, then let us tell you that you're missing out on something truly delicious.
Turkey burgers are amongst some of the best lunchtime meals out there. They're packed full of herby flavors, and have a super light yet filling quality. 
If you're not sure how to make turkey burgers that are also keto friendly, then we'd recommend that you take a closer look at this recipe. It really doesn't take very long to prepare. 
Top these burgers off with some tomatoes and mayonnaise, then use a keto friendly bun to sandwich them. 
If you're in the mood for something super spicy and delicious, then we'd recommend trying this thai coconut recipe.
Like many Thai based recipes, this one is incredibly fresh, and the richness of the coconut cream really takes this dish to a whole new level. 
The sauce in this recipe is truly outstanding, and when the turkey meatballs are added to the mix, it tastes like heaven. This is a delicious recipe that the whole family is guaranteed to enjoy. 
If you want to try one of the easiest and healthiest recipes on the planet, then you simply have to take a look at this instant pot keto turkey chili.
We all know that chili is one of those meals that takes hours to cook, but this one's perfect for when you have an insatiable chili craving, but don't want to wait ages.
In fact, this chili will be ready in just 35 minutes! So no more slaving away in the kitchen in order to prepare a tasty meal. 
If you're in the mood for something turkey based for lunch, why not try these keto ground turkey peppers?
They're perfect for whipping up when you don't have much time on your hands, and you want something super quick and easy. 
They have a pizza-ish flavor, as they're loaded with passata, as well as cauliflower rice, meat, and then lots and lots of cheese.
You can try experimenting with the toppings too if you like, and place some olives or slices of ham on top. 
Egg rolls are one of those classic meals that we all love getting from the takeout. Unfortunately, these are not only loaded with calories, but with carbs too.
But don't worry, because this recipe shows you how to make the perfect egg roll imitation meal. It's got all of the flavors you know and love, but without any of the added guilt. 
We love the subtle flavors of the turkey meat and egg, which pair perfectly with the aromatic spices. 
If you're in the mood for something healthier to chow down on at dinnertime, then allow us to present you with this turkey and zucchini casserole.
It's made with a super rich tomato based sauce that's absolutely packed with lots of fresh vegetables. 
It's baked until all the herbs have intermingled with one another and integrated perfectly into the dish. This is a truly hearty dish, and we'd recommend making this one when the weather's getting cold outside. 
Pair this with some cauliflower rice, or cauliflower mash, and you've got yourself a super healthy and delicious meal. 
Final Thoughts
To sum up, there are lots of delicious keto ground turkey recipes out there to try. Packed full of protein, vitamins, and minerals, turkey is a great choice for when you're trying to lose weight.
Whether you're looking for something for breakfast, lunch or dinner, you'll find it on our list above.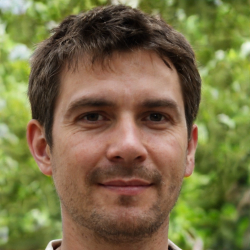 Latest posts by Justin Roberts
(see all)