If you've recently started the paleo diet, or even if you've been following it for a while, chances are that you get some serious cravings for sweet treats now and then.
The paleo diet is an incredibly clean way of living, and most people are under the misconception that this means that any kind of baked good is a definite no no. 
But this simply isn't the case, as there are lots and lots of tasty alternatives out there that you can make today.
This includes your favorite dessert of all, which is of course, chocolate filled brownies. That's right, you can still enjoy a delicious brownie without forsaking your diet. 
Below, we've compiled a list of some of the very best paleo brownie recipes out there that you can whip up today (see also "Paleo Cinnamon Rolls Recipes"). 
To find out more, simply keep reading below, as we take a closer look.
Why not start out with a classic brownie recipe? This one is absolutely to die for, and we totally understand why they've put the word 'perfect' in the title.
It's everything that we could possibly want from a brownie, right down to the ooey gooey center, and the perfectly crisp layer on top. 
They taste super fudgy, and they're deliciously indulgent. The best thing is that they only take a few moments to whip up, so if you feel like you're craving a batch of brownies, you can make these in a flash. 
They're made using a combination of almond flour, and coconut flour, which helps them to achieve a texture that's just like the real deal. 
If you're a fan of chocolate orange brownies, then we're pleased to present you with this delicious recipe (see also "Paleo Mug Cake Recipes"). It's made from dark chocolate, so you can guarantee that it's super rich and indulgent.
It also has a lot of sugar free sweetener loaded inside, which perfectly balances out this flavor. 
In order to pack the orangey flavors into these brownies, all you'll require is one orange, which you can then take the rind off of. This is granted until it's super fine, then placed within your brownie mixture and stirred in carefully. 
In order to give it that classic gooey and moist texture, this recipe simply uses olive oil, which ensures that they're as soft and chewy as possible.
If you've been on the lookout for the perfect brownie recipe that mimics your favorite dessert, then you're going to adore this one. This red velvet brownie tastes just like the real deal, but is even more moist if that's possible. 
We adore how gooey this brownie recipe truly is, and not to mention, it's also super aesthetically pleasing. We think that this one would be perfect for whipping up if you were to host a paleo afternoon tea. 
The best thing about these brownies is the coconut cream topping. Instead of using regular, dairy cream cheese, this one uses coconut cream instead, which tastes absolutely heavenly on these little treats. 
If you're in the mood for something super luxurious and elegant, then we'd suggest that you take a look at these dark chocolate and raspberry brownies.
They're honestly one of the most indulgent on our entire list, and use lots and lots of dark chocolate in order to give them the perfect consistency. 
If you've never tried raspberries and chocolate as a combo before, then you're about to fall in love, because they're truly a match made in heaven.
We love the sweet and tart flavors of the raspberries, which work so well with the richness of the chocolate. 
These would work really well as an elegant date night dessert for you and your sweetheart. 
Now, we all know that brownies are the best dessert on the planet, but sometimes, we just find ourselves craving a sweet, delicious blondie instead.
If this sounds like something that you've had an appetite for recently, then allow us to present you with this amazing paleo chocolate chip blondie recipe (see also "Amazing Paleo Pizza Recipes"). 
We scoured the internet to try and find the best one, and honestly, we think we've found it. This blondie has the most moist, yet dense texture ever, and if that weren't enough, it's also packed to the brim with chocolate chips. 
If you were on the hunt for a brownie recipe that transformed your favorite cookie into a soft and chewy dessert, then we've found the perfect one. If you're a fan of oreos, then you're going to absolutely adore these protein brownies. 
These ones have a super gooey dark chocolate layer that acts as a sandwich for the delicious cream cheese filling. This one tastes super indulgent, so much so that we can't actually believe how nutritious these brownies are. 
They're packed full of protein powder, which makes them a great option for when you're about to hit the gym. They'll help to give you the fuel that you need in order to get through the day. 
If you've recently switched to the paleo diet, and you're lamenting the fact that you can no longer eat banana bread, then we think that we've found a recipe to cheer you up.
This amazing recipe shows you how to make low carb banana bread, but in brownie form. 
This one has all of the classic ingredients that we know and adore, but also contains the most gooey center, that makes it a dream to bite into. 
We think that these would be perfect as a breakfast snack, or when you're feeling slightly peckish in between meals. Either way, this low carb banana recipe is an absolute dream. 
If you don't mind having the taste of coconut flour in your brownies, then you're going to absolutely adore these.
They're super gooey and chocolatey, but the use of coconut flour in the mix gives them a super nutty and subtle flavor that we absolutely adore. 
These ones really take the coconut flavors to the max, as they also involve the use of coconut oil, which is responsible for giving them that amazing texture we all know and love. 
These ones are also gluten free, so you don't need to worry about upsetting your stomach either. 
If you're on the hunt for another delicious blondie recipe, then we've got one that we'd like to recommend.
These strawberry blondies are incredibly dense and chewy, and all full of sweet and subtle flavors that we absolutely love. 
The best thing about this recipe is that it's loaded with chopped up strawberries. They look absolutely beautiful when you take a bite and find one layered inside.
These blondies are truly Instagram worthy, and your friends will be dying to have the recipe. 
If you're in the mood for something super indulgent, then we think that you should try whipping up these keto and paleo friendly cheesecake brownies.
They're an amalgamation of two of our favorite desserts, and are actually so simple to make. 
The recipe shows you how to create the perfect, ooey gooey base, then simply adds some cream cheese on top to give it a bit of added flavor.
We love the texture of these brownies, and thanks to the cream cheese, it feels even more indulgent to bite into. 
If you're a lover of all things peanut based, then we think we've found the perfect recipe for you. This one uses lots and lots of peanut butter, in order to achieve the thickest, and tastiest brownies in town. 
We love the combination of savory and sweet with these brownies, and the richness of the chocolate pairs perfectly with the nutty taste of the peanuts. 
You can use either smooth or crunchy peanut butter for this recipe, depending on your preference. We think we prefer crunchy peanut butter, as it gives these brownies an amazing texture. 
Final Thoughts
To sum up, following a paleo diet doesn't mean that you have to give up your favorite treats. There are a whole host of tasty brownie recipes out there to choose from.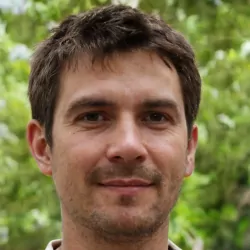 Latest posts by Justin Roberts
(see all)