People who follow the paleo diet aim to only eat foods that were available during the Paleolithic Era.
Many ingredients common in the modern diet such as dairy, wheat, and refined sugar are not compatible with paleo diets. 
Following paleo restrictions can be difficult at times and that's never more evident than when it comes to desserts and everything sweet.
So many recipes for desserts include dairy and processed sugar so they can't be eaten if you're eating paleo foods only. Even a quick dessert such as a mug cake can become impossible.
That's why we've created this list of 15 delicious paleo mug cake recipes that you will love.
You can be certain that every recipe is compatible with a paleo diet and they're all so delicious and easy to make (see also "Paleo Crackers Recipes"). So grab your favorite mug and choose a recipe!
For our first recipe, we've chosen one of the most popular and easy-to-make mug cake recipes.
Chocolate cake is a big favorite and one of the most common types of cake so no list of mug cake recipes is complete without it!
Make sure you choose some chocolate chips that are unsweetened and don't include any dairy for this recipe to ensure that it remains paleo (see also "Paleo Chocolate Chip Cookies").
The recipe uses both almond flour and coconut flour as well to remain within the paleo rules.
Who doesn't love cinnamon rolls? Making a delicious paleo cinnamon roll cake in a mug seems too good to be true but this recipe makes it possible (see also "Paleo Peach Cobbler Recipes").
This recipe is a little more complicated than some mug cake recipes as you need to make both the cake and the icing for the full cinnamon roll effect.
The cake includes cinnamon and nutmeg to get those delicious spices and you can add a little more if you prefer your cinnamon rolls to have more spice.
Banana, pineapple, and coconut are a great combination and it works so well in this mug cake.
You'll need a ripe banana, some pineapple tidbits, and some shredded unsweetened coconut to get the fruit into this recipe.
The cake consistency is made with coconut flour, tapioca flour, some baking powder, and an egg. There's no additional sugar involved but you'll get a deliciously sweet cake. 
Carrot cake isn't a favorite with everyone but it's definitely one of our favorite cakes.
The base of this cake is made from coconut flour and almond flour so you can be sure that it is a paleo recipe.
Like all good carrot cakes, you'll need some carrots, raising, chopped pecans (or walnuts), and some cinnamon to add some spice to the cake.
When the cake is finished, you can serve it with some coconut cream. 
Our first recipe was a chocolate chip mug cake. If that wasn't quite enough chocolate for your tastes, then give this fudgy double chocolate mug cake a try instead.
The double chocolate comes from dairy-free chocolate chips and unsweetened cocoa powder so you will get the chocolate hit while still following the paleo rules.
Coconut flour, egg, and unsweetened almond milk will give you the cake consistency you need.
Coconut cake is deliciously light and fluffy and this mug cake is no different.
If you do want a cake that is less heavy and stodgy then this recipe for a coconut mug cake is a great choice.
There is a lot of coconut in this mug thanks to the inclusion of shredded and unsweetened coconut, coconut flour, coconut oil, and coconut milk.
There aren't many other ingredients in this recipe, just baking powder, egg, and maple syrup.
This is another light cake. It's great for spring and early summer as lemon-flavored cakes always make you think of spring and freshness.
You will need both lemon juice and lemon zest for the cake and the addition of poppy seeds adds some extra flavor and gives that pretty seed consistency that you can see in the cake.
You can also finish the mug cake with some additional toppings such as lemon zest, coconut cream, and coconut butter.
Red velvet cake has become a very popular cake in recent years but it's not always the easiest type of cake to eat when on a paleo diet.
If you're craving some red velvet cake and have a mug going spare, then give this recipe a try.
The red part of the red velvet cake is made from beet juice and the chocolate comes from a teaspoon of cocoa powder. 
Matcha is a very popular ingredient in Japanese cooking. It's green tea powder and although its primary use is to make tea, it's also commonly used in a variety of different desserts.
It has a lovely savory and umami taste so it's great for anyone that doesn't want an overly sweet mug cake.
You only need one teaspoon of matcha as a little goes a long way!
We love strawberry shortcake! It's a great combination of flavors and textures but as the strawberries are often sweetened and flour is used in the shortcake, it's not something you can eat on a paleo diet.
Luckily, this strawberry shortcake mug cake is made from paleo-compatible ingredients.
After you've made the shortcake, make sure you have some delicious strawberries for the topping.
Why make banana bread in an oven when you can make a single serving in a mug and microwave?
It's far quicker and easier than preparing banana bread for the oven and of course, this recipe is paleo as well.
You'll need half a ripe banana and a quarter of a cup of blueberries to make this mug cake.
The recipe calls for unsweetened almond milk but you can substitute this for any other non-dairy milk.
This is the first of two mug cakes that are ideal for the fall season.
Caramel and apple are delicious all year round of course, but the flavors are especially linked to the cooler fall days.
You will need to make an apple cake and a salted caramel sauce so this recipe is a little more complicated than many others on this list and does require more ingredients.
The sauce needs to be combined in a bowl and microwaved for a little longer than the cake.
If there is only one cake that screams fall more than a caramel apple cake then it's pumpkin cake! You can get your fix of pumpkin spices in only a few minutes with this recipe.
You will need pumpkin puree and this is then mixed with cinnamon, nutmeg, and ground cloves to get that pumpkin spice.
Maple and pecan are a great combination and this mug cake uses them to great effect. This recipe is sure to become a big favorite!
It's called a latte mug cake because it also has some espresso powder included in the ingredients list to give it a little coffee flavor.
The almond milk and maple syrup sweeten it a little without compromising its paleo credentials.
For our final mug cake recipe, we've picked a very simple but still delicious recipe.
It might be hard to believe, but this chocolate raspberry mug cake only requires four ingredients!
All you'll need is an extra ripe banana, an egg, some dark cocoa powder, and some raspberries. You will need to blend the ingredients before microwaving the cake.
Final Thoughts
In this article, we listed 15 delicious paleo mug cake recipes that you're sure to love (see also "Paleo Fudge Recipes").
Finding mug cake recipes that are compatible with paleo diets can be difficult, however, you can be sure that every recipe in this list is suitable for anyone who is following the paleo diet.
We picked a wide variety of different mug cakes so whatever type of cake you like, there is sure to be something for everyone.
You can enjoy a paleo cinnamon roll, strawberry shortcake, or even a fudgy double chocolate mug cake!
Whatever you choose, we hope you enjoy it and find it as delicious as we do.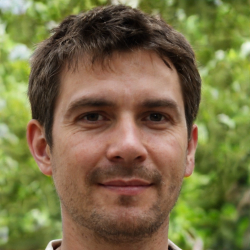 Latest posts by Justin Roberts
(see all)