The Paleolithic diet, better known as the paleo diet or caveman diet is a trending diet that consists solely of foods that mirror the diet eaten by humans during the Paleolithic era.
Therefore, this is a grain-free diet that excludes common foods like legumes, dairy, and bread. 
Whilst this still leaves us with plenty of choices, it can make certain times more difficult. Take lunch for example.
It can be hard enough to escape your desk to enjoy some lunch, but this is an even bigger challenge for paleo eaters as they can't simply tuck it into a sandwich.
This can make things very tricky. No need to worry though, we're here to help!
We've done the hard work for you and found 10 tasty paleo lunch recipes you can make in a pinch (see also "10 Tasty Paleo Ground Pork Recipes You'll Love"). Today, we'll show you each one.
If you're struggling to find a quick and easy paleo lunch, stick around!
The first paleo lunch on our list is a slow-cooker paleo meatballs recipe from Delish (see also "Best Wednesday Lunch Paleo Recipes"). Slow-cooked in a delicious tomato sauce, these meatballs are everything you need to kick-start your afternoon.
The best thing about these meatballs, apart from how good they taste, is that you can meal-prep them. Simply make a large batch of these meatballs at the start of the week and separate them into small portions. 
When lunchtime comes around, you can then warm your lunch up in a microwave or oven. Making the meatballs is easy. All you have to do is mix the ground beef with egg and various 
herbs and spices, before throwing them in your slow cooker with the sauce.
A lot of modern diets restrict how much bread we can eat. The paleo diet is no different. Whilst this may seem like a hard food to replace, particularly when it comes to making sandwiches and wraps, there are some simple alternatives.
One of the best is lettuce, and this recipe uses it perfectly.
Very easy to make, this chipotle chicken wrap recipe replaces the tortilla wraps with healthy and crunchy lettuce leaves. 
Inside each lettuce leaf is a sweet, spicy, and tender chipotle chicken. This chicken is smothered in a rich tomato sauce and loaded with spices. Each wrap is then topped with spicy jalapenos.
You can balance some of the spice with creamy guacamole.
Next up, we have a Chinese chicken salad recipe from the Paleo Running Momma. Making a salad is one of the quickest, easiest and healthiest ways you can enjoy a paleo lunch. 
This salad is crunchy, sweet, savory, and extremely vibrant, just like any salad should be. Perfect for lunch or dinner, this recipe calls for a wide range of veggies and an almond butter sesame dressing.
This dressing gives the salad a divine sweetness and a slightly creamy flavor. Whilst you can use any vegetables you like, the recipe asks for you to use cabbage, scallions, a slaw mix, and cilantro.
This salad also contains chicken thighs. 
When it comes to seasoning, this salad contains popular herbs and spices like cilantro, salt, pepper, and garlic.
If we're being honest, the thought of pork lettuce wraps doesn't excite us too much. However, we were shocked as to how good these Thai pork lettuce wraps actually are. 
Playing on classic Thai cuisine, this wrap recipe is loaded with sweet and salty flavors. However, it's completely sugar-free and natural.
Eaten hot or cold, these wraps feature fatty pork, a rich sweet, and spicy dressing, and crisp, fresh lettuce leaves. 
Made in a matter of minutes, all you have to do is throw together the sauce, put the pork in the lettuce, and wrap the lettuce up. That's it!
To make things even easier for yourself, you could even prepare a large batch of the sauce in advance. That way, you have everything you need to enjoy a quick and easy lunch in a matter of seconds. 
The next paleo lunch recipe on our list is a great option if you want a heartier lunch that will keep you fuller for longer.
Taco bowls are a great keto-friendly and paleo-friendly lunch or dinner because they don't call for taco shells. Instead, all the usual fillings from tacos are stuffed inside a bowl.
This bowl can be a simple dinner bowl or a lettuce leaf.
Despite being hearty, taco bowls are pretty healthy. They are loaded with fresh veggies and juicy meat.
This taco bowl recipe calls for beef brisket, onions, garlic, lettuce, guacamole, olives, orange, hot sauce, lime wedges, beef broth, and a blend of spices.
The end result is a sweet, spicy, and savory bowl of goodness.
If you love seafood, you'll really appreciate this next recipe. Calling for fresh shrimp, this recipe is perfect for any seafood lover. It's also a solid option for anyone that wants a quick and easy lunch with no fuss.
Ready to eat in just 20 minutes, this recipe is made by seasoning the shrimp with cajun seasoning before cooking them with olive oil and garlic.
The shrimp are then tossed with sauteed red bell peppers and onions before being served on a bed of zoodles.
For those of you that don't know, zoodles are noodles made out of zucchini. Serving the shrimp with zoodles is a great way to stick to your paleo diet whilst enjoying noodles.
Another great way to enjoy a sandwich during your paleo diet without eating bread is to simply get rid of the bread.
It might not be as effective as eating your sandwich with lettuce instead, but it still gives you the chance to enjoy a delicious sandwich filling.
If you're looking for a great sandwich without the bread (see also "Gluten Free And Paleo Rosemary Cassava Bread"), turn to this Cuban sandwich bowl recipe for help . 
This recipe features a dinner bowl loaded with a pork and vegetable sandwich filling. The filling consists of creamy avocado, sweet and salty pork, and cabbage. Crispy plantain chips are also served in the bowl.
This recipe is very easy to make, so you'll find it super useful on the days you're in a rush.
If you have a bit more time on your hands and a lot of leftover ingredients in your refrigerator, give this paleo chicken hash recipe a try.
This hash recipe features a medley of different vegetables, bacon, chicken, and egg, all thrown together in one flavorful lunch.
This is another recipe that will fill you up. The combination of ingredients in this recipe is awesome. 
The salty and savory flavors of the meat go brilliantly with the sweet flavors of the veggies. We love how the recipe uses sweet potatoes too. This is a nice change from normal potatoes.
As if the dish wasn't already full of protein, the addition of two eggs gives us another boost.
Super creamy, rich, and packed with healthy broccoli, this cheesy vegan broccoli soup recipe is one of the best meal-prepping dishes you can make.
Simply make a large batch of this soup at the start of the week and enjoy it for lunch every day. 
Despite being seriously cheesy, creamy, and ridiculously rich, this soup is completely dairy-free. To top things off, the cheesy flavors created in this dish don't come from any weird ingredients. 
So, how is the creamy texture created? The recipe is made creamy with almond milk and raw cashews. The soup is then loaded with onions, broccoli, and carrots.
The final recipe on our list might just be the most exotic and exciting. This Mediterranean power bowl is full of sweet, fresh, and zingy ingredients that create a healthy lunch bowl that packs a punch.
Vibrant in color, this bowl is filled with fresh veggies, beef, avocado, and Trader Joe's seasoning. 
To create more textures and flavors, the cauliflower is roasted and the burger is grilled. The way all the ingredients come together is great.
The avocado offers creaminess, whilst the peppers and cucumber give the bowl a sweet, refreshing flavor. Of course, the beef then gives the dish an umami flavor.
Final Thoughts
As you can see from this list, there is a wide range of tasty lunches we can make that follow a paleo diet (see also "10 Tasty Paleo Recipes For Weight Loss You'll Love").
At first, it might seem like there aren't too many recipes to choose from, but once you know what's on offer, you quickly realize that the options are endless.
In this post, we looked at 10 of the best paleo lunch recipes. All that's left for you to do now is decide which recipes you want to try for lunch first.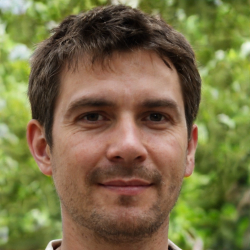 Latest posts by Justin Roberts
(see all)