If you're following the Whole30 diet, then you'll know that there's a lot of different food types you've had to cut out of your eating.
The diet focuses on whole foods for 30 days, with you getting rid of any dairy, grains, sugars, legumes, alcohol, and more. As a result, you might worry that your dishes will be pretty limited. 
That isn't true! For example, if you love whipping up a delicious pork dish, then there's countless different ones you can make that still follow the rules of the Whole30 diet. 
In our flavorful guide below, we've got 10 tasty Whole30 pork recipes for you to try making (see also "Tasty Whole30 Salad Recipes"). You'll find pork served in all kinds of mouth watering ways, with all kinds of healthy vegetables and rich sauces.
You're sure to find new favorite dishes below!
10 Tasty Whole30 Pork Recipes To Try Today
We're beginning our list with this simple recipe for a delicious Whole30 pork tenderloin.
It's all done on a sheet pan, which makes it even easier and quicker, making this a perfect dish for when you need to make a large, healthy supper in a hurry.
There's a whole variety of flavors in this terrific Whole30 pork dish, not just coming from the succulent pork tenderloin. There's all kinds of different seasonings that are used.
For example, you'll be adding dried rosemary, dried basil, dried thyme, and dried oregano for a start, giving it some herby goodness. 
There's also a touch of smoked paprika you'll be throwing in, too, which helps to give the dish just a hint of fiery spiciness.
Not too much, though! It won't overwhelm the meal, just give it a pleasant warm and tingly edge.
Next on our list is a recipe that's a little different, with this delicious Whole30 pork dish being drizzled in a totally tasty sweet and sour sauce (see also "Tasty Whole30 Fish Recipes To Try Today").
This already makes the pork sweeter and more refreshing, but the inclusion of pineapple chunks and pineapple juice on top of that helps to bring even more refreshment!
The recipe for the sweet and sour sauce itself is super easy, and its mouth watering flavor will have you whipping up the sauce for countless other meals in the future!
To make the sauce, you'll need some honey, tomato paste, pineapple juice, garlic, apple cider vinegar, and coconut aminos.
As you can guess, the aminos will give the sauce a hint of sweet coconut, while the special vinegar and pineapple juice help to keep things sweet and fruity. Oh, and you'll also be adding some dried apricots into the mix! 
That's right, this sweet and sour sauce is bursting with vibrant fruit flavoring, and it'll all make your pork melt in your mouth.
Our next pick for delicious Whole30 pork recipes is this pulled pork treat, which you make in a slow cooker/crockpot. It's easy to throw together and it's got a great, juicy taste. Better yet, it fits your Whole30 diet perfectly!
You'll only need a handful of ingredients for this recipe, which makes it one of the very best for those evenings where you don't have time or energy to spend lots of time cooking.
You'll need your pork, along with some garlic powder, onion powder, and chicken broth for a bit of extra meatiness.
In addition to those, you'll need chili powder and smoked paprika. Both of these help to give the pulled pork meal a hint of spiciness, with their warmth making the flavors of the pork taste even better. 
If you loved the sweet and sour sauce pork recipe we covered earlier, you'll love this totally sweet salsa pork dish!
It's got a whole variety of vibrant, strong flavors to make your mouth tingle, along with a delicious pork roast. Better yet, it all follows the rules of the Whole30 diet!
As you can guess, a lot of this dish is pretty spicy! A big part of that comes from the use of 1 cup of salsa, but there's also some paprika and chili powder included too.
If you don't like spicy meals too much, perhaps lessen the amounts of these ingredients!
You'll also be adding fresh dates to the mix, which helps to give the dish a really unique edge. They bring their rich, almost caramel-like flavor to the food, and pair perfectly with the meaty pork.
Next on our list of Whole30 pork recipes is another pork tenderloin dish, but this one has a balsamic caper pan sauce drizzled over it that really helps to lend it extra flavors. 
There's a wide range of flavorsome seasonings that go into this delicious dish. For example, you've got some dried thyme and dried rosemary, which help to add extra layers of taste to the pork.
Additionally, you'll be adding some fresh crushed garlic, which is initially mixed with those herbs, along with onion powder, salt, and pepper. 
For this pick, we're going with a Whole30 pork recipe that's inspired by Polish cooking, resulting in pork cutlets that are totally juicy and tender. 
It's a lot of fun to make this dish, too! You begin by dipping your pork cutlets in a container of tapioca scratch, then dipping them in a container of whisked eggs, and finally dipping them in a container of seasoned almond mixture.
After that, it's a cake of cooking the cutlet for a bit in a skillet, before finishing the cooking in an oven. 
The tapioca starch helps to add a bit of sweetness to the pork, while the mixture of seasonings includes things like paprika (to give the meat a hint of warm spiciness) and dill weed (which adds more herby sweetness to the pork). 
This next recipe is one that's the perfect combination: easy to make and totally delicious.
You've got loads of different flavors and textures in this Whole30 pork recipe, with some spicy pork, healthy vegetables, and mouth watering stir fry infuser.
On top of that, you've got tasty cauliflower rice to go with the pork, and the rice has a hint of coconut flavoring to it. 
As for the healthy vegetables, you've got a good variety. There's lots of different peppers, with red peppers, yellow peppers, and even Fresno pepper all thrown into the mix.
You'll also be adding some green onions, as well as a couple of cups of broccolini (which is baby broccoli). As you can imagine, these vegetables offer crunchiness and goodness in equal measure. 
You'll also be making a spice blend for this recipe, which adds a real kick to the meat and vegetables. This blend contains smoked paprika, black pepper, cayenne, and a touch of salt. It's pretty spicy stuff, but it doesn't overwhelm the meal!
Our next choice is the recipe that's perfect for eating during the fall – but it works all year around too! It's a Whole30 friendly dinner that's got tasty pork, cranberries, and some other fruit and vegetables (see also "Tasty Whole30 Grilling Recipes").
It's an easy meal to throw together, taking just 10 minutes to prepare and 30 minutes to cook, and full of healthiness.
When it comes to the fruits that make this particular pork dish really pop, you'll be using cranberries and diced apples.
As you can guess, the cranberries add a sharp, refreshing flavor that pairs well with the meaty pork, while the apples are succulent and go brilliantly with it too.
As for the vegetables, there's plenty of greens in here. You'll be adding celery and then a bunch of either kale, chard, or baby spinach. Why not all three?! 
This next recipe teaches you how to make totally delicious Whole30 pork and apple sausage patties, which are especially great for a quick breakfast (see also "Tasty Whole30 Ground Pork Recipes"). To accompany them, the recipe suggests you have fried eggs and a salad containing apples. 
Pork and apple are one of the best food combinations out there, so it makes sense that they're both being used to make a flavorsome sausage patty.
The soothing fruitiness of the apple counters the meatiness of the pork perfectly, creating a brilliant blend. You'll also be adding sage, onion, cayenne powder (for a bit of spiciness), and black pepper. 
We're finishing our list with this fantastic Whole30 twist on a classic Chinese dish. The dish traditionally uses noodles, and this uses sweet potato noodles, which really add a unique and sweet taste to them.
Better still, this has a delicious sauce made from sesame oil and coconut aminos! It's simple, quick, and mouth watering.
Final Thoughts
You're spoiled for choice when it comes to delicious Whole30 pork recipes! Use our guide to find the very best ones and revolutionize your eating.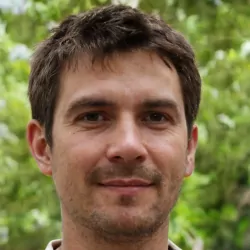 Latest posts by Justin Roberts
(see all)